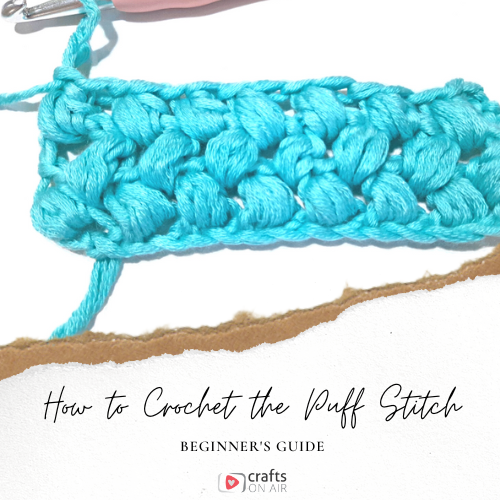 Introduction to the Puff Stitch
There are tons of different crochet stitches that you can use to spice up your crochet projects. In this article, we'll show you how to create the puff stitch – a beautiful fluffy stitch that gives a raised and textured look to your piece. The stitch is a cluster of loops that are worked into the same stitch and pulled through together to join at the top. It is similar to half double crochet (hdc), but instead of completing the hdc like normal, you work more uncompleted hdcs into the same stitch before pulling through all of them, which gives it its 3-D shape and "puff."
Don't be confused with similar stitches looking stitches like the bobble stitch and the popcorn stitch. Even a seasoned crocheter can get these stitches mixed up, and sometimes the terms are used interchangeably in patterns. They may look similar but are constructed differently.
The puff stitch can vary from one pattern to another, often depending on the number of loops you pull up before completing the stitch. Typically, the stitch consists of 4 pulled-up loops, resulting in having a total of 5 loops on your hook before completing the stitch. But this can differ between different patterns or if you want your stitch to look puffier. The tricky part of mastering this stitch is getting your tension just right in order to pull through all the loops when finishing the stitch.
Step-by-Step Puff Stitch for Beginners
The puff stitch is a great stitch to use to give texture to any piece. This stitch can be used in a broad spectrum of projects from blankets to hats, home decor, and many more.
In pattern diagrams, the puff stitch is often represented by this symbol: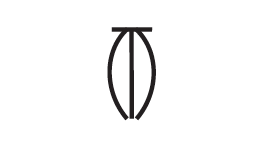 In this tutorial, I am using bulky weight (5) yarn and an 8.0mm or L-11 hook.
Note: The instructions that follow are written in US terms.
Now, let's get started on how to crochet the puff stitch.
| ABBREVIATION | CROCHET STITCH |
| --- | --- |
| ch | chain |
| hdc | half double crochet |
| puff st | puff stitch |
| yo | yarn over |
Make a Foundation Chain
Start by making a slip knot and ch an even number of stitches to reach your desired length + 4 extra chains. This will be your starting chain. For my swatch, I made a total of 16 chains.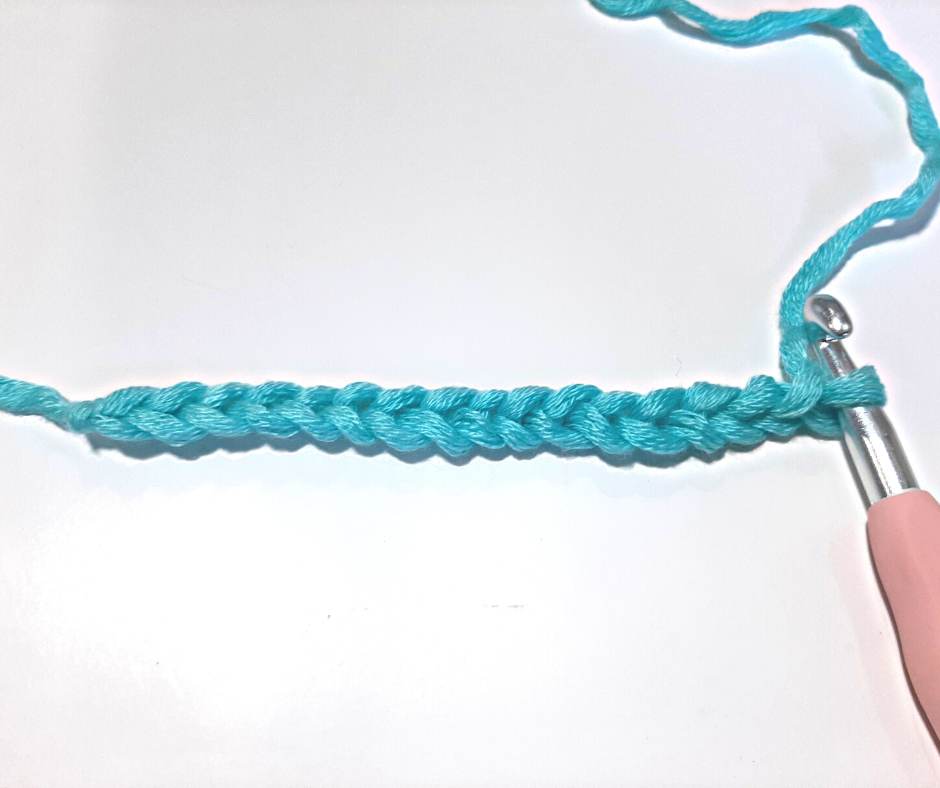 Making a Crochet Puff Stitch
To make a puff stitch, yo and insert the hook into the next stitch, yo and pull up a loop. You now have 3 loops on your hook.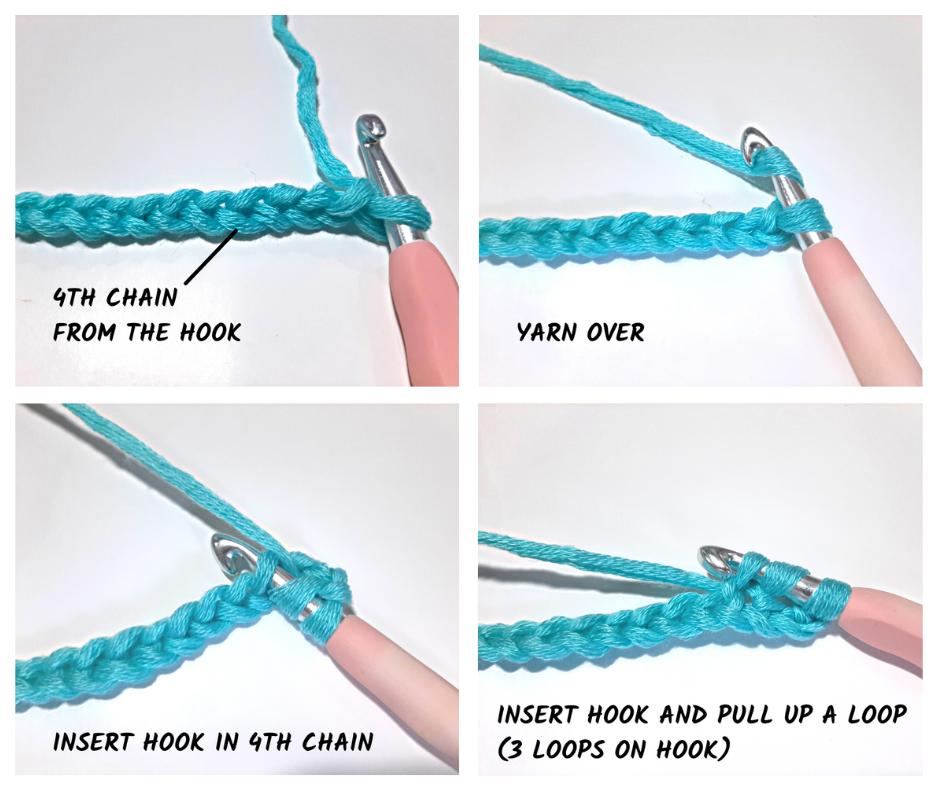 Pro Tip: Make sure when pulling up a loop in a row that includes regular hdcs or other stitches, that you bring up the loop to the same height as your previous stitch. This will help make your puff stitch look even.
Yo again, insert your hook into the same stitch, yo, and pull up another loop. You now have 5 loops on your hook.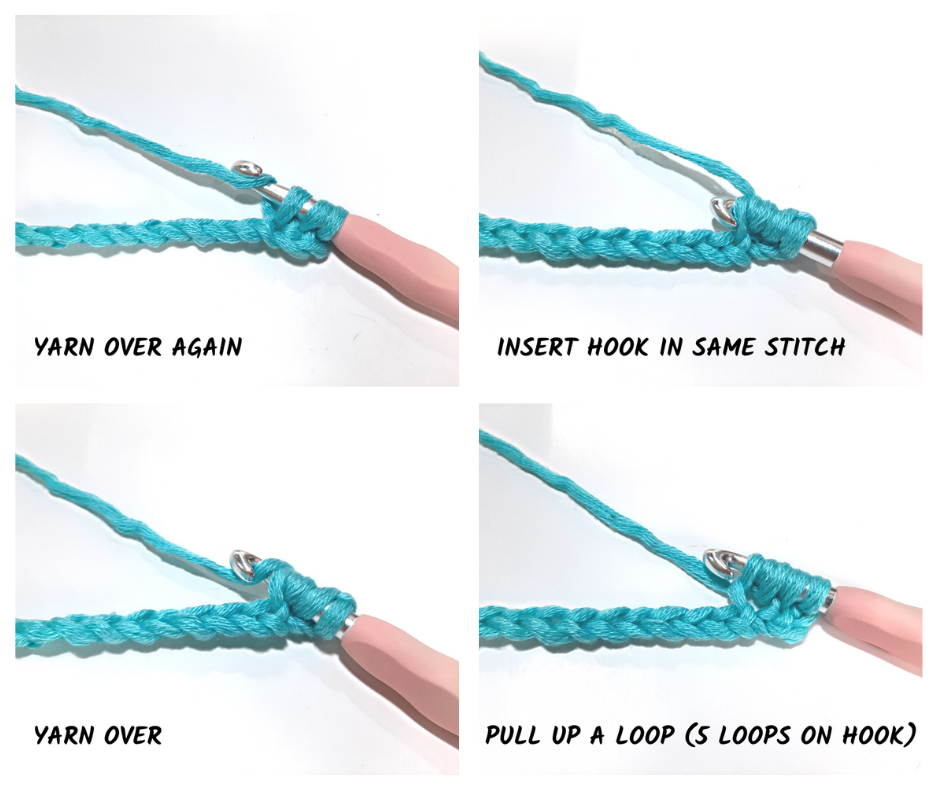 Yo once more, insert your hook into the same stitch and pull up another loop. You now have 7 loops on your hook.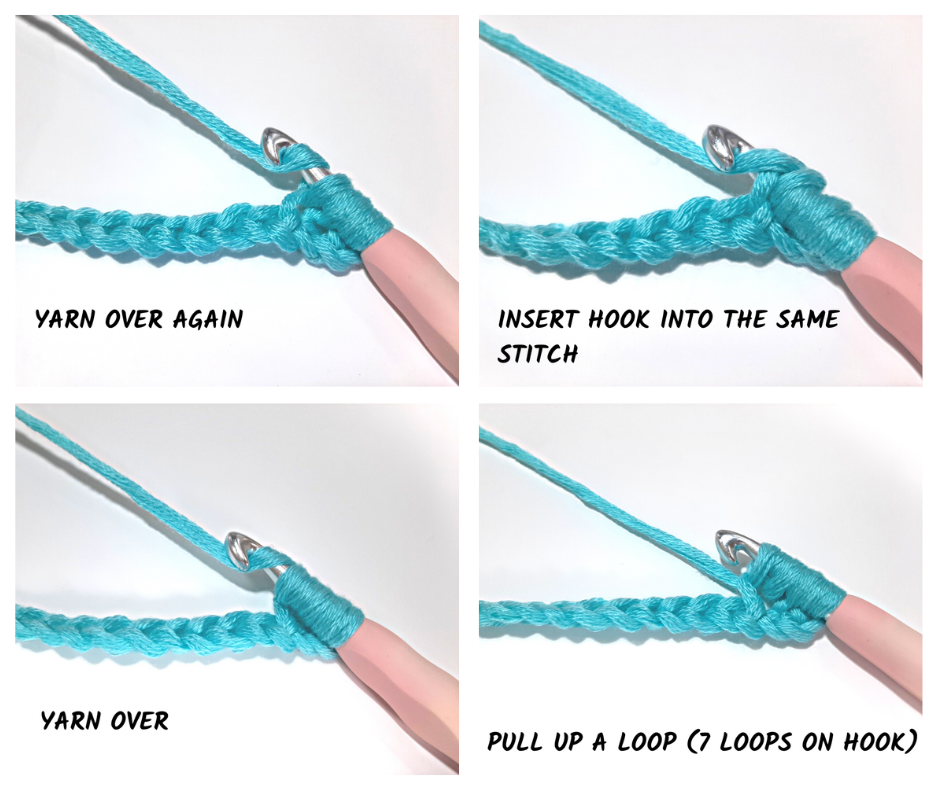 Note: You may also repeat this step to add more loops resulting in a puffier stitch.
Yo and pull through all 7 loops on your hook. This may be a bit tricky at first, and if you're having a hard time pulling through all the loops at once, try pulling through each loop one by one until you reach the last loop.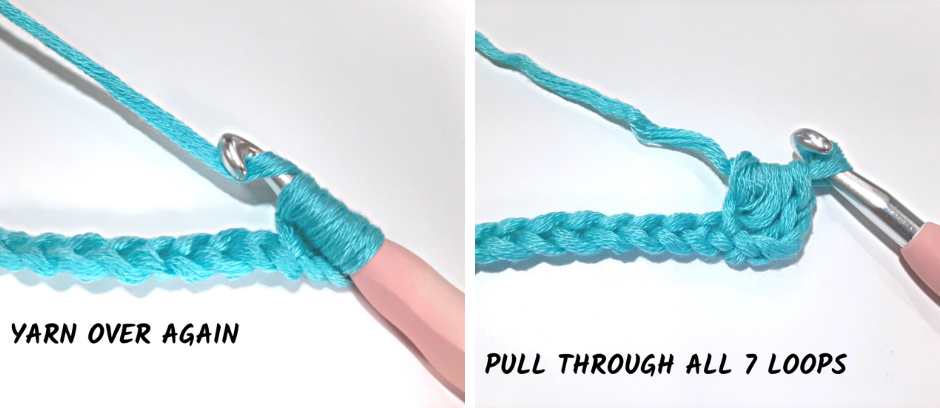 Chain 1 at the top to close the stitch.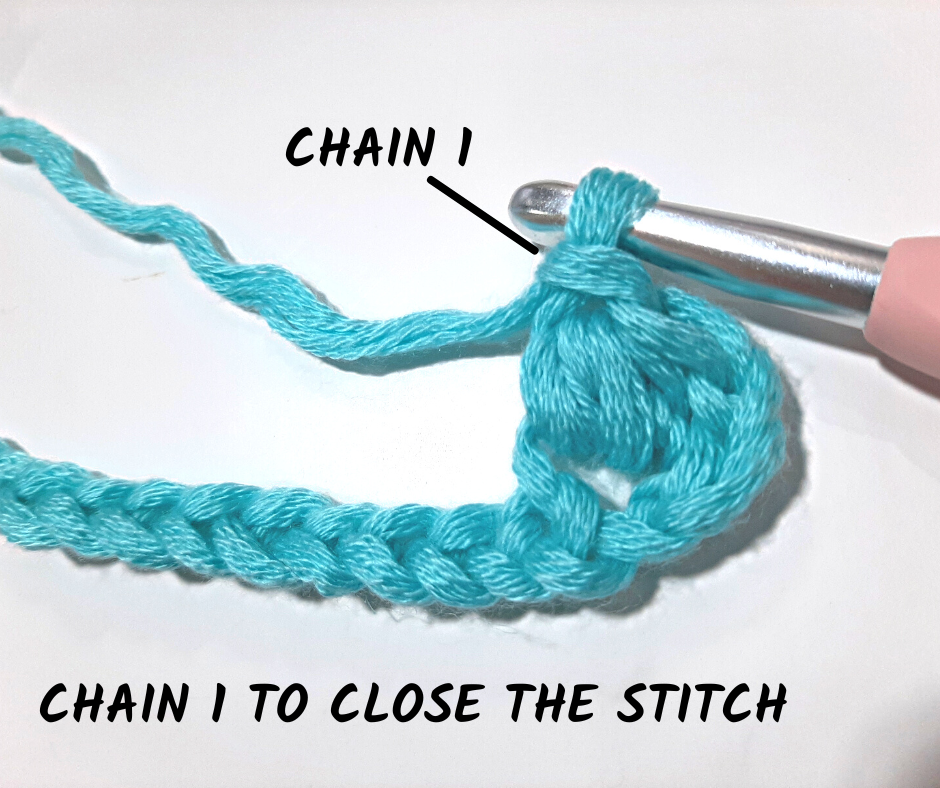 Great! You have now made a puff stitch.
When working a row of puff stitches into a chain, skip one chain stitch before working your next puff stitch into the next chain.
Repeat this process of creating one puff stitch and skipping the next stitch (puff st, sk next st) until you reach the end of your puff stitch row. To start the next row, make a turning chain of three chain stitches after your last stitch and turn your work.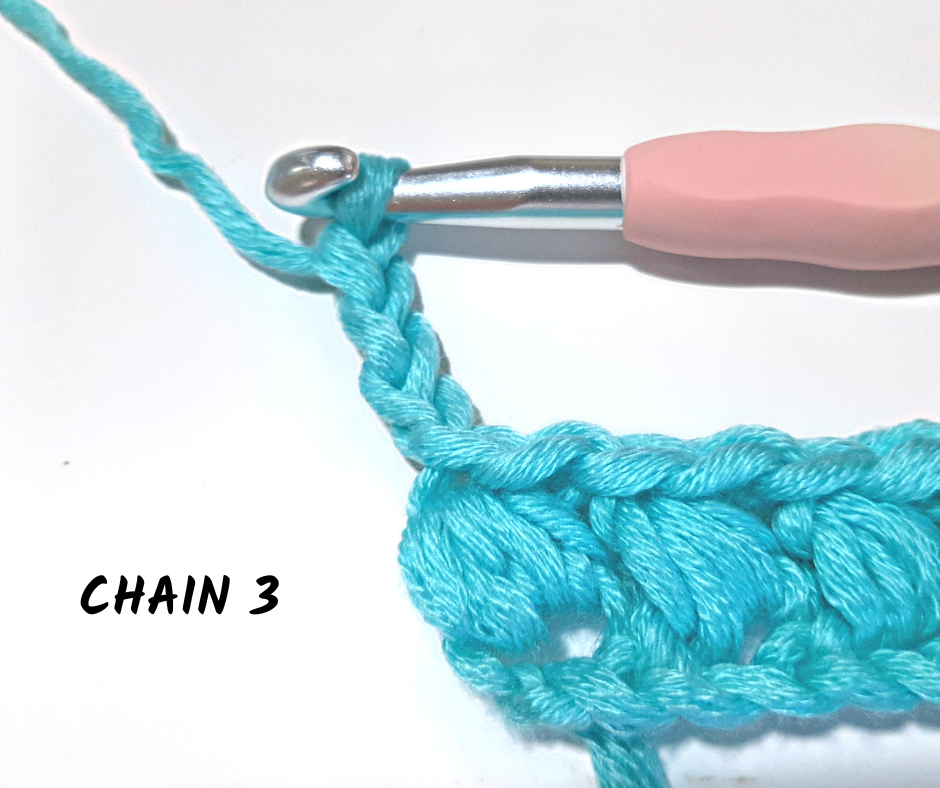 In the next row, work your puff sts into the skipped chains of the previous row while repeating the same process from the first row. When you reach the last stitch, work your stitch into the space between the last puff stitch and ch 3.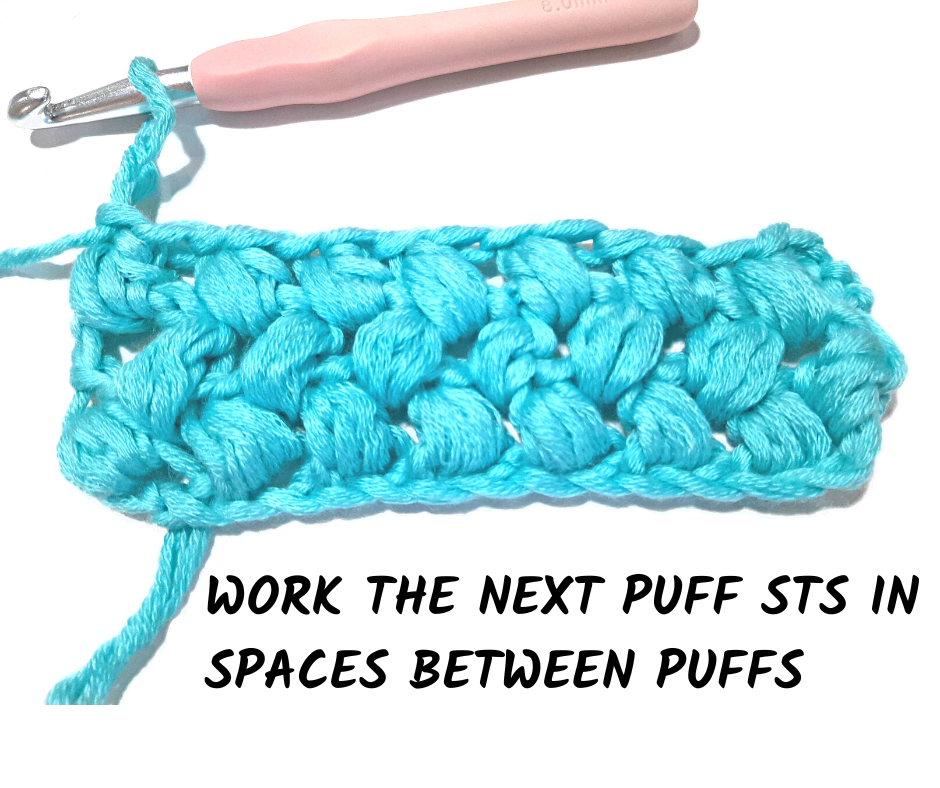 Puff Stitch Variations
As mentioned above, you can work puff stitches with more or fewer partial hdcs in each puff if you like.
You can also spread out your puffs so they are not worked as often. Some patterns will put a single crochet or half double crochet between each puff (or more) or have you work a row of plain stitches between the rows of puff stitches.
Puff stitches can be used in straight rows as shown or you can make a design like a heart or spell out a name by strategically placing the puff stitches. They're so fun to play with!
Want to learn more fun stitches? Then check out The Ultimate Crochet Stitch Library for a whole catalog of fun stitches and stitch tutorials for each stitch for you to use in your next project!
Crochet Patterns I Can Make with the Puff Stitch
The puff stitch is a great stitch for any type of project if you want to add a bit of texture to your piece. They are decorative and fun and can add a 3D feel to any crocheted fabric. Here are some free crochet patterns using puff stitch to get you started.
---
---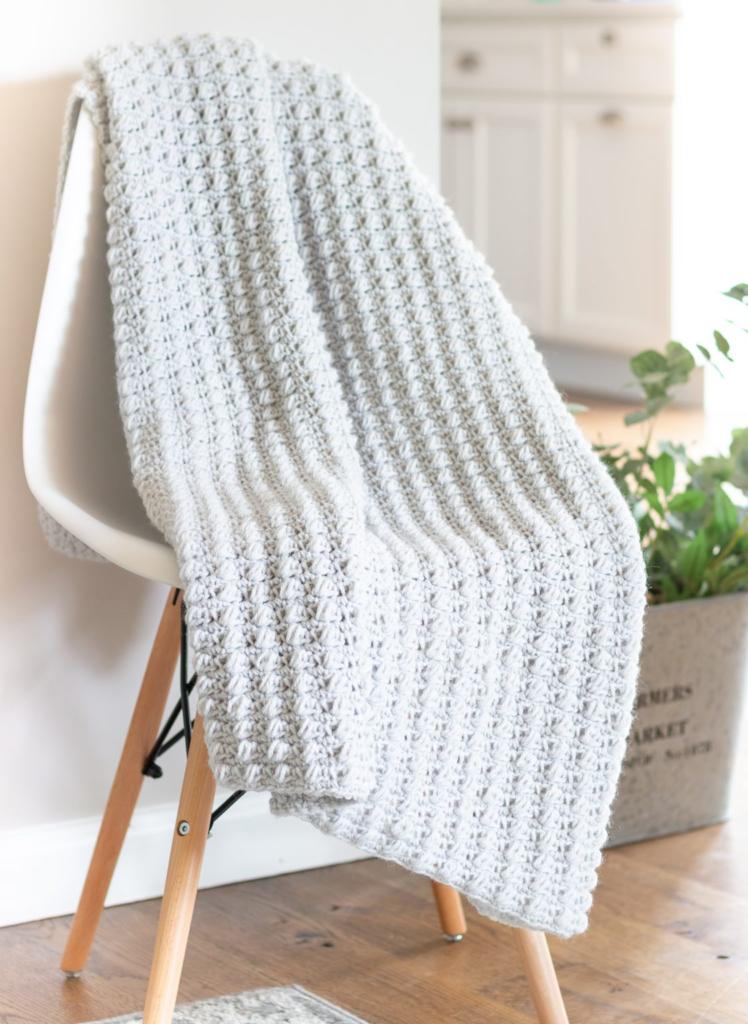 Textured Puff Stitch Crochet Blanket Pattern
Designer: Easy Crochet
Yarn weight: (4) Worsted
Suggested yarn: Lion Brand Pound of Love Yarn
Looking for an easy crochet blanket pattern with some unique texture? This crochet puff stitch blanket may be just what you're looking for. It is made with a combination of basic stitches mixed with the puff stitch to add texture and give a distinctive and unique look to the blanket.
---
---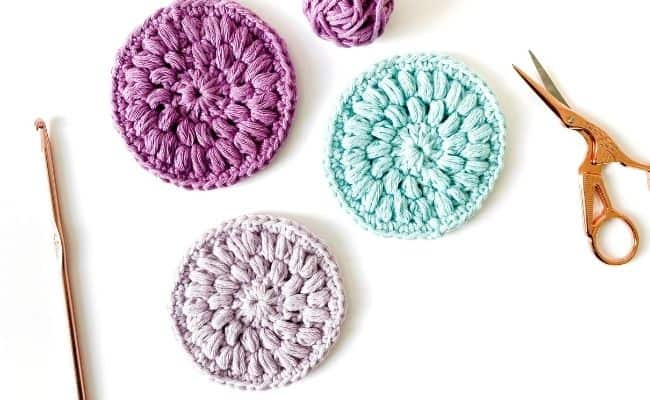 Puff Stitch Crochet Face Pads
Designer: Burgundy and Blush
Yarn weight: (3) DK
Suggested yarn: Lion Brand 24/7 Cotton
These eco-friendly and sustainable face scrubbies are quick and easy to whip up to use for skincare, removing makeup, or as last-minute gifts! They are made using the puff stitch for a thick and squishy surface, great for absorbency.
---
---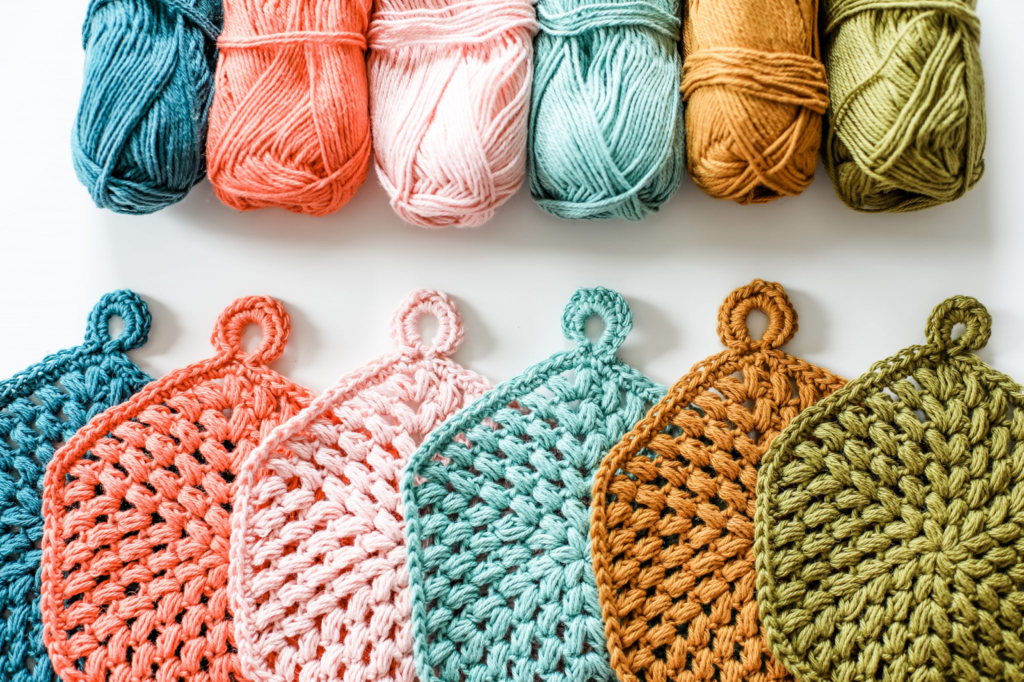 Hexi Puff Coasters
Designer: TL Yarn Crafts
Yarn weight: (3) DK
Suggested yarn: WeCrochet CotLin
These Hexi Puff Coasters are a great project for beginners to try. The pattern is made with a few fundamental stitches but helps beginners advance their skills by adding this stitch, along with other intermediate stitches.
---
---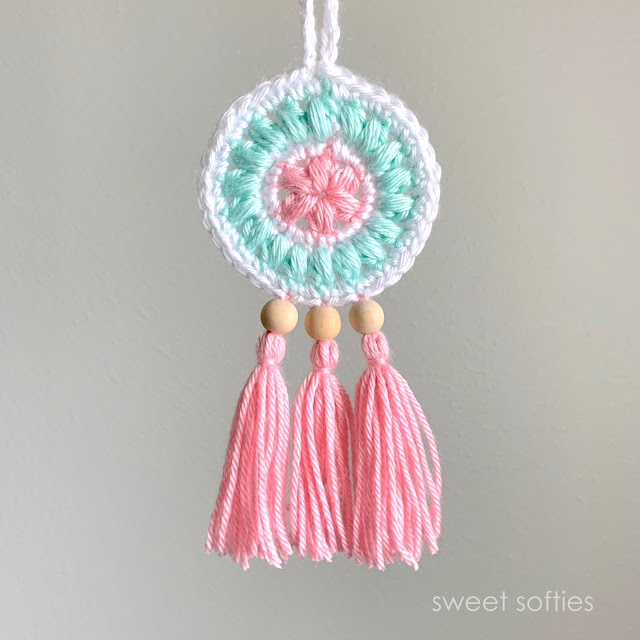 Petite Floral Dream Catcher
Designer: Sweet Softies
Yarn weight: (4) Worsted
Suggested yarn: Lion Brand Vanna's Choice
This cute and trendy mini dream catcher can liven up any living space! This pattern features a cute puff stitch flower at its center and is very flexible as it allows you to experiment with different yarn and bead combinations. It doesn't take much yarn, making it perfect for stash-busting.
---
---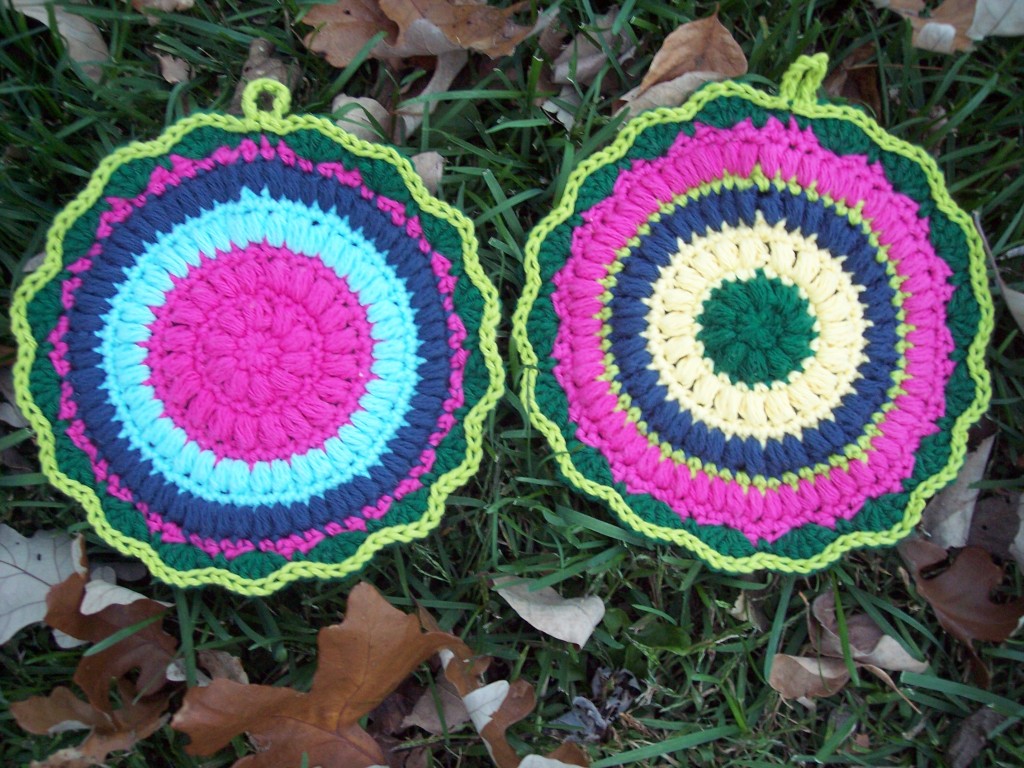 Puffy Scrap Yarn Pot Holder
Designer: Stitch11
Yarn weight: (4) Worsted
Suggested yarn: Lily Sugar'n Cream
This colorful pot holder crochet is a great way to practice puff stitch and to use up little bits of leftover yarn because you can make each round or two a different color (or make it solid if you'd rather). You'll want to use cotton yarn for this, so it doesn't melt or scorch under heat.
---
---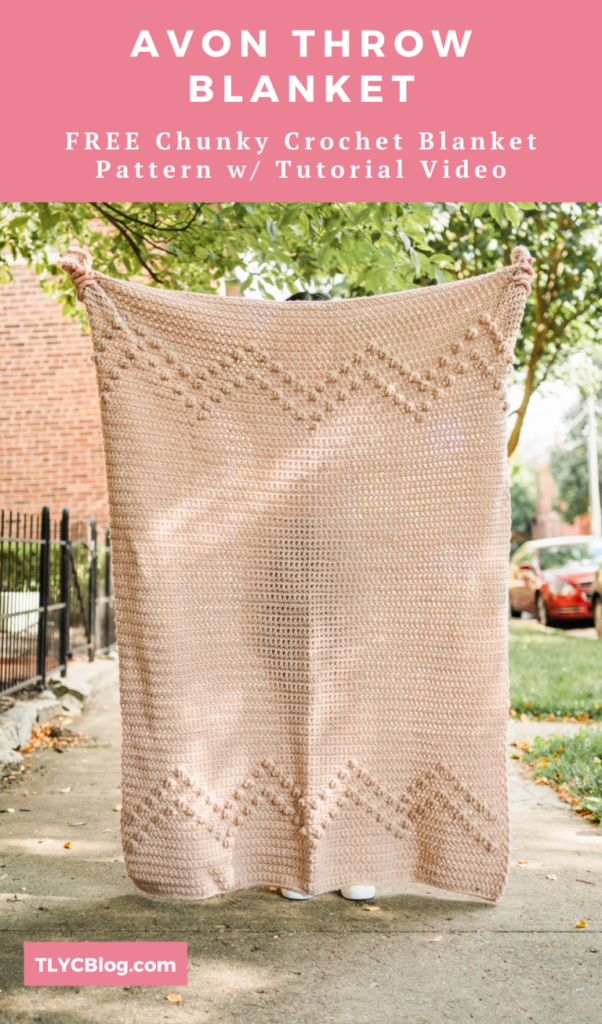 Avon Throw Blanket
Designer: TL Yarn Crafts
Yarn weight: (5) Bulky
Suggested yarn: Lion Brand Hue + Me
Don't you just love cozying up under a chunky blanket to keep you warm while watching your favorite TV show? The Avon Throw Blanket makes the perfect companion for a relaxing evening. This pattern uses single crochet stitches and has written instructions and a visual chart for the puff stitch parts.
---
---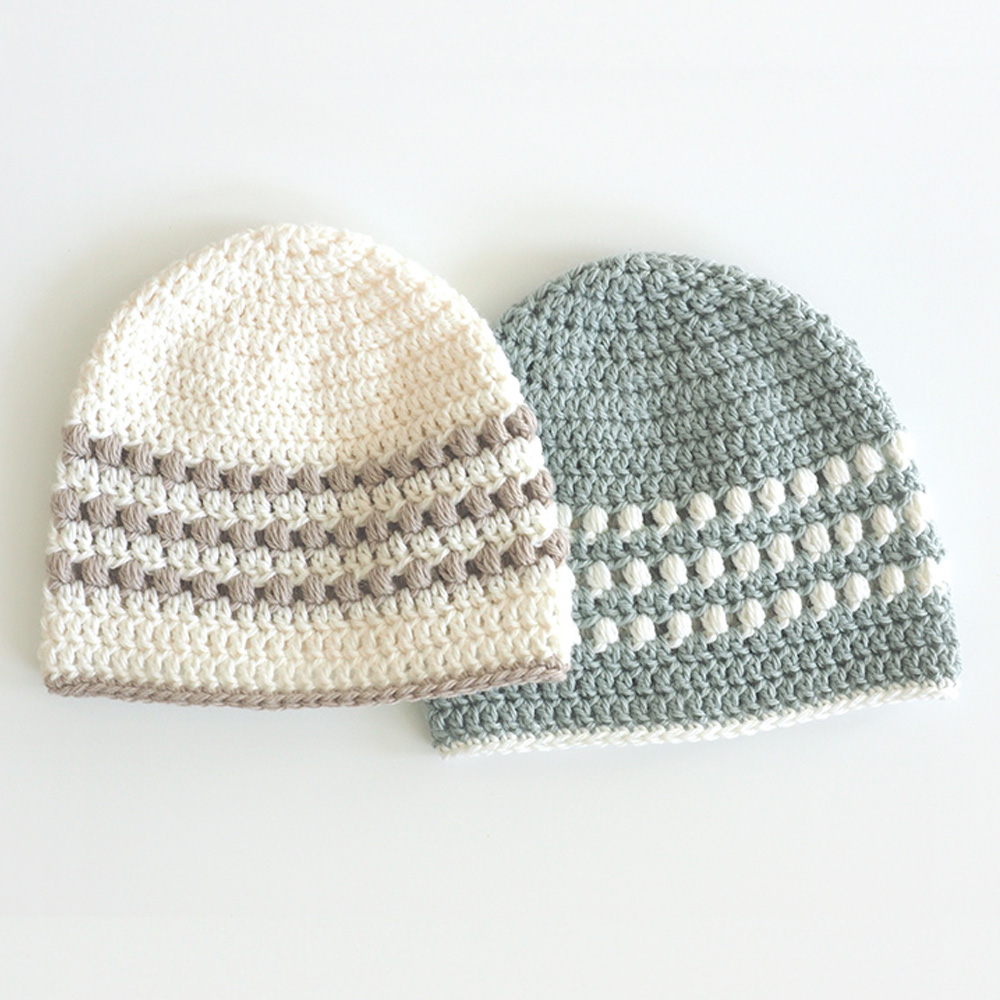 Puff Stitch Crochet Baby Hat
Designer: Dabbles and Babbles
Yarn weight: (3) DK
Suggested yarn: Berroco Vintage DK
This crochet puff stitch baby hat is a great crochet hat pattern for beginners. It's a really simple design that any mother (and baby!) would adore. It is made with the puff stitch to provide texture and it uses two colors to really make the puffs stand out.
---
---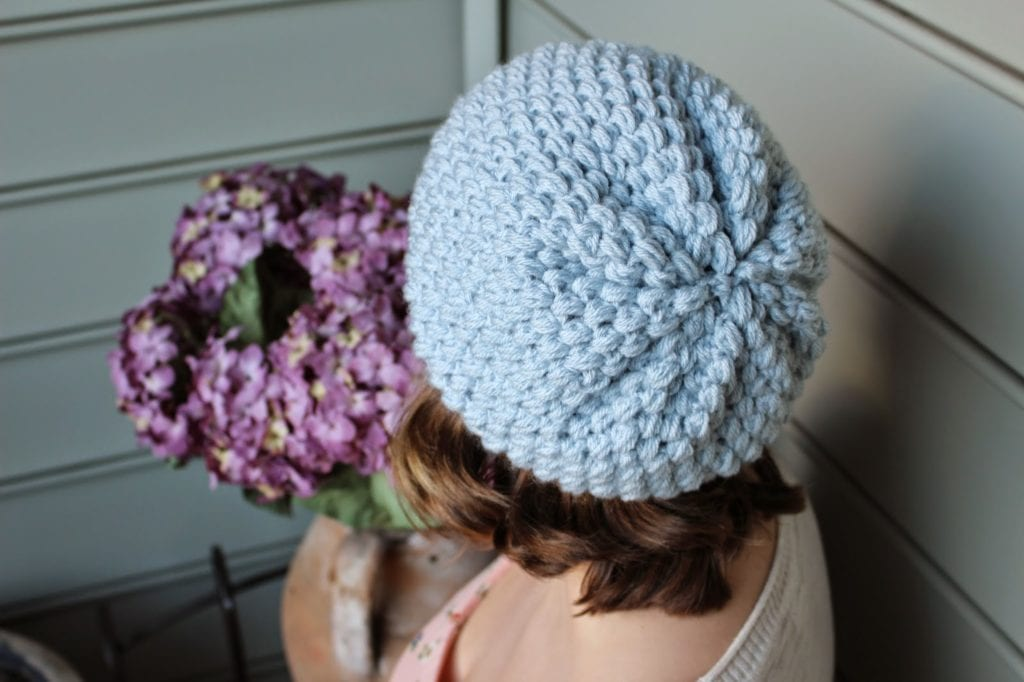 Puff Stitch Slouchy Beanie
Designer: Sewrella
Yarn weight: (4) Worsted
Suggested yarn: Lion Brand Vanna's Choice
This super easy puff stitch slouchy beanie is the perfect accessory. It's great to make them in different colors to match your favorite outfit! Along with the written pattern, there's also a handy video tutorial to help ease you through the project.
---
---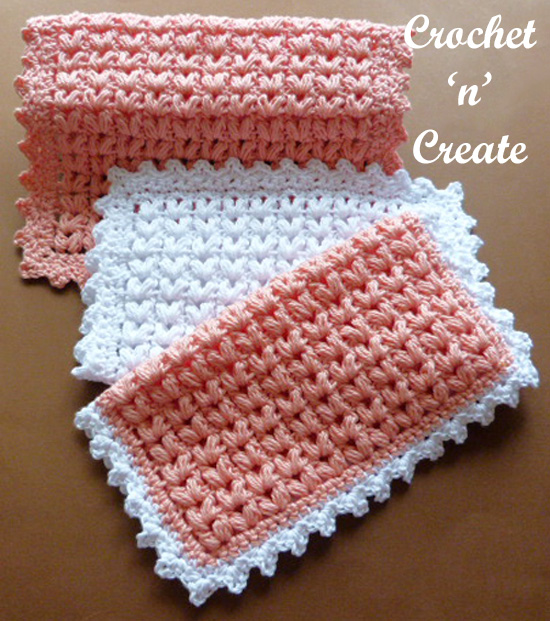 Puff Stitch Dish Cloth
Designer: Crochet n' Create
Yarn weight: (3) DK
Suggested yarn: Lion Brand 24/7 Cotton
This reusable, soft cotton puff stitch dishcloth can also be used as a washcloth depending on your preference. Some may think it's too pretty to wash dishes with, but why not have nice things to use every day? This pattern is a good project for new crocheters to practice the puff stitch with and for the more experienced crocheters, a quick and easy pattern to work up for themselves or as gifts.
---
---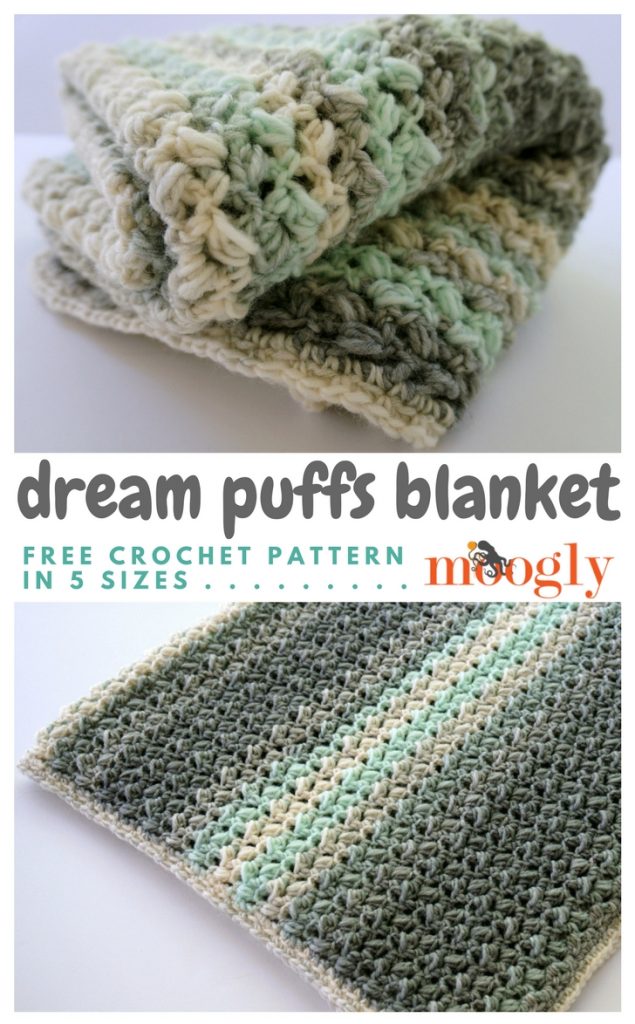 Dream Puffs Blanket
Designer: Moogly
Yarn weight: (5) Bulky
Suggested yarn: Lion Brand Scarfie
The Dream Puffs Blanket features an awesome V-stitch and puff stitch combination that makes the pattern easier to memorize. This crochet puff stitch blanket pattern comes in five sizes so you can make it for a baby or bigger.
Puff stitch crochet is such a fun technique to have in your bag of tricks. You can easily add a little or a lot of texture to a project and give any design a touch of whimsy.
If we've inspired you to want to learn more crochet stitches, check out the Ultimate Crochet Stitch Library. This collection has instructions and video tutorials for 45 different crochet stitches you can learn and start adding to your projects right away.
Looking for more great crochet patterns: 40 Baby Boy Crochet Hat Patterns, 40+ Free Crochet Bucket Hat Patterns, 24 Unique Temperature Blanket Crochet Patterns, 55 Fun Pot Holder Crochet Patterns