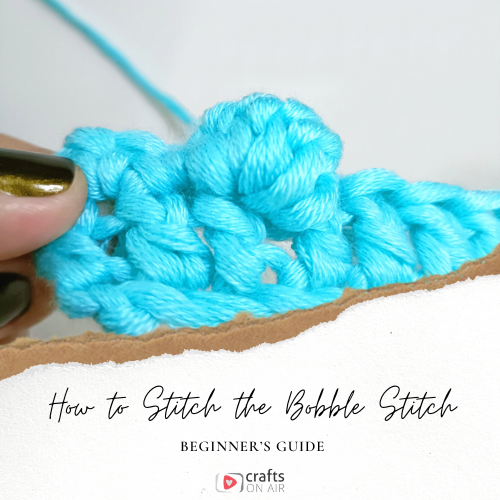 We all love texture in our crochet projects. It makes them stand out from the crowd. It is also one of the many reasons why crocheters love learning about different kinds of stitches. One of the best crochet stitches you can learn to bring lots of texture to your projects is the bobble stitch. Sounds fun, right? If you are new to crocheting and want to learn how to crochet bobble stitch, then read on for more on this tutorial. 
And if that isn't great enough I am sharing my entire Crochet Stitch Library with you. It is my step-by-step video collection of 45 of my favorite stitches. You can learn them all for free for 2 days. Check the class out here.
What is a Bobble Stitch?
A bobble stitch is similar to a popcorn stitch. It is an easy crochet stitch that consists of clusters of stitches, creating a bubble-like pattern on the surface of your crochet project.
Sometimes, a bobble stitch is also known as a double crochet bobble, puff stitch, 5 cluster stitches, or a double crochet five-together stitch. These names may indicate slightly different techniques but the concept is the same.
Some crocheters may use single or half double crochets to create the pop instead of the usual double crochet for the bobble stitch. However, this tutorial will stick with the traditional double, so you are not confused.
In many crochet patterns, bobble stitch crochet is abbreviated as BO or bo. So, when you encounter these abbreviations, it means a bobble stitch crochet is needed.
Bobbles are known as yarn eaters because you're making a bunch of stitches in the space where one stitch normally would go. But this fun texture is definitely worth having to use a little extra yarn!
Step-by-Step Instructions: Bobble Stitch Crochet for Beginners
You can use any yarn and corresponding hook you like to crochet bobble stitch. If you are new to crochet in general, you will want to choose a smooth, light-colored, medium-weight (4 or worsted) yarn and a hook that works with that size yarn (5.5-6.5mm, or an I-9 or J-10 size).
If you are practicing bobble stitch because you want to use it in a particular pattern, use the yarn and hook called for in the pattern. But if you have a crochet bobble stitch blanket pattern you want to follow, for instance, it might call for a bulky yarn and a larger hook. This would be perfect for you to practice with so you are comfortable when you make the project itself.
But how to do bobble stitch in crochet anyway? Let's get started!
If you need more help learning this stitch pattern we have a whole catalog of crochet stitches complete with video instructions (including bobble stitch) in our Ultimate Crochet Stitch Library.
Step By Step Guide for Bobble Stitch
For this tutorial, you will need yarn, a crochet hook, and scissors. I am using a size 7 mm (which would be close to an L-11 8 mm) hook for this tutorial and 16-ply cotton (bulky or yarn weight 5) yarn. You can choose any yarn or hook size you'd like for your project.
Before we start with the bobble stitch, like with any other crochet project, it is essential to start with a chain to work your stitches into. We will also be using abbreviations like:
| ABBREVIATION | DESCRIPTION |
| --- | --- |
| dc | double crochet |
| sc | single crochet |
| bo | bobble |
| hdc | half double crochet |
| ch | chain |
If you need help with the basics, our Crochet Fundamentals course has everything you need to learn the basics and beyond of crochet. From yarn and hook selection to basic stitches and more, this workshop is all you need to boost your crochet confidence!
all you need to boost your crochet confidence!
For our foundation chain, we will chain 24.
Note: Bobble stitch is worked on an even number of stitches.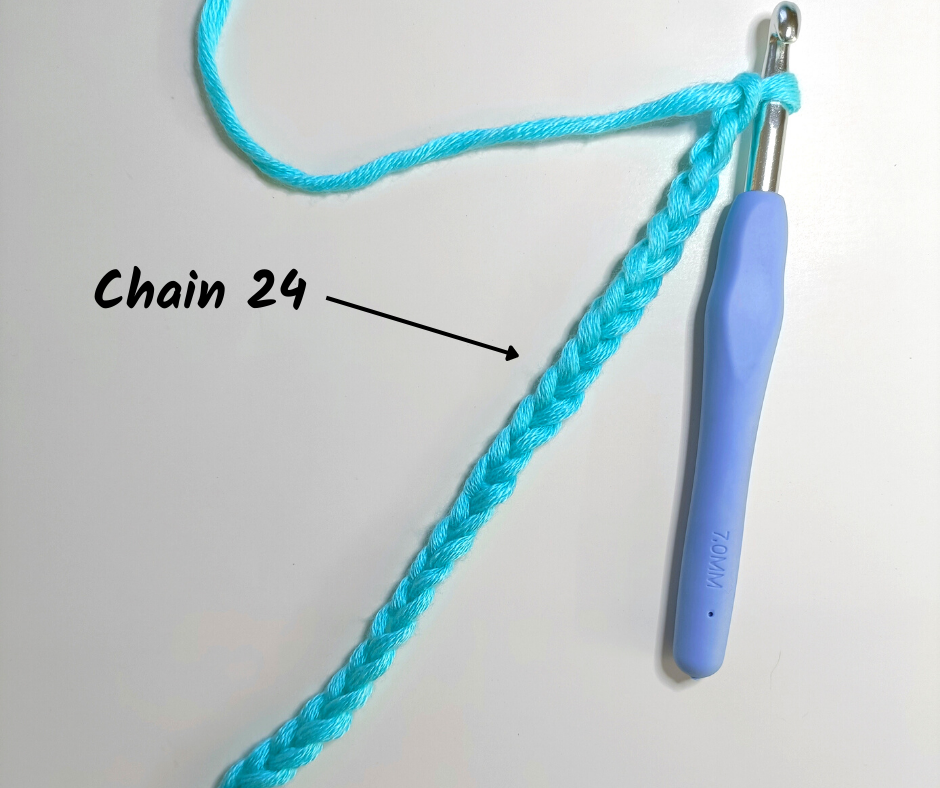 Once you have your chain, we will start our work on the 4th ch from the hook.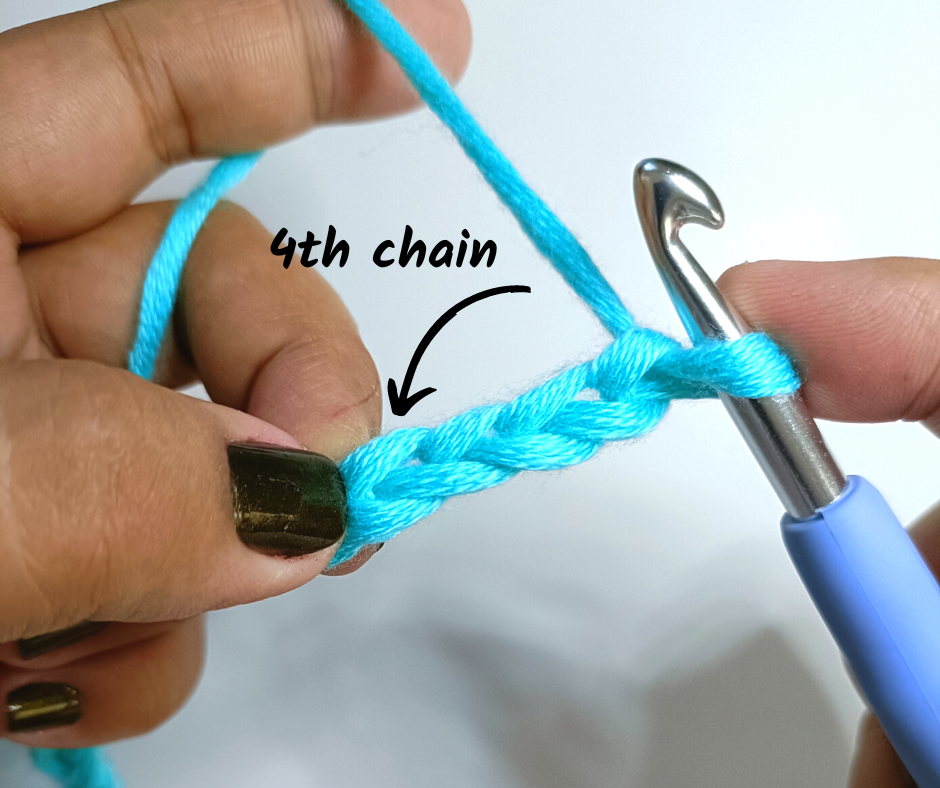 In that fourth chain, create a double crochet stitch. As a reminder, for a dc you yarn over, insert the hook into the chain, yarn over, and pull through a loop. Yarn over and pull through 2 loops on the hook, then do that again so you are back to one loop on the hook. Do the same in every remaining chain across.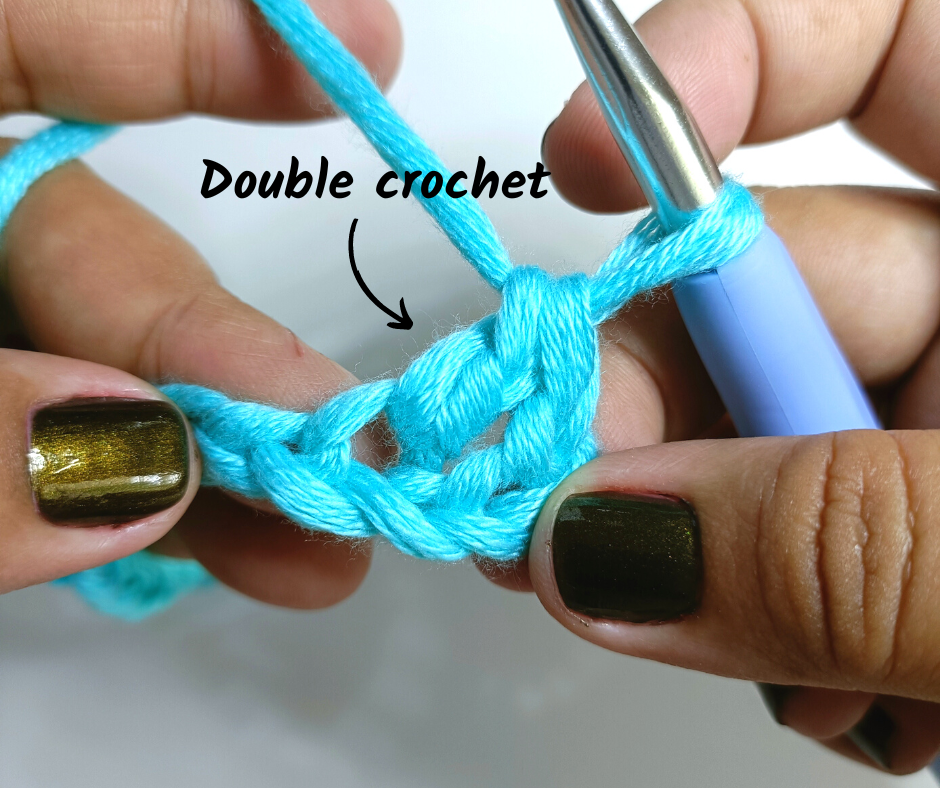 You have now created the base row for your bobble stitch crochet. We'll make our bobbles on the next row. Bobbles are actually worked on the wrong side or back of the work, but they pop out onto the front or right side after you make them.
For the purposes of demonstration, we will not be working a bobble in every stitch just made. You can make as many or as few bobbles across the row as you like. To begin this row, ch 1.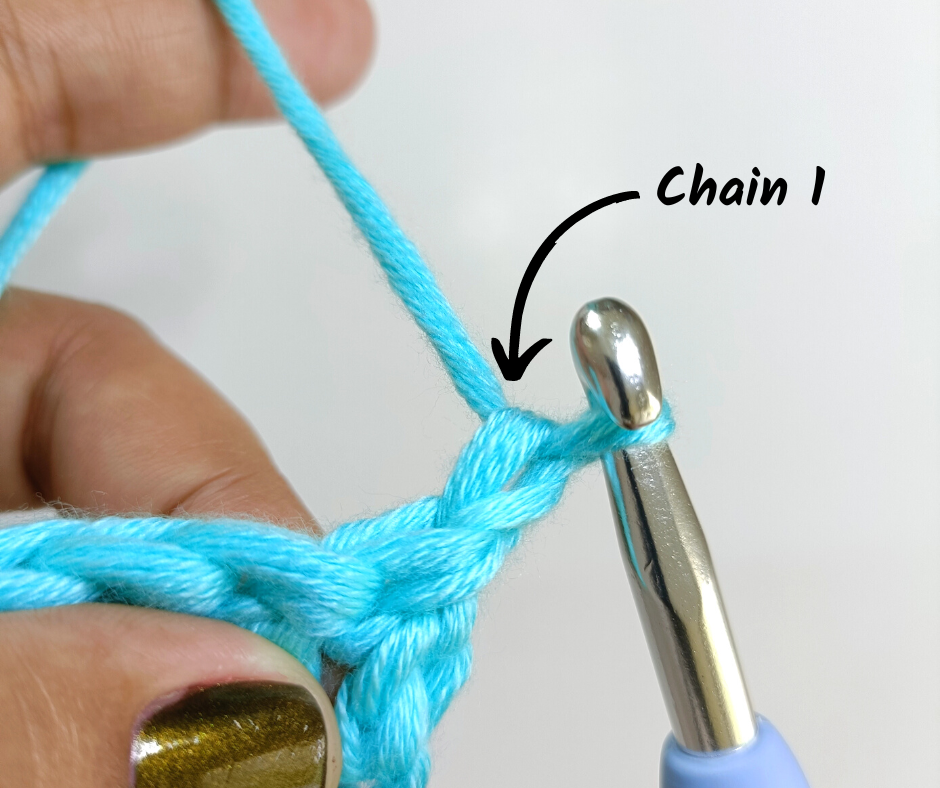 Turn your work and make a single crochet stitch in the first stitch from the previous row. To do a sc, insert the hook from front to back, yarn over and pull through a loop, and yarn over and pull through both loops.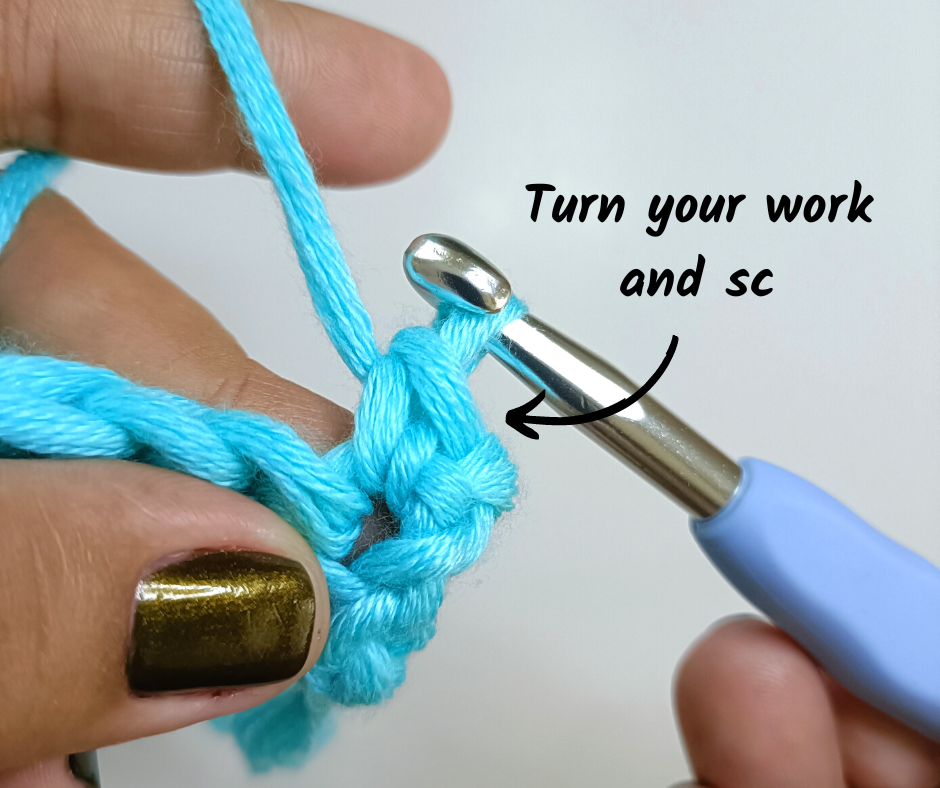 Make another sc in the next stitch.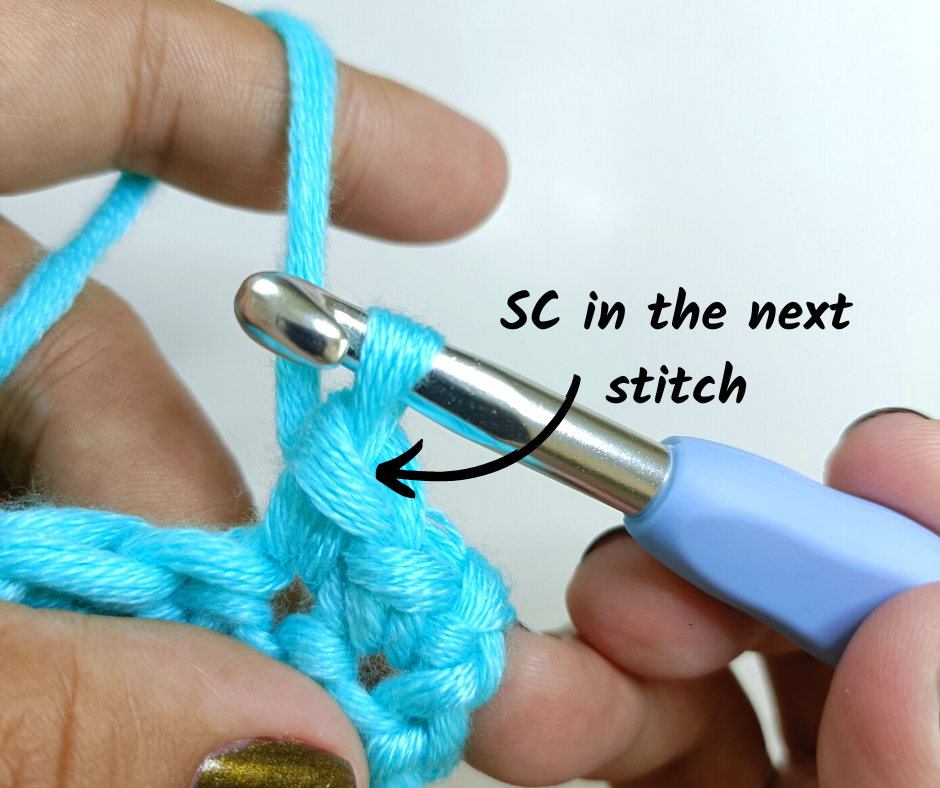 Now you will make your first bobble. Bobbles can be different sizes but in this case, you are working 5 dc stitches in one stitch to make the bobble.
To do this, yarn over, and insert your hook in the next stitch. Yarn over and pull through a loop.
You now have 3 loops on your hook. Now yarn over again, pull through 2 loops and pause. Do not pull through these loops yet.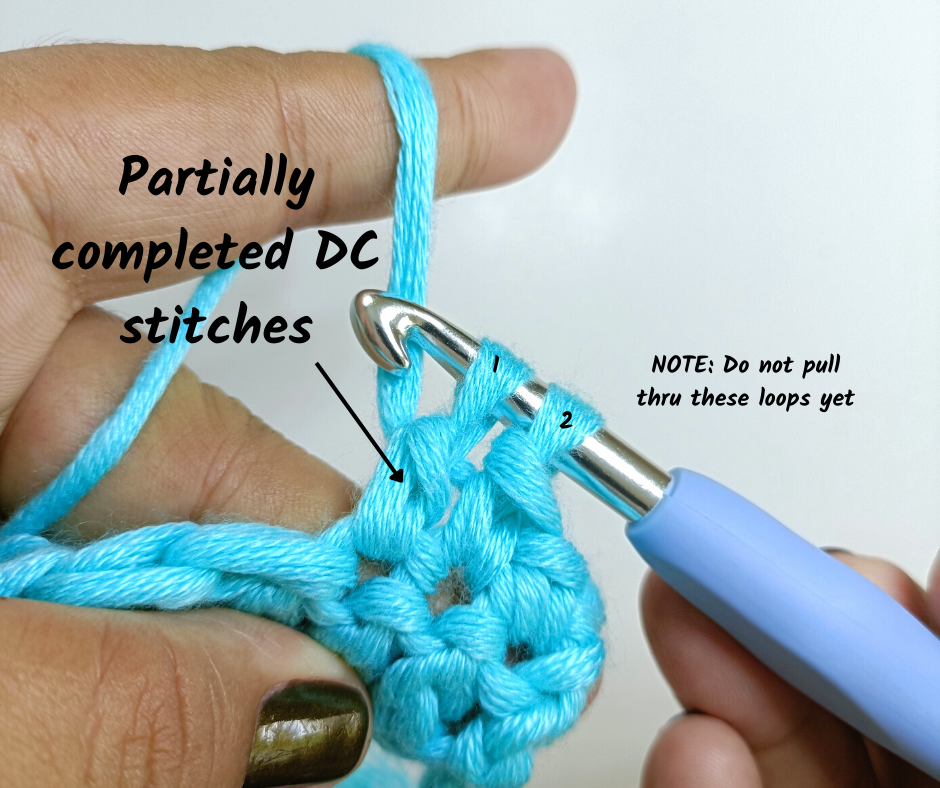 You now have 2 loops on your hook and part of a double crochet in your stitch.
You need 5 partial double crochets in this stitch to make the bobble stitch altogether.
Repeat the stitch as outlined above four times more to complete 5 partial double crochets total in this stitch.
Once you're done, there should be 6 loops on your hook and 5 partially completed double crochets in your stitch.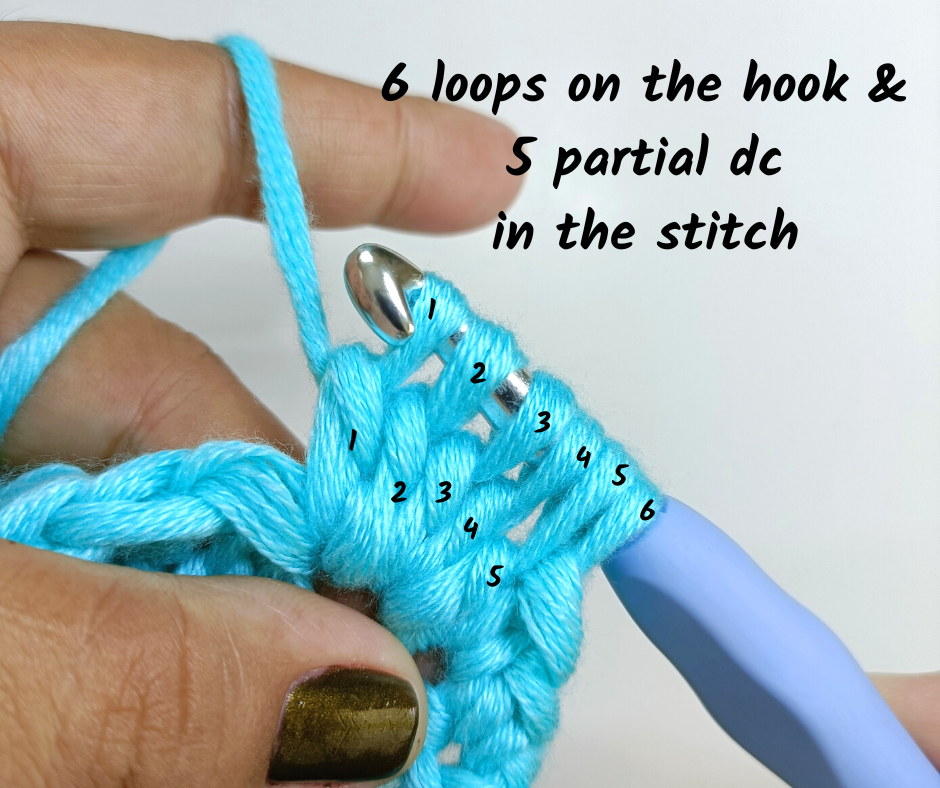 Yarn over and pull through all 6 loops.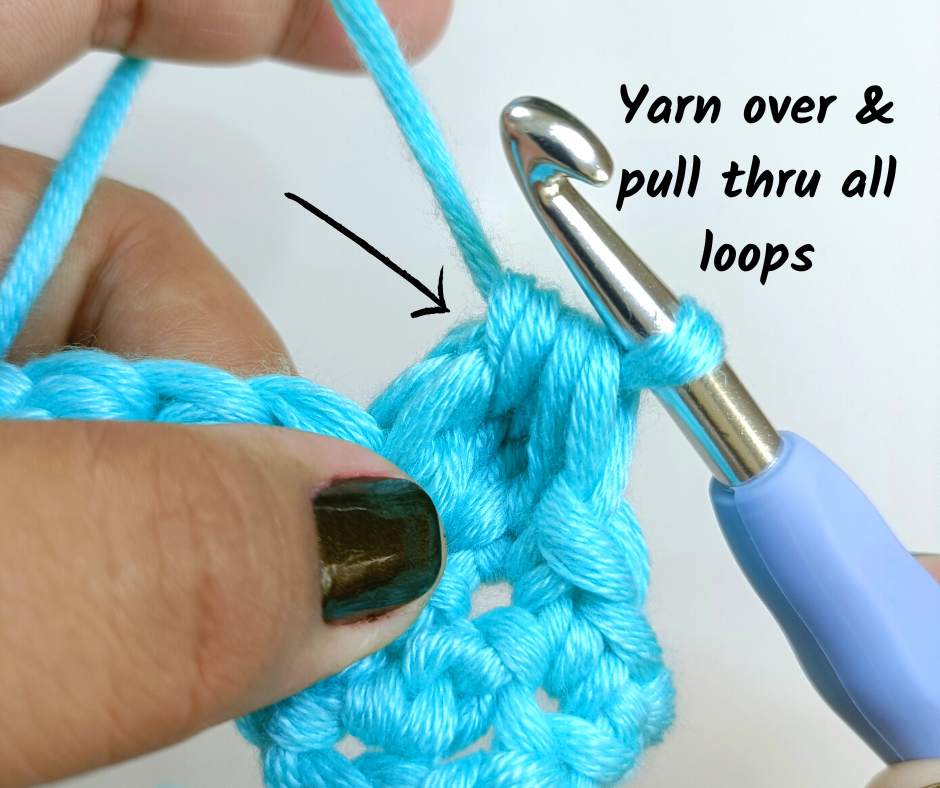 Making the Bobble Stitch Pop
Now, don't be confused if it's not as round as you expect yet. What you need to do is secure the hdc stitches to make the stitch "pop" or round. To make it pop, secure your bobble stitch by creating a sc in the next stitch. Remember, too, that the bobble is more visible on the other side of the work from where you are stitching right now.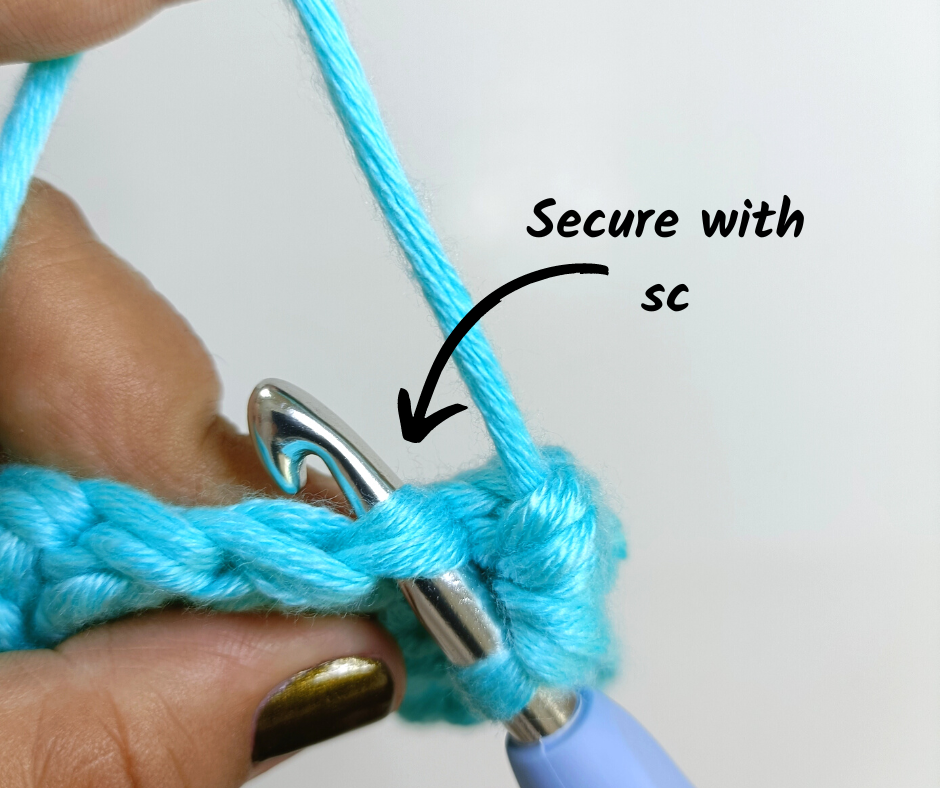 Once you have secured your bo stitch with a single crochet, it should "pop" out nicely.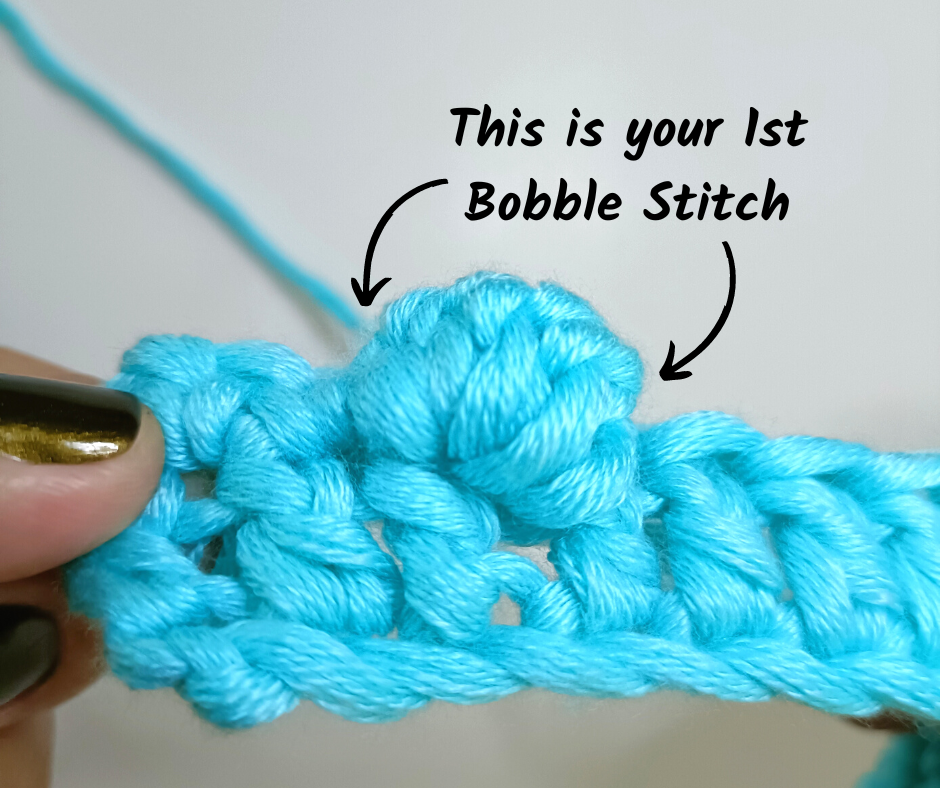 Do another single crochet in each of the next 2 stitches. You now have 3 sc stitches in a row, including the sc that secured your bobble stitch.
Let's create another bo stitch in the next stitch. Repeat the same steps you did above.
You now have your second bobble stitch.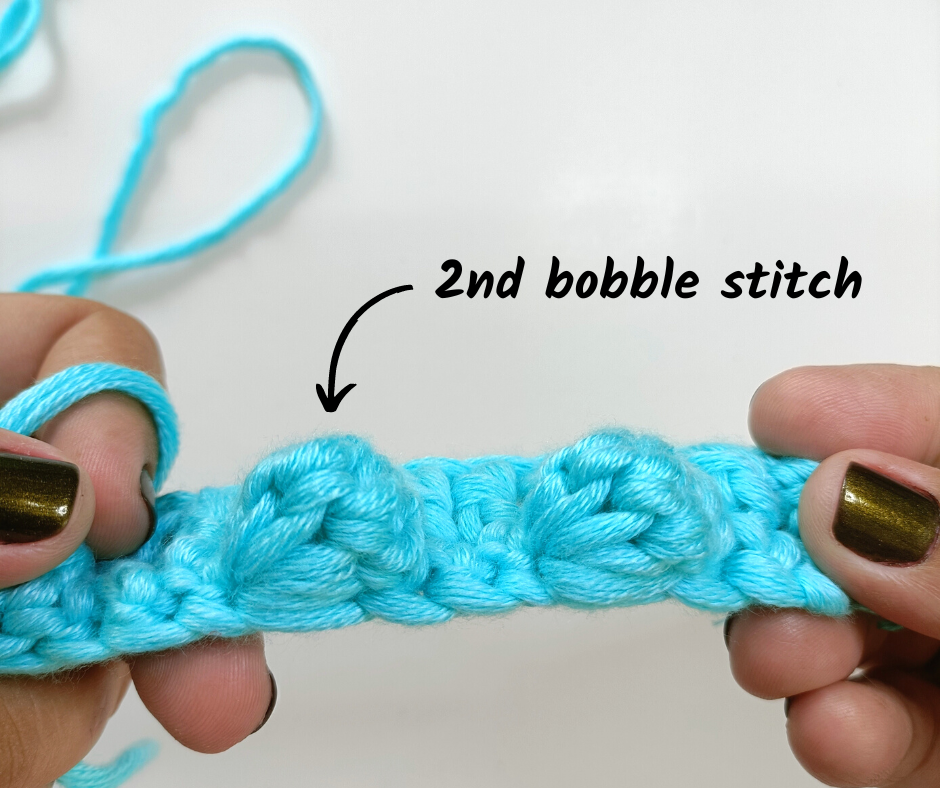 NOTE: As mentioned above, you can space out the bobbles however you like across the row and throughout your work. You can use bobbles to make designs and even spell out words with bobbles. But for now we're keeping them nicely spaced along the row.
SC 3, then repeat this pattern all the way across. This is what the bobble row should look like: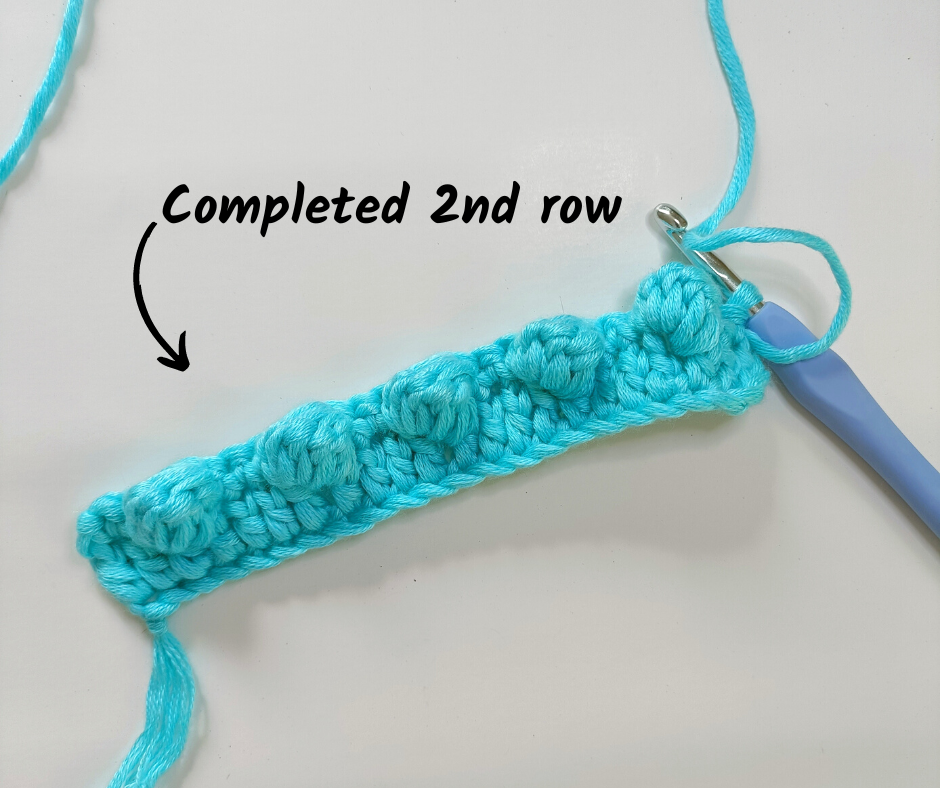 To start the 3rd row, ch 2 and turn your work. Make sure that you are working with the bobble stitches facing toward you.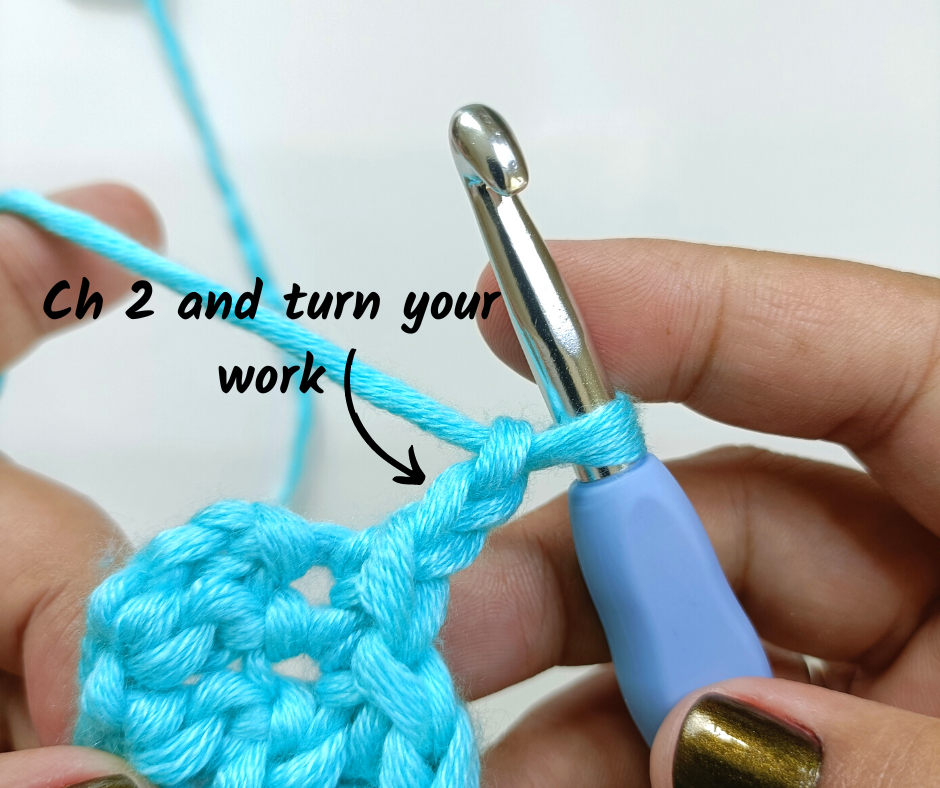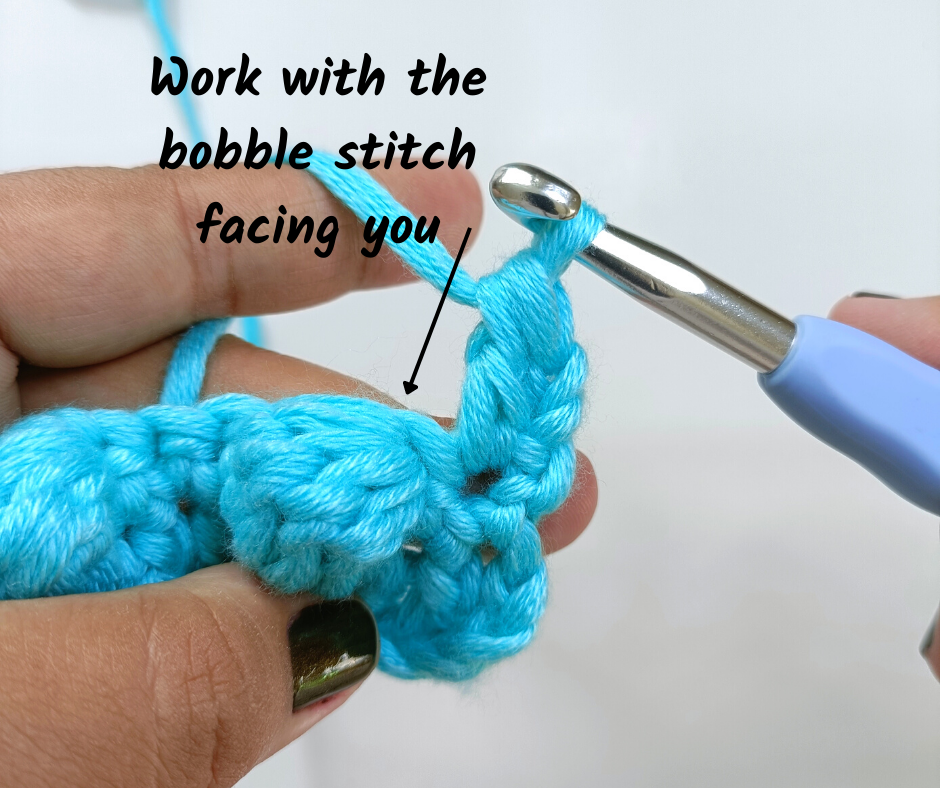 Work dc in every stitch across the row. Remember that each bobble counts as a stitch; you don't add a stitch for each stitch that makes up the bobble.
This is what your third row should look like: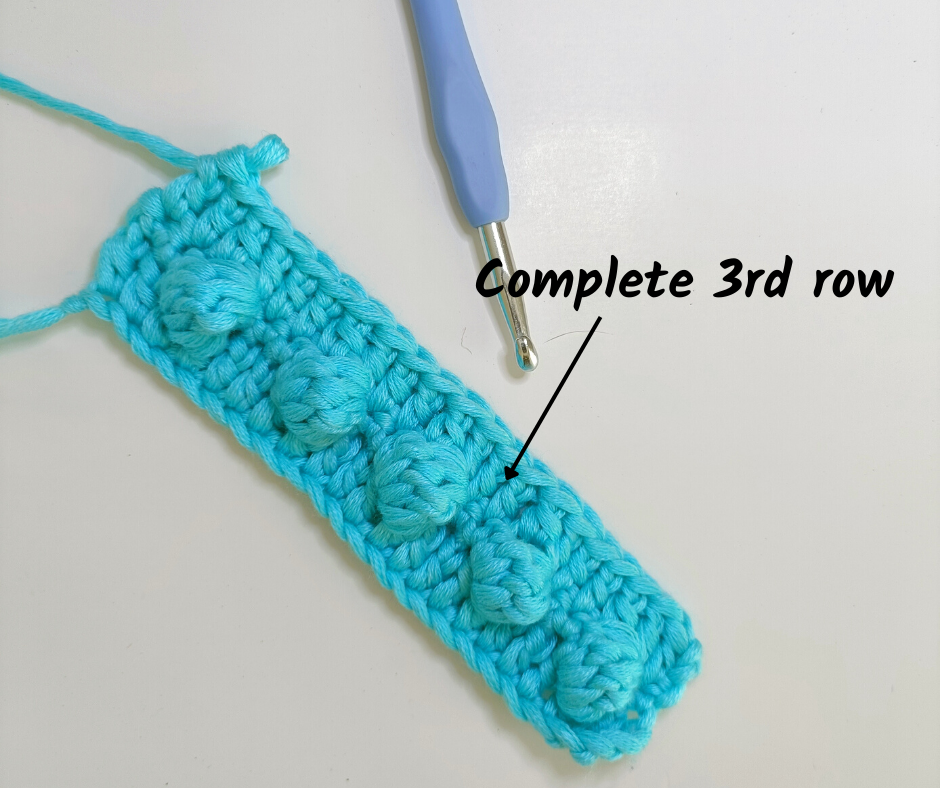 For your fourth row, ch 1 and turn your work. Remember, this ch 1 does not count as a stitch.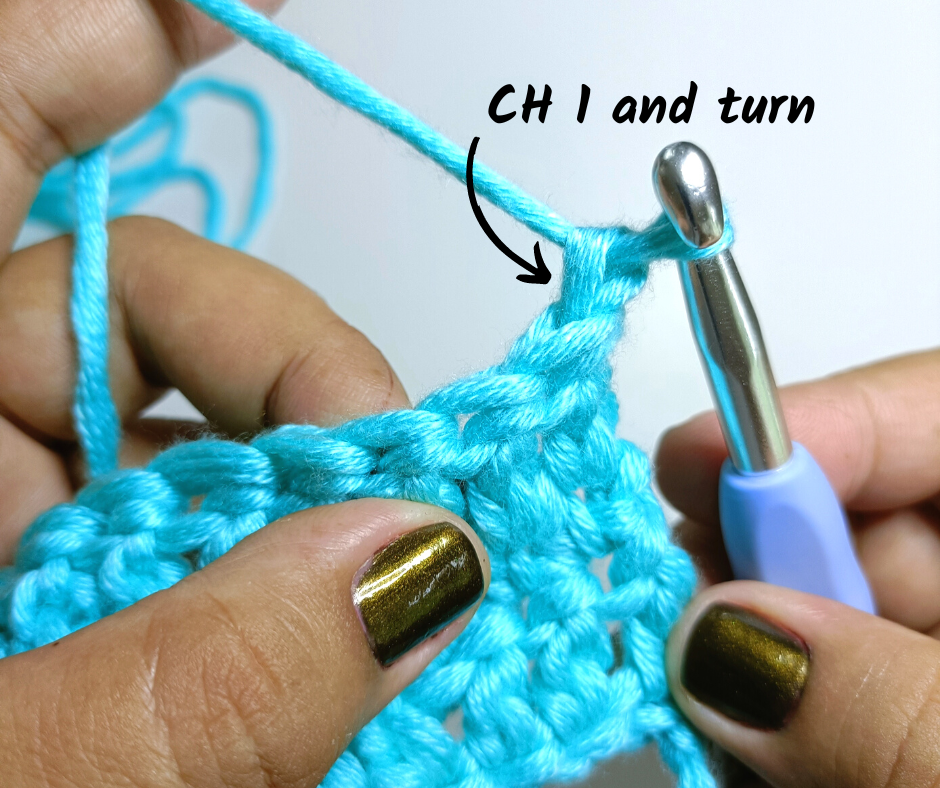 This time, sc 4 at the beginning of the row. This will offset the bobbles so they don't line up from row to row.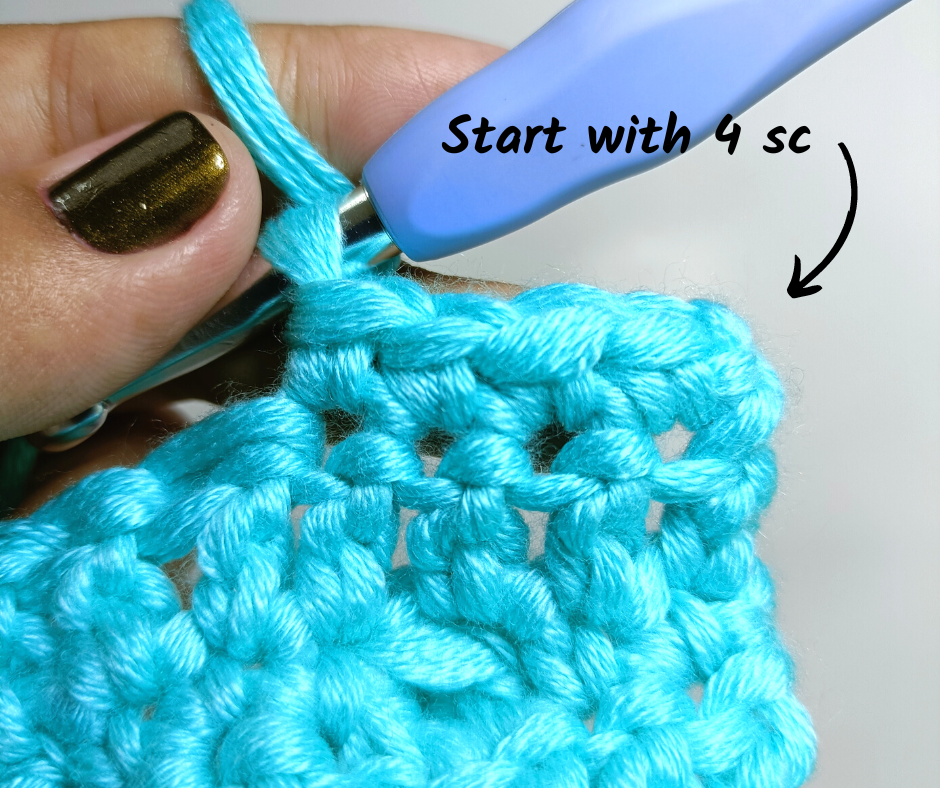 Do a bobble stitch on the fifth stitch. After crocheting your bo, secure it with a sc. SC 2.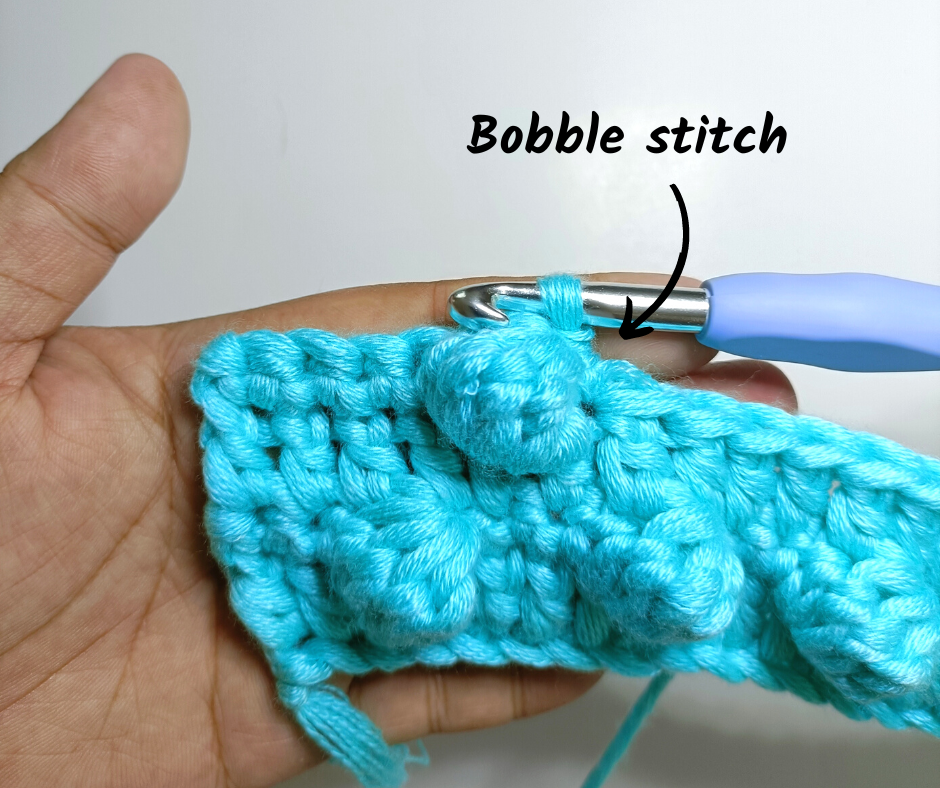 Repeat the pattern of bobble stitch + 3 sc + bobble stitch +3 sc until you complete this row.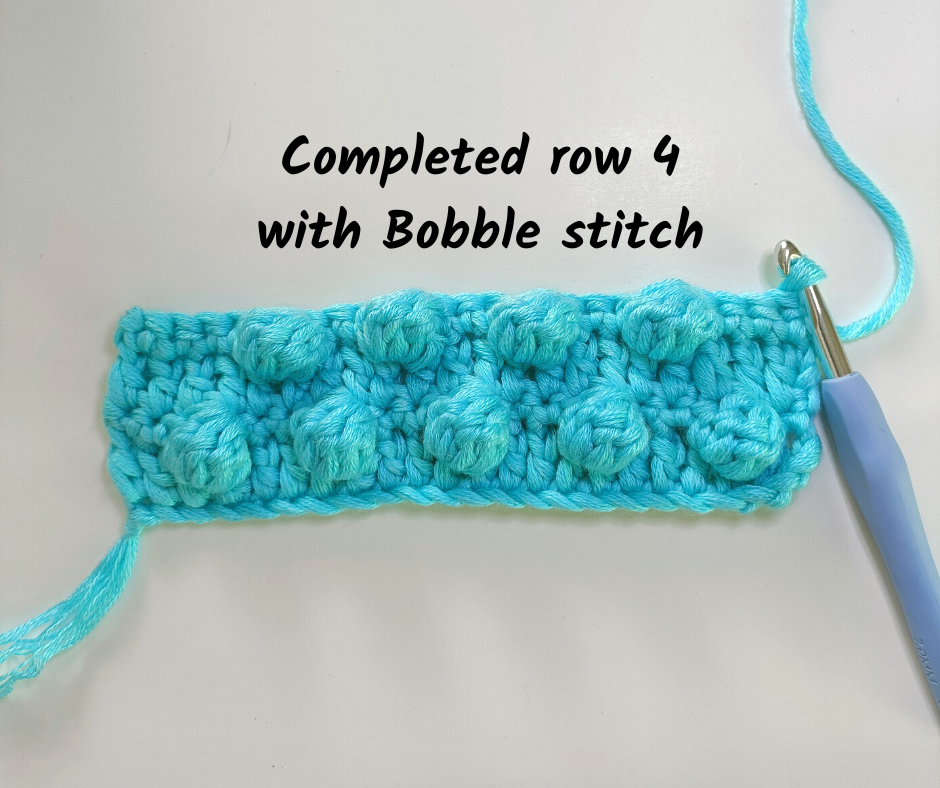 See how the bobble stitches are spaced out? This is what we are going for here. If yours didn't work out right, feel free to rip out this row and try again.
Row 5 then is the same as row 3, beginning with a chain 2 for height and dc across.
This is what your 5th row should look like: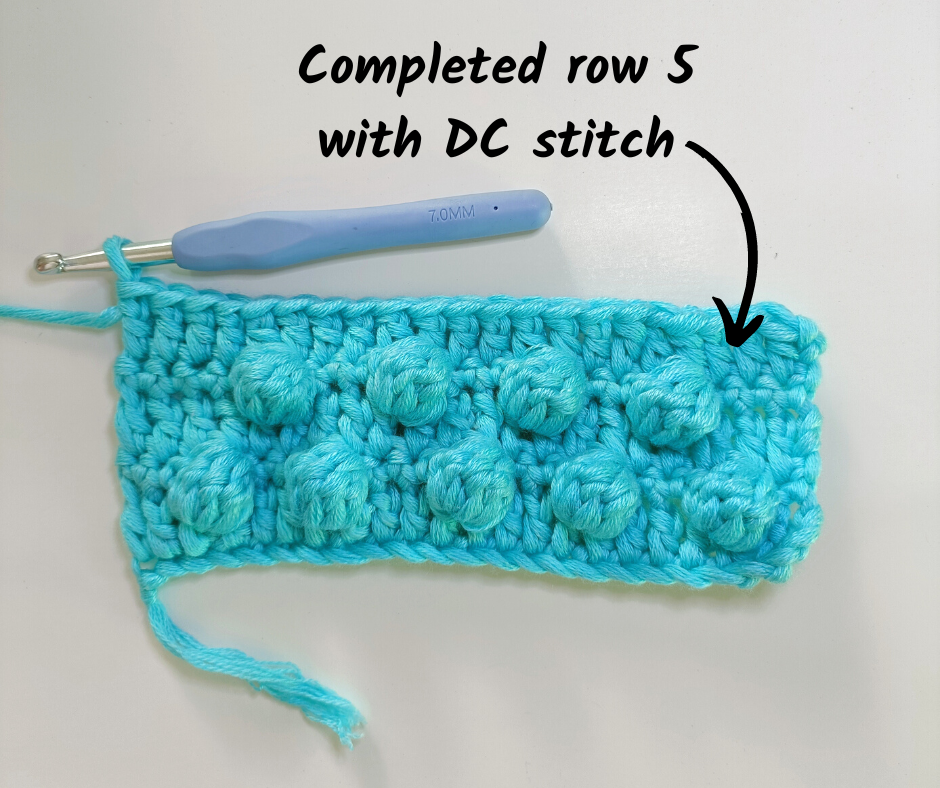 Once you have completed this row, you can simply repeat rows 1, 2, 3, and 4 until you have the length you need for your project or are comfortable with the technique and ready to start a real project.
You can create squares or rectangles with these rows which are great for making blankets and scarves!
Crochet Patterns I Can Make with the Bobble Stitch
Bobble crochet stitches are fun to make, and you can never go wrong with them! It's the perfect stitch for a crochet bobble blanket and other crochet projects that you wish to incorporate this stitch into. You will surely enjoy using the bobble stitch to make baskets, baby booties, and other crochet items.
But are bobbles really versatile? Of course! Here are some of the crochet projects you can do with this stitch.
---
---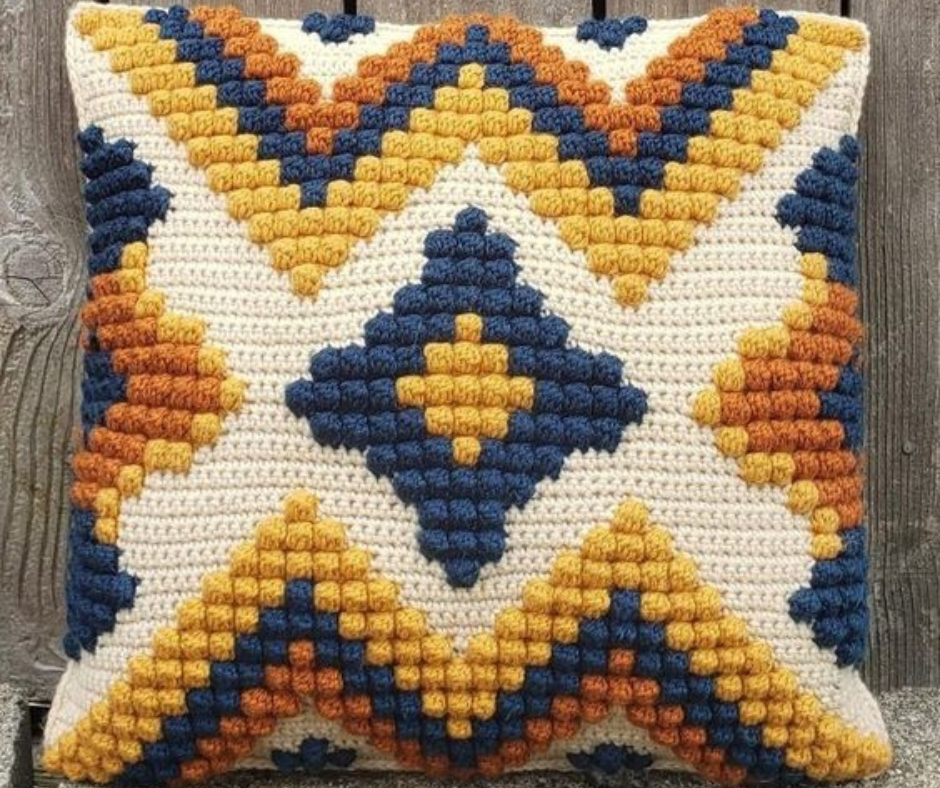 Boho Vibes Crochet Pillow Cover
Designer: Chain 8 Designs
Yarn weight: (4) Worsted
Suggested yarn: Loops & Threads Impeccable
Do you love adding boho décor to your home? This boho-inspired cushion cover is the perfect thing to add that '70s touch to your home. It also beautifully shows off that bobbles don't have to be worked in straight rows, or even in the same color throughout a project.
---
---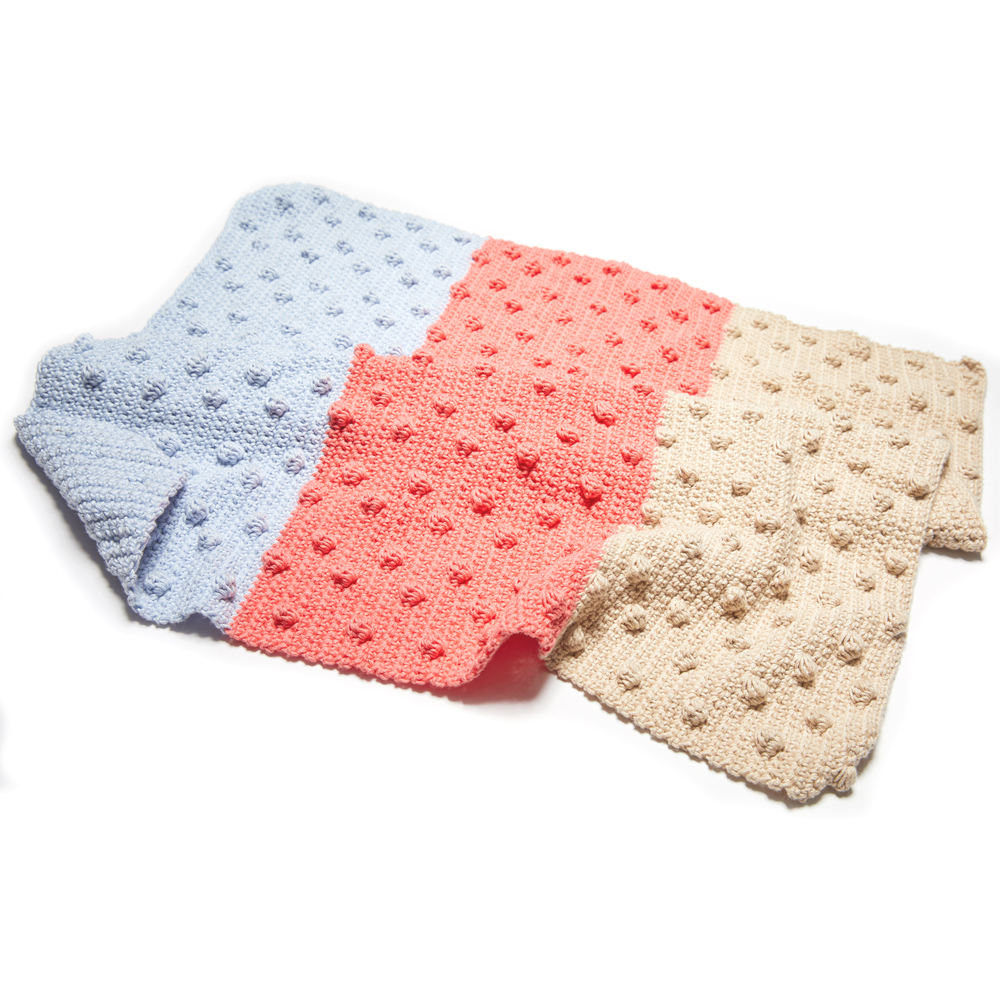 Bobble Stitch Crochet Blanket
Designer: Mermaids and Monkeys
Yarn weight: (4) Worsted
Suggested yarn: Cascade Yarns Pacific
If you're looking for a pretty straightforward blanket with an allover repeating bobble pattern, this blanket is a great choice. The sample is worked in stripes, but it would also be great in a solid color or color-blocked to match a nursery's colors.
---
---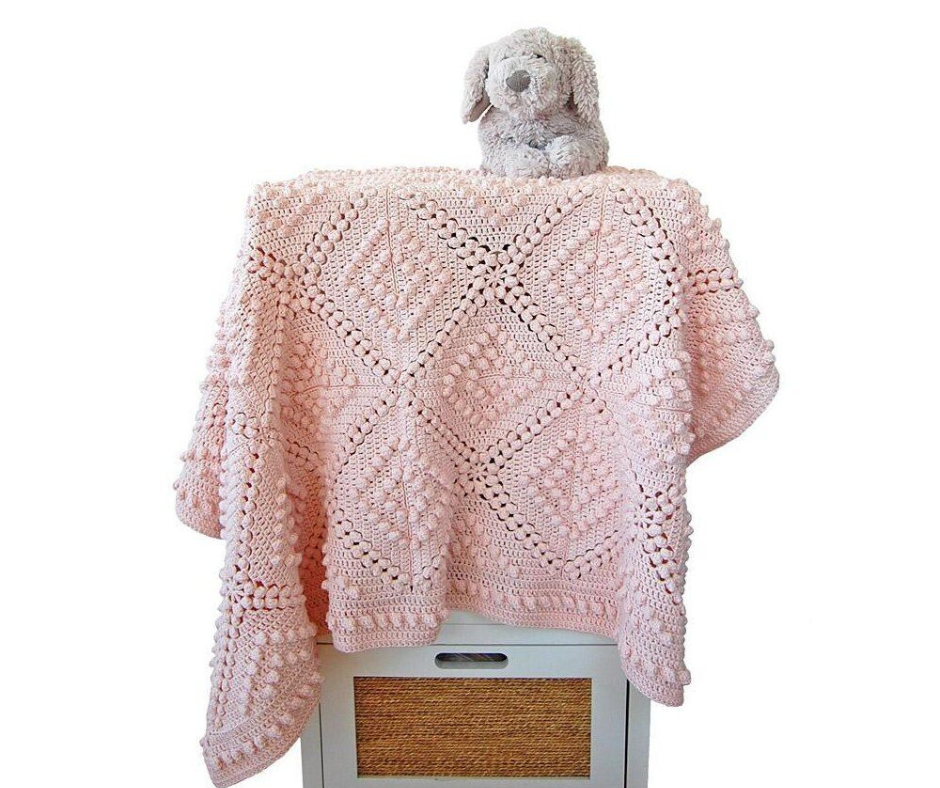 Fenya Vintage Style Blanket
Designer: Dada's Place
Yarn weight: (4) Worsted
Suggested yarn: Knit Picks Comfy Worsted
Here popcorn or bobble stitches are used to form the center of each block as well as the borders between them. You'll get lots of practice making bobbles and using them in a decorative way with this fun project!
---
---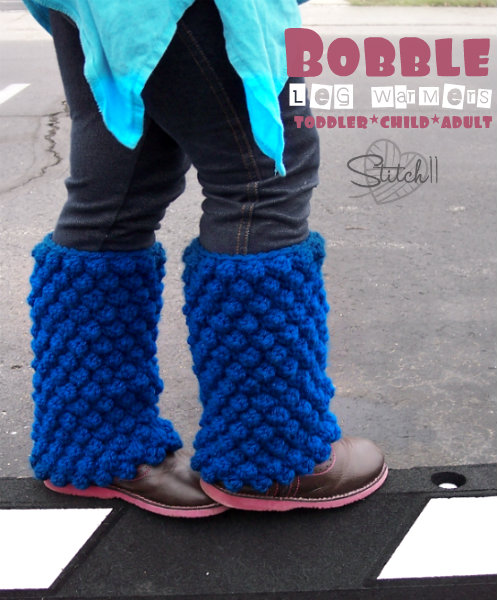 Bobble Leg Warmers
Designer: Stitch11
Yarn weight: (4) Worsted
Suggested yarn: Red Heart With Love
The bobble stitch has a bit of a vintage feel to it, so why not go full retro and use it to stitch a pair of legwarmers? This pattern is sized for toddlers, children, and adults so you can keep any legs warm, from your favorite tiny dancer to your own.
---
---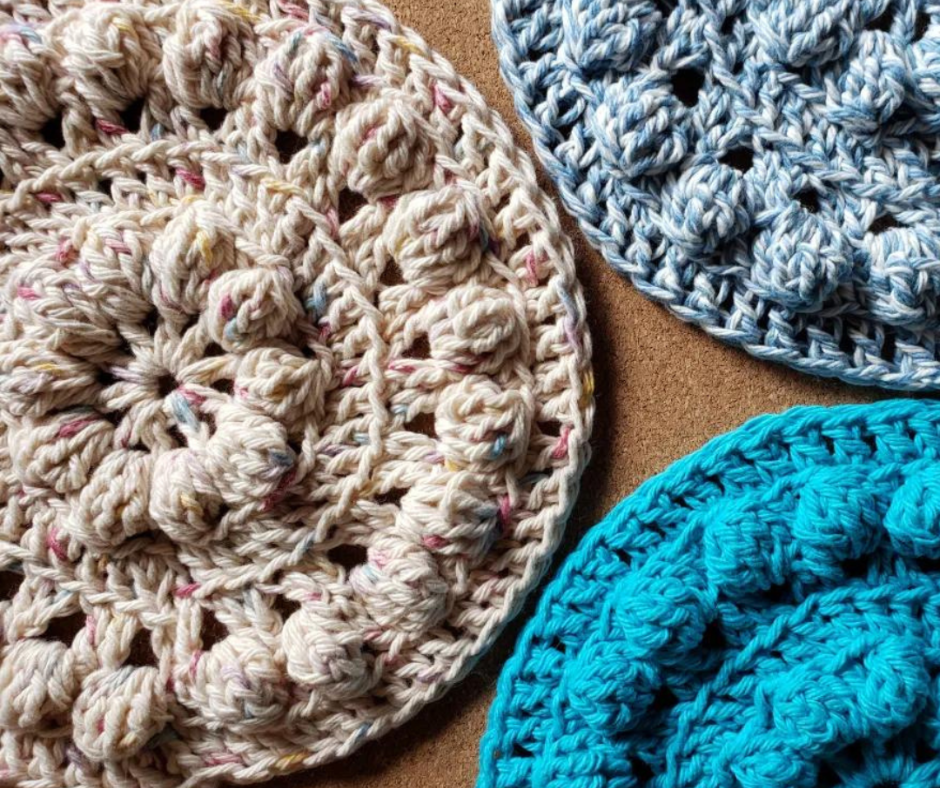 Bobble Stitch Hot Pads
Designer: Sarah Faith Crafts
Yarn weight: (4) Worsted
Suggested yarn: Lily Sugar'N Cream
Cooking is a fun activity, but so is crocheting. These bobble stitch hot pads will surely add more color to your kitchen and they are a quick, easy and useful project to make for yourself or to give as gifts.
---
---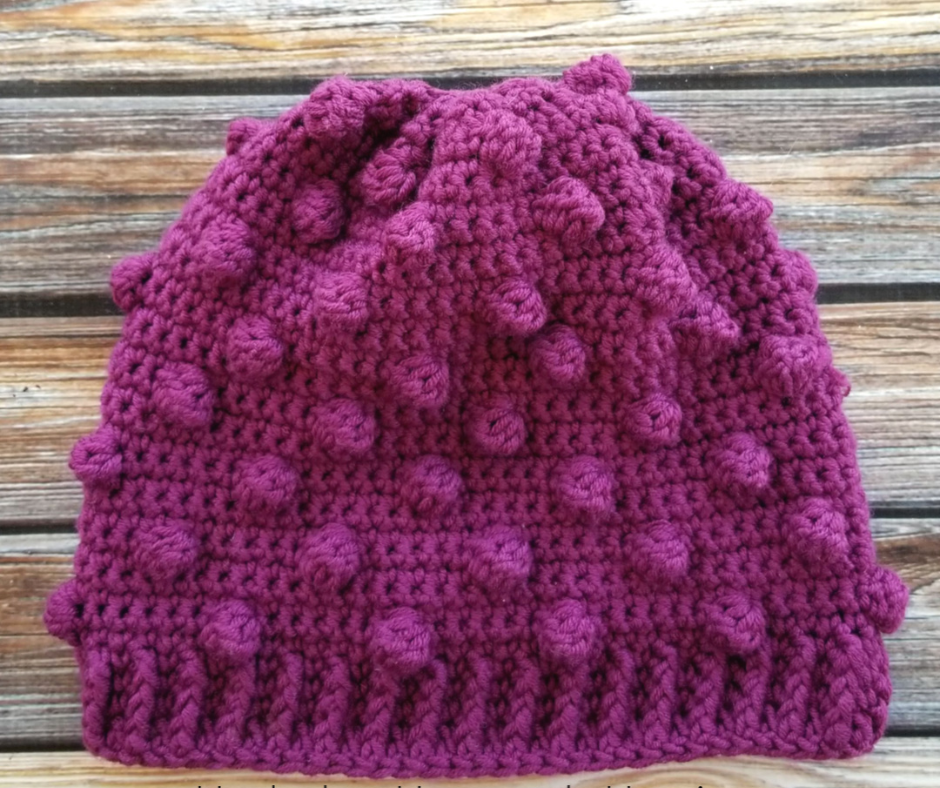 Bobble Beanie Crochet Pattern
Designer: Hooked on Homemade Happiness
Yarn weight: (4) Worsted
Suggested yarn: Knit Picks Shine Worsted
We all love a cute beanie hat when the weather is cold, and you can create your own with a bobble stitch. No need to spend money on expensive beanies; just create one!
---
---
Bobble Messy Bun Hat Crochet Pattern
Designer: Simply Collectible Crochet
Yarn weight: (4) Worsted
Suggested yarn: Red Heart With Love
Here's another fun option for a hat with more of an all-over bobble stitch pattern. You can keep the top open to make a hat for your messy bun or ponytail to come out of, or close up the top like a standard beanie if you'd rather.
---
---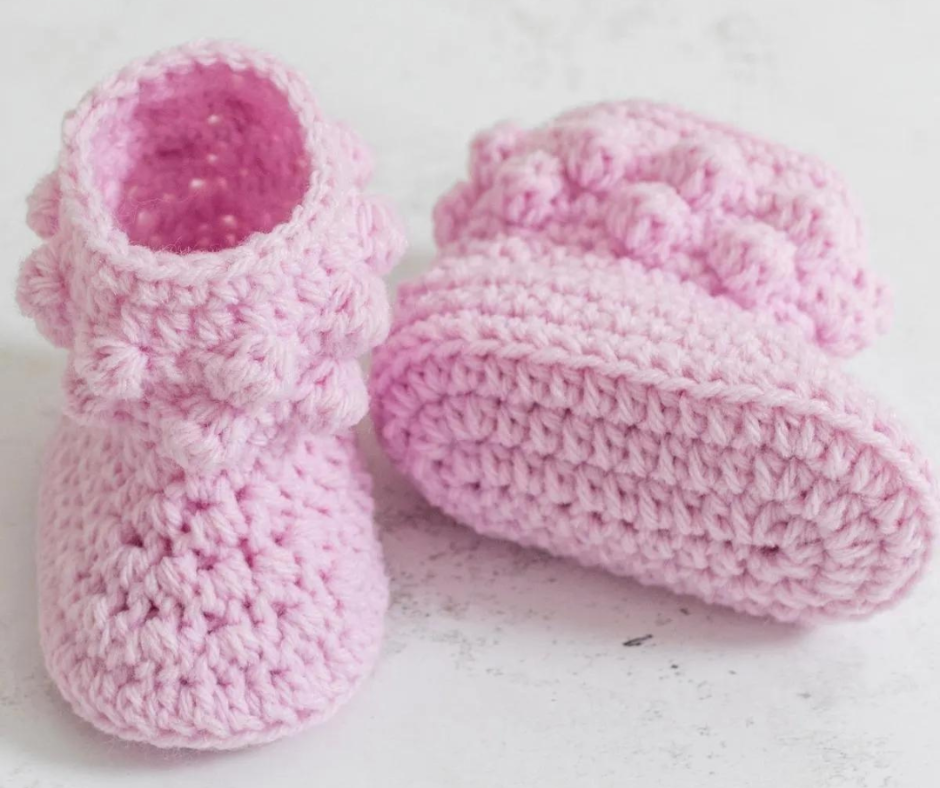 Cute and Easy Baby Booties
Designer: Maisie and Ruth
Yarn weight: (3) DK
Suggested yarn: Lion Brand 24/7 Cotton DK
If you are looking for an excellent gift for newborns but don't have a lot of time, baby booties crochet is a fun option. They make great gifts and it's that much better if you crochet them yourself. The bobble cuff on these easy booties makes them that much cuter!
---
---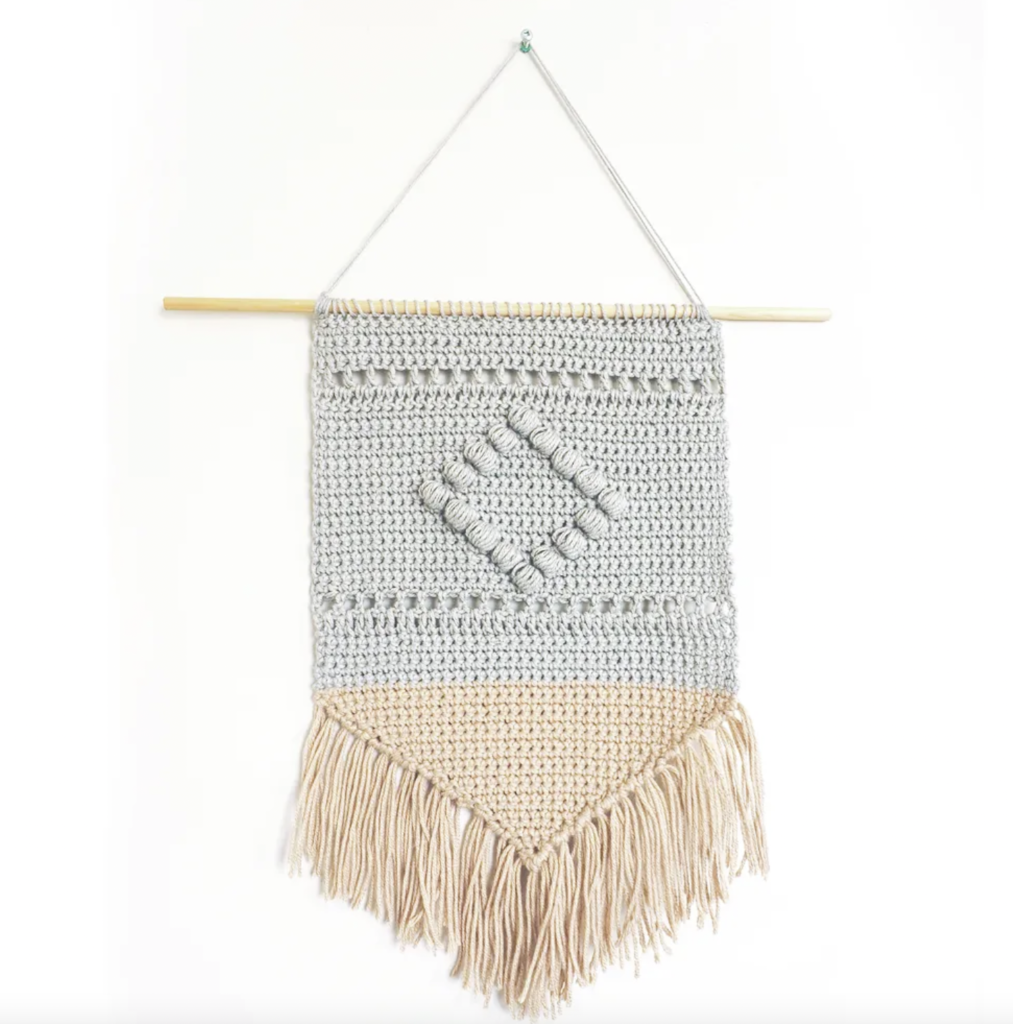 Boho Wall Hanging
Designer: Cream of the Crop Crochet
Yarn weight: (4) Worsted
Suggested yarn: Lion Brand Touch of Alpaca
Here's another fun way to work some bobbles into your home decor. This crocheted wall hanging is so pretty and uses bobbles in a diamond shape to give the project a bit of extra pop. This technique is sure to get your creative juices flowing to design your own decor.
---
---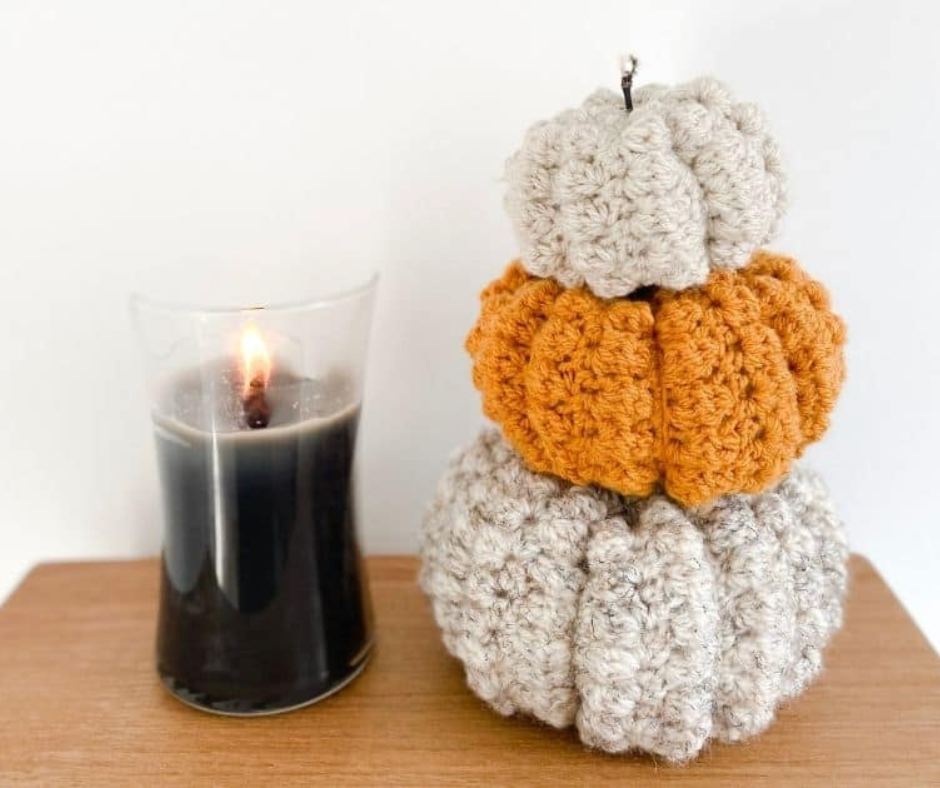 Bibbity Bobbly Pumpkins
Designer: Burgundy and Blush
Yarn weight: (4) Worsted
Suggested yarn: Lion Brand Respun
Halloween may be second only to Christmas in how much people love to decorate and craft for it. These pretty bobble pumpkins are the perfect way to decorate your mantel or tabletop, and they're not just for Halloween but can be used throughout the fall season.
Want to Learn More Fun Crochet Stitches?
Bobble stitch is just one of 45 stitches you'll learn in our Ultimate Crochet Stitch Library. This comprehensive collection includes video tutorials as well as written instructions for each stitch and pattern you can try as you learn them.
If you liked this crochet post, please visit my other pages: 25 Easy Crochet Baby Booties for Beginners