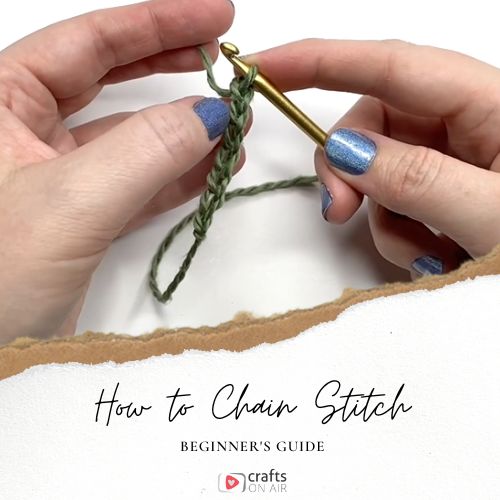 Introduction to the Crochet Chain Stitch
Crochet is one of the best needlecraft hobbies you can pick up. It is a versatile and beginner-friendly craft that only needs a small number of materials for you to learn. By learning this new skill, you can create a variety of projects from simple hook and yarn, like dolls, pouches, scrunchies, scarves, garments, crochet fabric, and many many other things.
And like with any creative project, you must start somewhere. If you're totally new to crochet, you've come to the right place!
If you want to learn how to crochet for beginners the way to start is the essential chain stitch. It is the foundation for most if not all crochet projects, and this step-by-step tutorial will help you learn how to create a slip knot, and how to start a chain stitch (ch).
So, what are you waiting for? Let's learn how to crochet together with my all inclusive Crochet Fundamentals course where I teach you everything you need to know to start crocheting in just 2 days.
Note: This tutorial is for people who crochet with their right hand. If you are a left-handed crocheter, you should flip the hand positions and orientation in these instructions. For advice, here are more tips on how to crochet left-handed.
What is a Crochet Chain Stitch?
When you start crocheting a project, you typically start by creating your foundation through a series of chain stitches, and the knot that starts it is a slip knot. Chain stitches are a key part of crocheting, and it is a stitch every crocheter must know.
The crochet chain is also sometimes referred to as a starting chain or foundation chain because the chain stitch is the foundation on which the rest of the stitches are built. This should not be confused with a foundation stitch, such as foundation single crochet, in which the first row of stitches is worked without chaining a long chain first. 
In my crochet stitch library I provide a step by step video tutorial of the chain stitch and 44 other crochet stitches that you can learn and incorporate into any of your favorite crochet patterns. Check out all 45 crochet stitches here.
Chain Stitch Abbreviation (ch)
Many crochet patterns are written with abbreviations to save space and make patterns easier to read. For the crochet chain stitch, the abbreviation is written as ch. It will usually correspond with a number like 5 ch or ch 5. The corresponding number refers to how many chain stitches you need for the pattern.
Chart Symbol for Chain Stitch
The chain stitch crochet is represented by a hollow oval in crochet pattern charts, and each oval stands for a chain stitch. In most cases it is drawn in a series of ovals side by side, like in the photo below, this can be read as 5 chain stitches.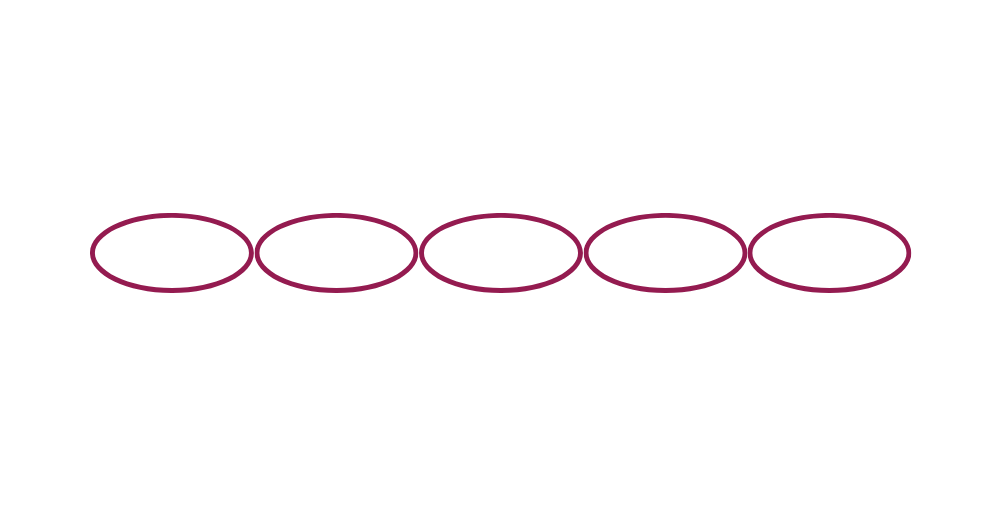 But in some cases, you may also encounter ovals that aren't just in a straight line, but how you will read it is still the same. You count per oval to know how many chain stitches you need to create. Like in the photo below, it is read as 7 chain stitches, because of the 7 ovals.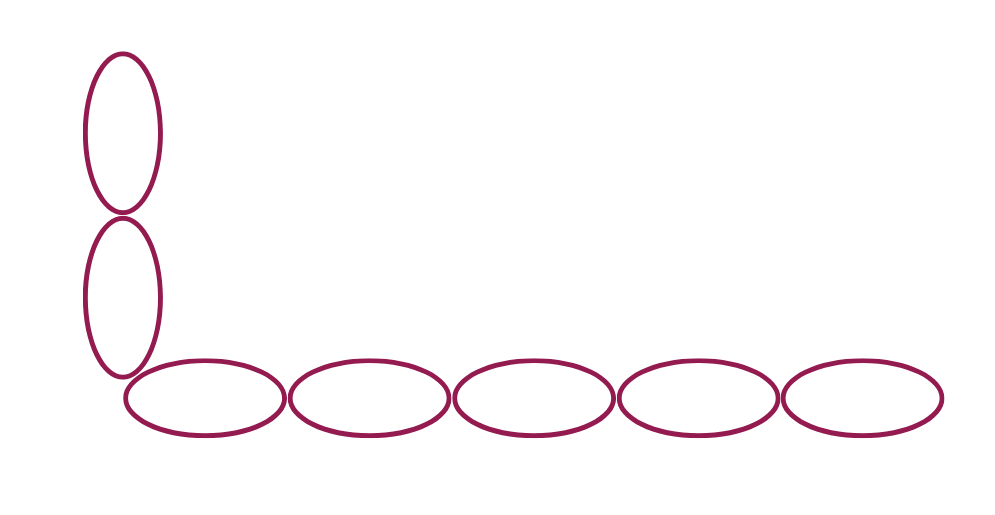 What are the Main Basic Crochet Stitches?
In crochet, there are six basic stitches that all beginners must master: the chain stitch, single crochet, half double crochet, double crochet, treble crochet stitch, and slip stitch. And as mentioned earlier the start of most of these stitches is a slip knot, and the base of most crochet projects is made with chains.
Anatomy of a Chain Crochet Stitch
The chain stitch is the foundation on which crochet stitches are built, and it is also used as a design element within different crochet stitches.
It helps to know what a chain looks like so you know you're starting your project on the right foot.
How to Determine the Right and Wrong Side of the Stitch
The right side or front side of a crochet chain stitch set looks like a braid.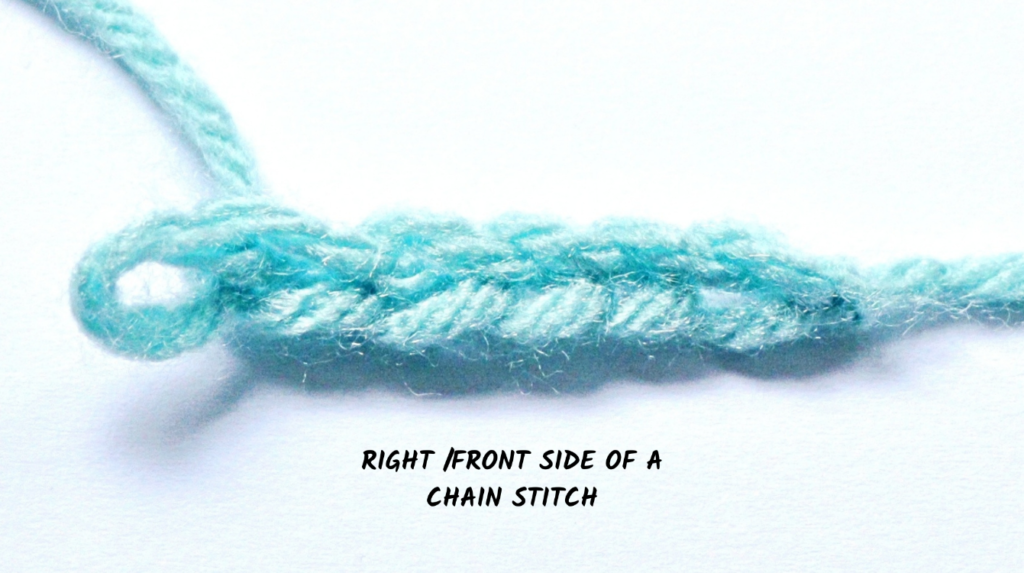 The wrong side or the back side of a crochet chain stitch set looks like a straight line of bumps.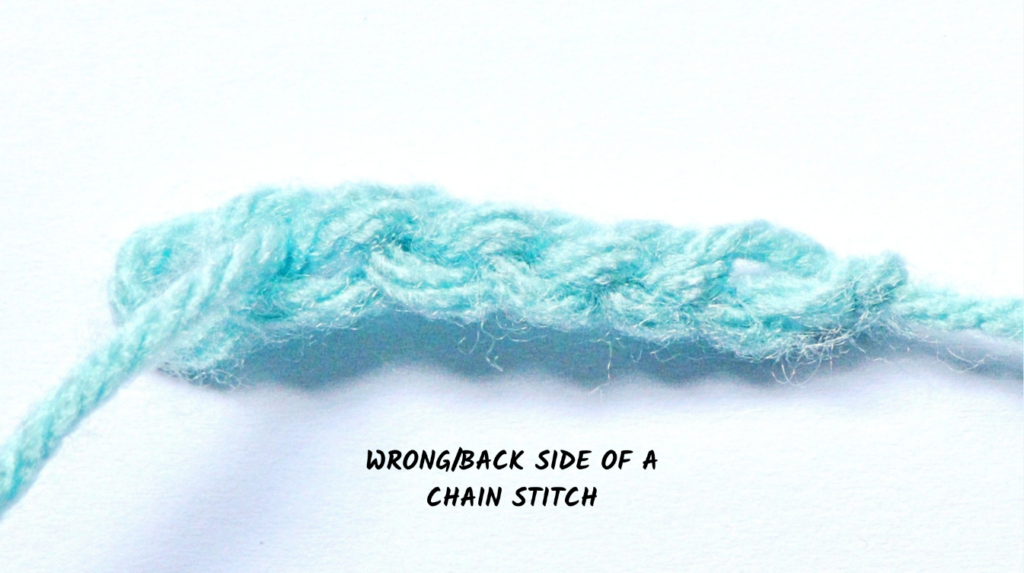 How to Count Chain Stitches
When you count chain stitches, you look at each loop that you have created. In the photo below you can see one chain is circled and there are five chain stitches shown. It's important to note that the last loop, which would be on the hook, does not count as a chain.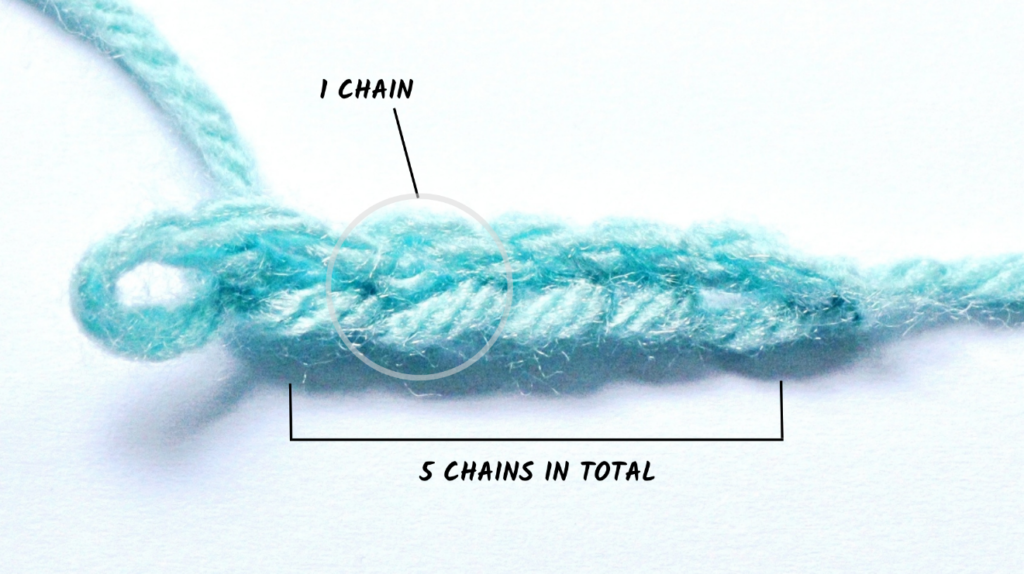 Unraveling the Chain Stitch
If you've accidentally created too many crochet chain stitches than the amount you need for the project you want to make, you can remove your hook from the loop and slowly pull the yarn so that the loop unravels. Make sure to do this slowly so you don't accidentally unravel your whole chain.
Another way you can do it is to count the stitches you need and insert your hook into the loop after the number of stitches needed, then pull the yarn string. The loop that is on your hook will not be counted as a chain.
Materials & Tools Used to Make a Chain Stitch
When practicing how to make a chain stitch as a beginner it is best to use brighter colored yarns, with heavier yarn weight, so that you can easily see what you are working on.
Yarn
One of the most popular yarn weights used in most common projects is medium/worsted weight (4). And as a beginner, it is also a good place to start because it is thick enough for you to see what you are working on. Ewe Ewe Heather's Worsted Weight Merino Yarn is a great option for new stitchers.
Crochet Hooks
When purchasing hooks, if you aren't sure which best to partner with your yarn, refer to yarn labels as they have the suggested size hooks on the label.
When working with worsted weight yarn we suggest (and most patterns use) sizes (I-9) 5.50 mm, (J-10) 6.00 mm, or (K-11) 6.50 mm. The Tulip Etimo Crochet Hook Set will get you all the hooks you need in one package.
Notions & Tools
Although you typically use stitch markers when you have more rows to work on, it is best to get used to using stitch markers at the start of your crochet journey so that it becomes a habit later. This is because a common issue that crocheters encounter is losing count of their stitches, which can lead to uneven edges if you are adding or skipping stitches at the beginning or end of the row. We recommend Clover Stitch Markers – Quick Locking Stitch Marker Set and if you also want to count your rows, grab a Knitter's Pride Row Counter.

The number one companion of any yarn craft enthusiast is a good yarn needle. You can use it to hide loose ends and finish up your project. Our favorite is the Clover Tapestry Needle Set.
Step-by-Step Chain Stitch (ch) for Beginners
Before you can actually begin to make the chain stitch, you need to have a slip knot from which to work your stitches.
How to Make a Slip Knot
Some people find the slip knot intimidating, and there are definitely many ways to approach it, but the tutorial below is one of the best ways to do it while keeping your hook in the loop. The slip knot is how most crochet projects start.
First, position your hook behind your yarn at a downward left angle.
Turn the hook counterclockwise, wrapping the yarn on your hook.
Once the yarn is already wrapped on the hook, pinch the yarn meeting point with your left hand.
Use your hook to yarn over and grab the yarn. Make sure that you are doing the yarn over on the working yarn, not the tail.
Pull your hook through the loop, while keeping the yarn looped over your hook.
Once the new loop is created, you can tug on the yarn below to tighten up the knot.
Tada! You have now created a slip knot!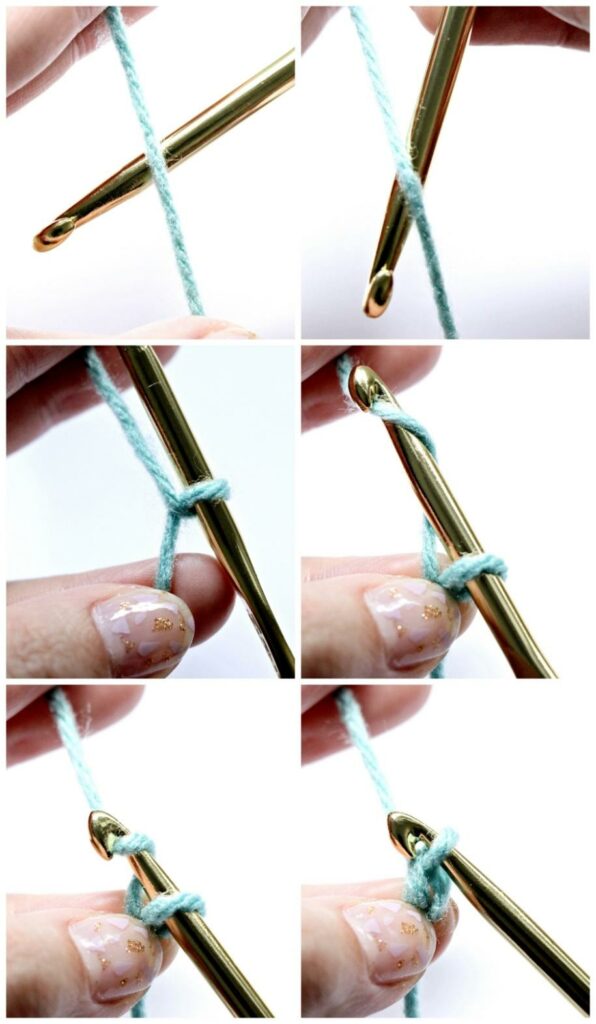 The slip knot is not counted as a stitch, it is only seen to secure the initial knot that will be used in the chain stitch.
How to Chain Stitch
Starting a crochet chain is actually very easy and most people get addicted to this step as a beginner crocheter and end up making long chains just to really get the hang of it. Here's how it's done.
Insert your crochet hook (or keep your hook inserted in the loop made by the slip knot).
Use your hook to yarn over and grab the yarn.
Pull the yarn through the loop on the hook.
Congratulations, you have made your first chain stitch!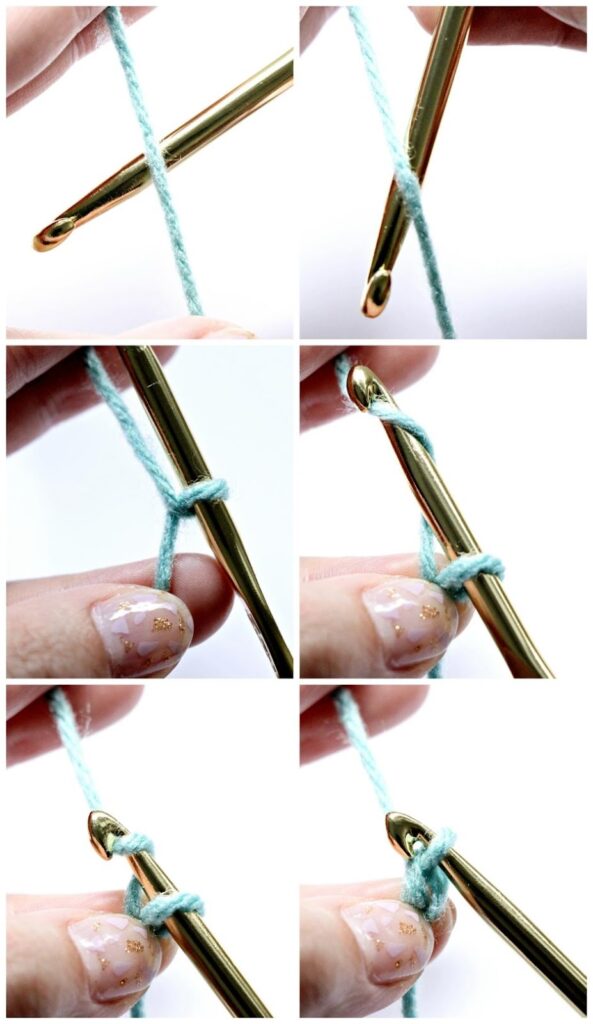 Keep your hook in the loop and yarn over to grab the yarn again.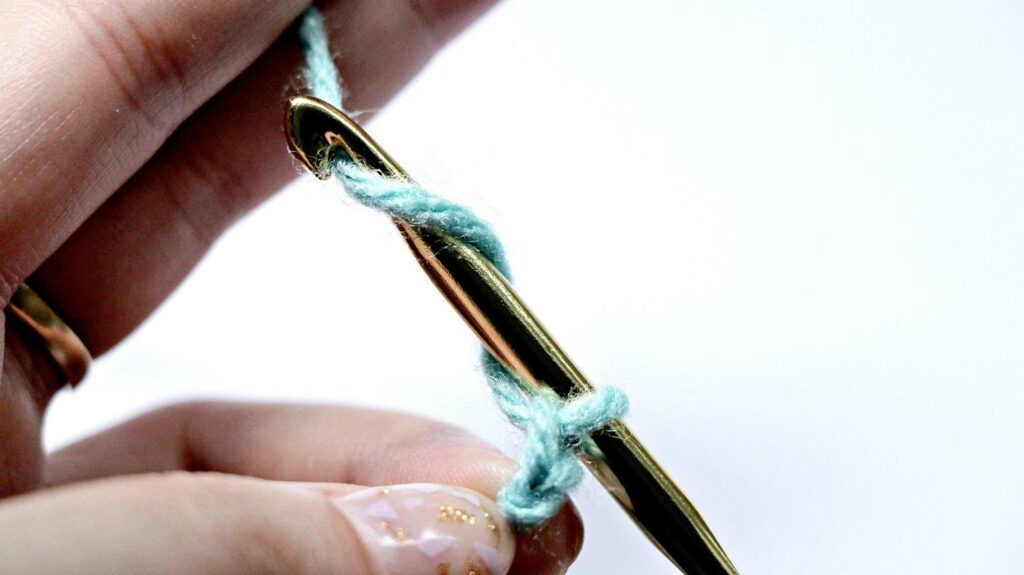 Pull through the loop on your hook.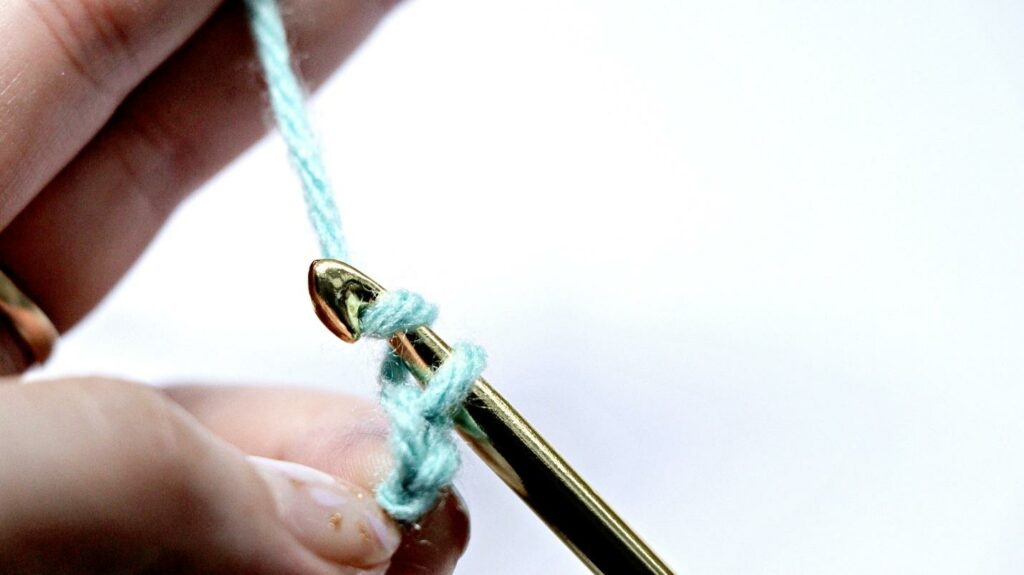 You've now created 2 chain stitches!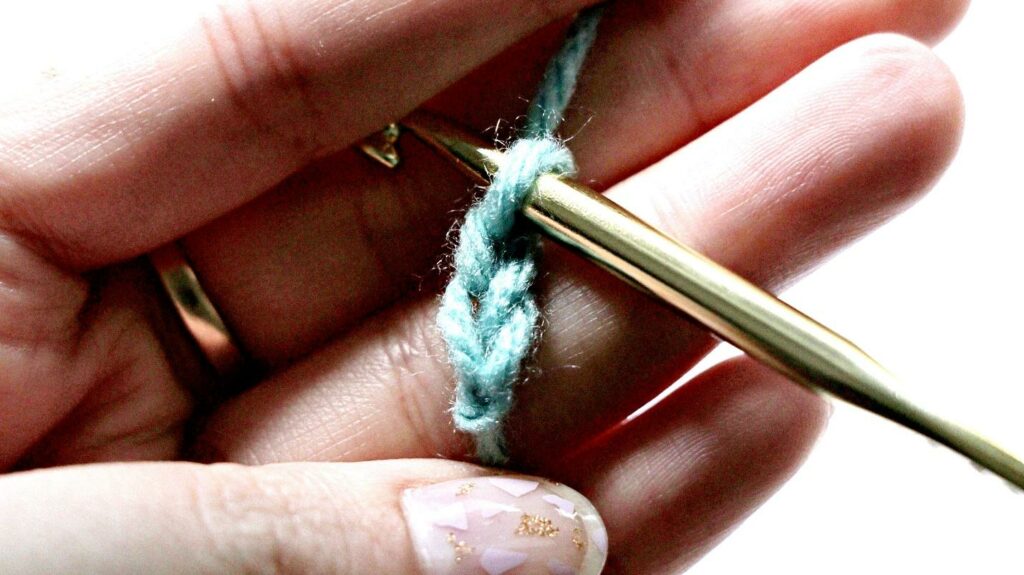 Keep repeating the yarn over, and pull through move until you've reached the number of stitches needed in your project or your desired length.
It might not seem like much, but this short distance you've come in your crochet journey will lead to you making great things. You are now equipped and ready to take on new stitches!
This move seems simple, but you will need to practice repeatedly and learn to maintain your yarn tension (your hold on the yarn) so that the stitches you build on top of the chain will be even. The length of the stitches will matter as you go along, as it might result in a twisted or uneven finish look.
How to End a Chain Stitch
If you are making a chain to start a project, the pattern will tell you how many chains to make. Then you just turn your hook so you can work back into the chain in the appropriate place to start stitching whatever crochet stitch you want to make.
(If you need some ideas, check out our Ultimate Crochet Stitch Library, which includes tutorials and video instructions for making 45 different crochet stitches!)
Ending your chain stitch will be up to your project, but what you can do if you're just making a long chain for practice is close off the last loop by letting your ball yarn end pass through the loop (instead of the yarn over method shown in the tutorial), to close the loop completely and avoid unraveling.
8 Crochet Patterns You Can Do with the Chain Stitch
Crocheting only feels complicated at the start, but what you should understand is it is just actually a combination of multiple types of stitches, in different orders to create the amazing works you see below.
For the crochet chain stitch, there is a little number of projects you can do with it as a stand-alone stitch since it is mostly looked at as a foundational stitch. But here are various patterns you can do mostly with chain stitches, and the additional stitches you need to learn for each.
---
---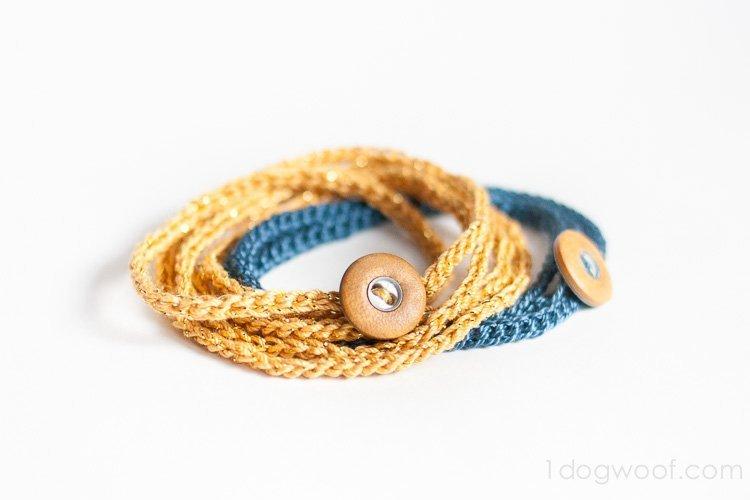 Crochet Wrap Bracelet with Button
Designer: One Dog Woof
Yarn weight: (0) Lace
Suggested yarn: DMC Pearl Cotton Embroidery Thread
Up your bracelet game and create a crochet bracelet with just the chain stitch. This is a great pattern for beginners looking for projects when you are just starting your crochet journey.
---
---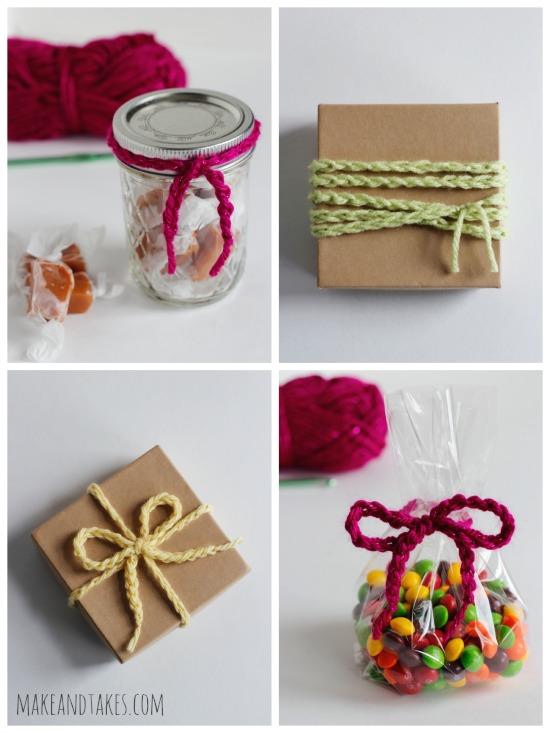 Chain Stitch Wrapping Ribbon
Designer: Make and Takes
Yarn weight: (4) Worsted
Suggested yarn: Red Heart With Love
This eco-friendly and cute solution for wrapping presents will quickly take the place of store-bought bows on your gifts. Take your scrap yarn and make chain strings to wrap your gifts in.
---
---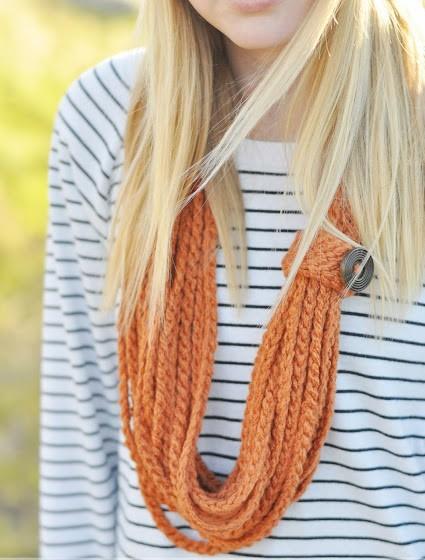 Crochet Chain Necklace
Designer: Little Birdie Secrets
Yarn weight: (4) Worsted
Suggested yarn: EweEwe Heather's Worsted Weight Merino Yarn
A crocheted necklace/scarf working in just chain stitch in heavier yarn is a fun way to add a little warmth when the weather starts to change. Make several to go with different outfits – they are super fast to work!
---
---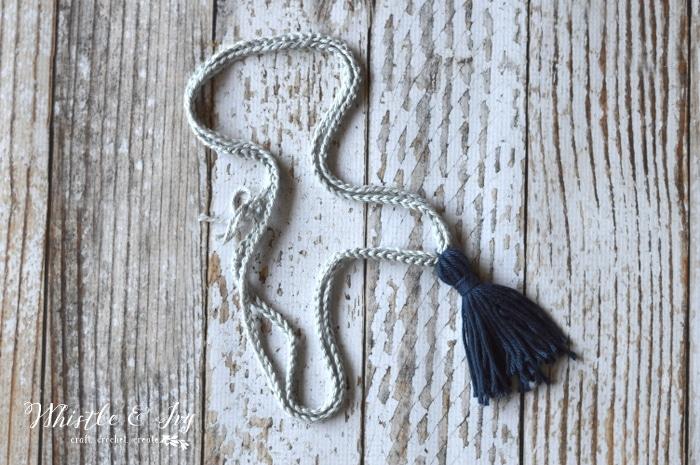 Crochet Tassel Necklace
Designer: Whistle and Ivy
Yarn weight: (4) Worsted
Suggested yarn: EweEwe Heather's Worsted Weight Merino Yarn
Simple yet elegant, elevate your outfit with this crochet tassel necklace. You can use separate colors for the tassel and for the strap, or you can keep it just one base color.
---
---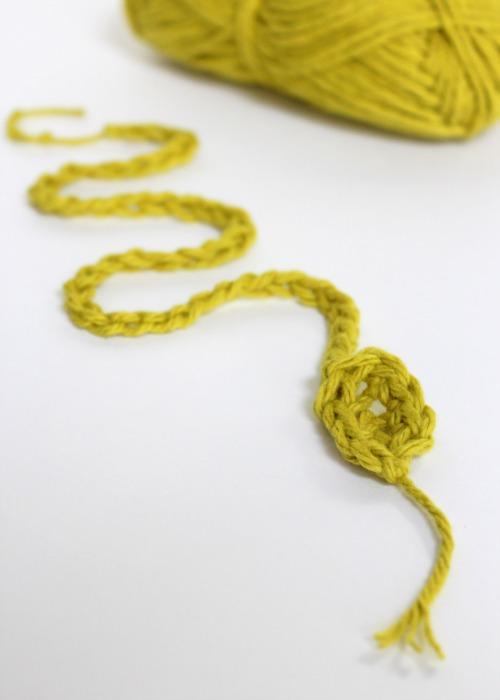 Crochet Chain Stitch Snake
Designer: Make and Takes
Yarn weight: (4) Worsted
Suggested yarn: Lion Brand 24/7 Cotton
A cute way to practice your new crochet skills. It can be a decorative piece or even a bookmark!
---
---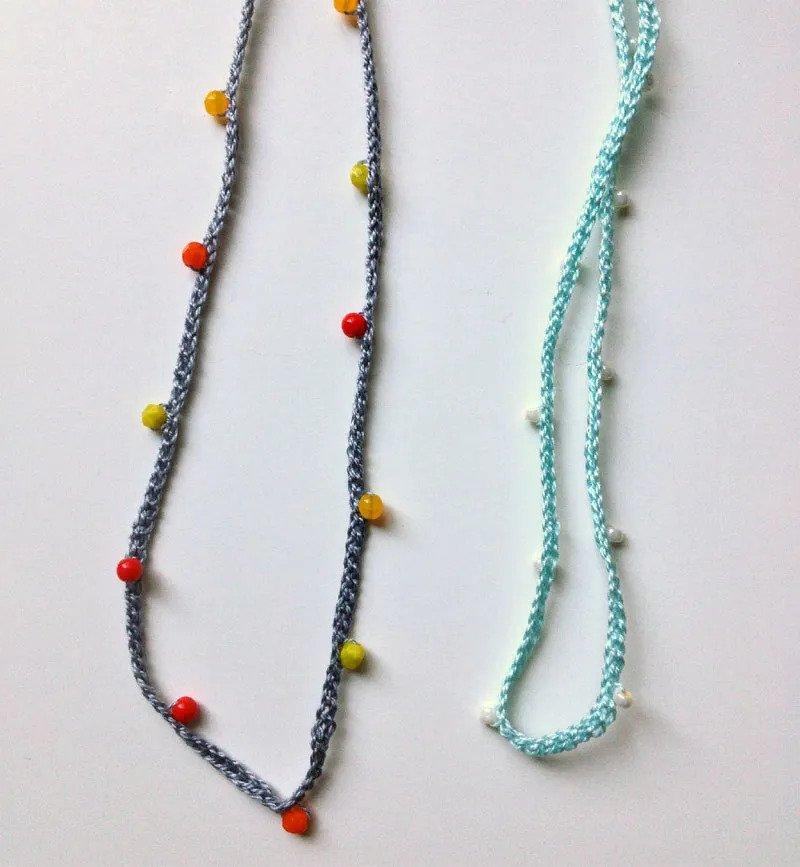 Beaded Crochet Necklace
Designer: Wise Craft
Yarn weight: (0) Lace
Suggested yarn: DMC Pearl Cotton Balls
Did you know you can add beads while you work on a crochet project? If you want to test it out and merge two crafts, here is a great beginner's project for that. Wear it as a beaded crochet necklace, or you can turn it into a stylish lanyard by adding a few more knots.
---
---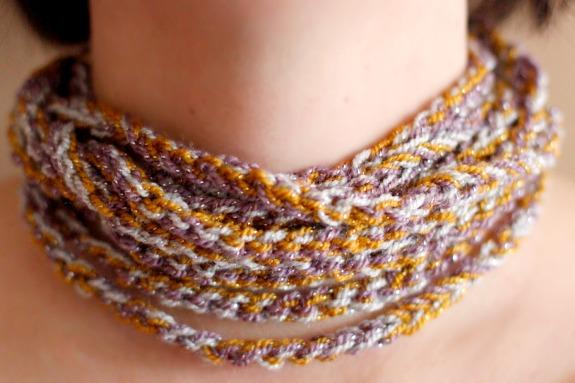 Crochet Chain Stitch Necklace
Designer: Make and Takes
Yarn weight: (0) Lace
Suggested yarn: DMC Pearl Cotton Embroidery Thread
A great gift for all ages, make yourself and your friends a layered necklace that can be as simple or as eye-catching as your yarn can be. You can also adjust the length to your liking.
---
---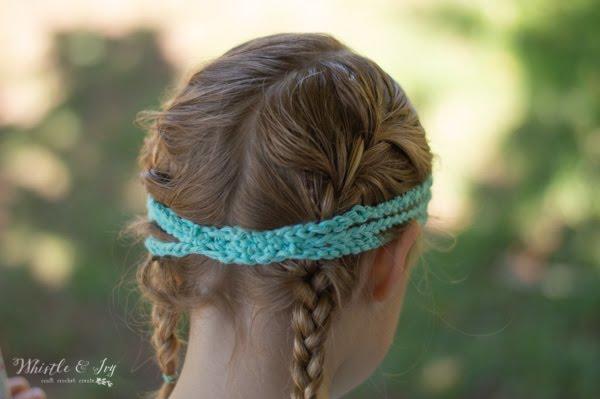 Boho Crochet Headband
Designer: Whistle and Ivy
Yarn weight: (4) Worsted
Suggested yarn: Lily Sugar'n Cream
Keep your hair up and away from your face with this crochet boho headband. A beginner-friendly crochet pattern that is also very functional.
Ready to Learn More about Crochet?
Learning to crochet chain stitch is literally just the beginning of your crochet journey. If you're ready to take the next step, check out our Crochet Fundamentals course, which will teach you all the techniques you need to go from beginner to confident crocheter in no time! With chain stitch as the foundation, you can now learn any crochet stitches you like. Our Ultimate Crochet Stitch Library has tutorials and patterns you can try for 45 different stitches.