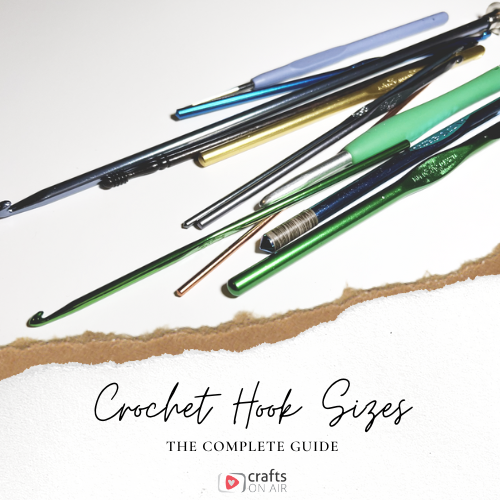 Crocheting involves many tools and materials, but the one most important tool is the crochet hook. Crochet hook sizes can be a little confusing.
If you are new to crochet or perhaps haven't worked with many different types of yarns, then you may be unsure about crochet hook sizes. Crochet hooks are available in a wide variety of styles, materials and sizes. How do you decide which one is right for your project?
This article discusses the various types of crochet hooks, how to choose one, and how to determine the correct crochet hook size for your pattern and yarn you're using. Learn about crochet hook sizes in this extensive guide below.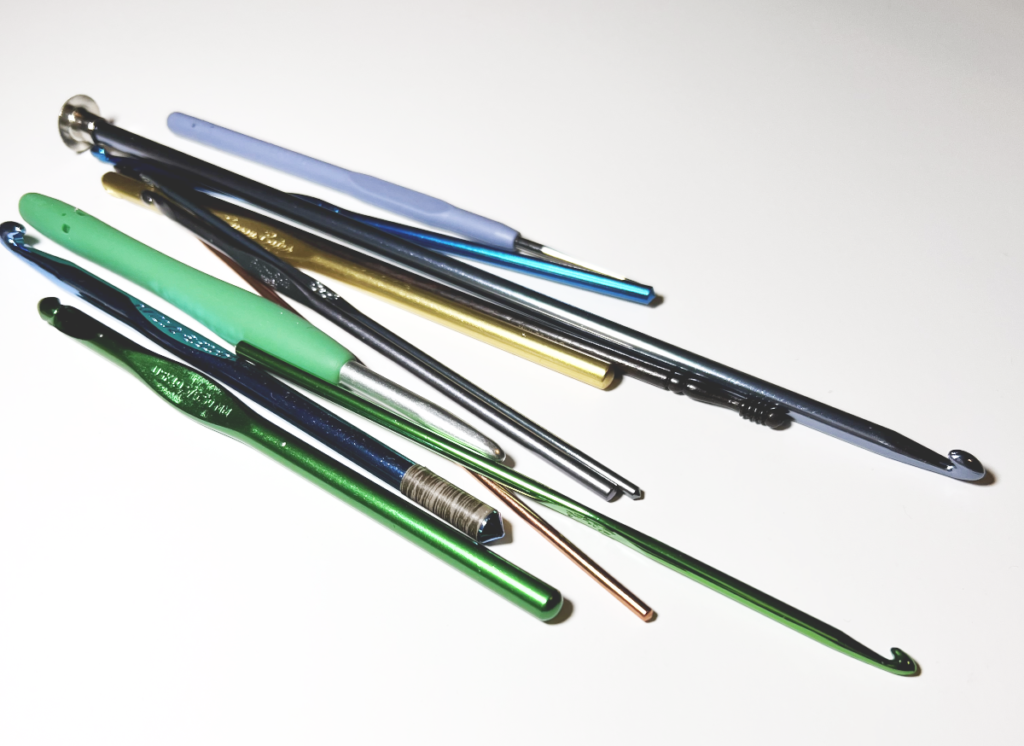 Introduction to Crochet Hooks
Crochet is a relatively recent fiber art, as it was first practiced in the 1820s. The word crochet first appeared in English in the 1830s. The word crochet is French and it means hook, so it's clear that crochet hooks have always been an essential part of the equipment used to crochet.
Flat hooks and hooked needles were used prior to the development of the crochet hook in other crafts, but crochet hooks similar to the ones we use today were developed in the 1940s in England. They featured a smaller head and a shallower taper then the precursor flat hooks, and look much like crochets hooks in use today.
Crochet hooks were originally made from wire stuck into a piece of wood or cork. Some early hooks were also carved from ivory. Today we have access to lots of different materials and crochet hook sizes to use yarn and thread of different sizes.
What is a Crochet Hook?
Like those crochet hooks of old, a modern crochet hook is basically just a stick with a hook on the end.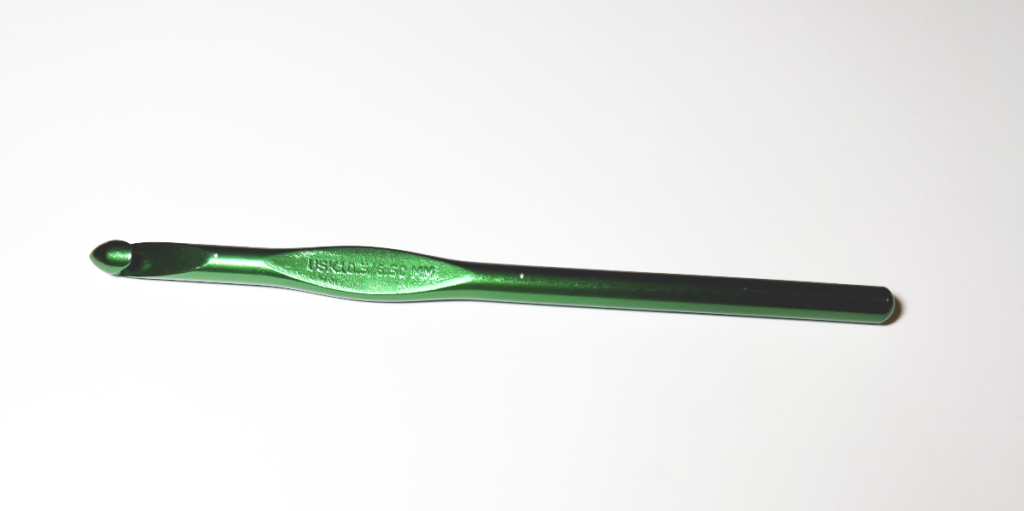 Sometimes the hook is straight all the way to the hook, while other hooks are tapered along the length so that the end with the hook on it is narrower than the shaft. Other hooks have a flat spot where you hold them as you work the stitches, or they may have a thicker portion around the shaft where you hold it to make it easier on your hands to hold.
Crochet hook sizes are determined by the circumference of the shaft below the hook (not where it is tapered or flat.)
What is a Crochet Needle?
Sometimes people refer to crochet hooks as crochet needles. This is an incorrect term that might come from people thinking about knitting needles.
There are lots of differences between knitting and crochet, but the most obvious is that knitting is worked with two needles, one held in each hand, while crochet is made with a single hook, typically held in your dominant hand.
There are actually needles used in crochet, but they aren't usually called crochet needles. A yarn needle is a blunt-tipped needle, larger in size than might be used for hand sewing with thread. It's used to weave in the ends of your projects and it is an essential tool for finishing crochet.
Why Does Crochet Hook Size Matter?
Crochet hook sizes matter because the size of the hook will determine how large your stitches are. More specifically, the combination of the yarn and hook you choose will determine the size of your stitches.
In general, you will want the crochet hook sizes to correspond to the weight of your yarn – you use a smaller crochet hook when you are using finer yarn or thread, and a larger hook when working with thicker yarn.
If you use a small hook with large yarn, it will be difficult to work the stitches. They will be very tight, and the resulting fabric will be stiff. Sometimes using a slightly smaller hook than the yarn calls for can make fabric that's somewhat tighter than usual, which is helpful for projects like amigurumi or crocheted toys that you want to be able to stuff and not have the stuffing fall out.
Speaking of, if amigurumi is something you're interested in, check out our Amigurumi workshop, where you'll learn all the basics and a few animal patterns you can use to develop your own fanciful creatures!
On the other hand if you use a larger hook with smaller yarn, the stitches will be very large and loose and won't really look the way the stitches are supposed to.
What are the Benefits of Using the Right Sized Hook?
The right combination of crochet hook sizes and yarn sizes also affects your gauges or the number of stitches and rows per inch in your projects.
When working on a project from a pattern, it should indicate the desired gauge for your fabric as a measure of stitches per inch or 4 inches, or 10 cm. If you need your finished project to come out a particular size – such as when stitching a hat, sweater, or other garments – you need to make sure your gauge with the yarn and hook you plan to use matches the gauge given in the pattern.
If you are getting more stitches per inch than suggested, your project will end up smaller than expected. Likewise having too few stitches per inch will make the finished object larger than expected.
Using the correct yarn and crochet hook sizes can make the difference between having a project that fits and one that doesn't.
A hook size that corresponds to the yarn you're using will also help make your stitches more even and the act of crocheting them more enjoyable, because they won't be super tight or too loose.
The Anatomy of a Crochet Hook
For an item that is basically a straight part and a hook, there are actually lots of different parts to a crochet hook, and it's great to know the anatomy of a crochet hook when you learn to crochet.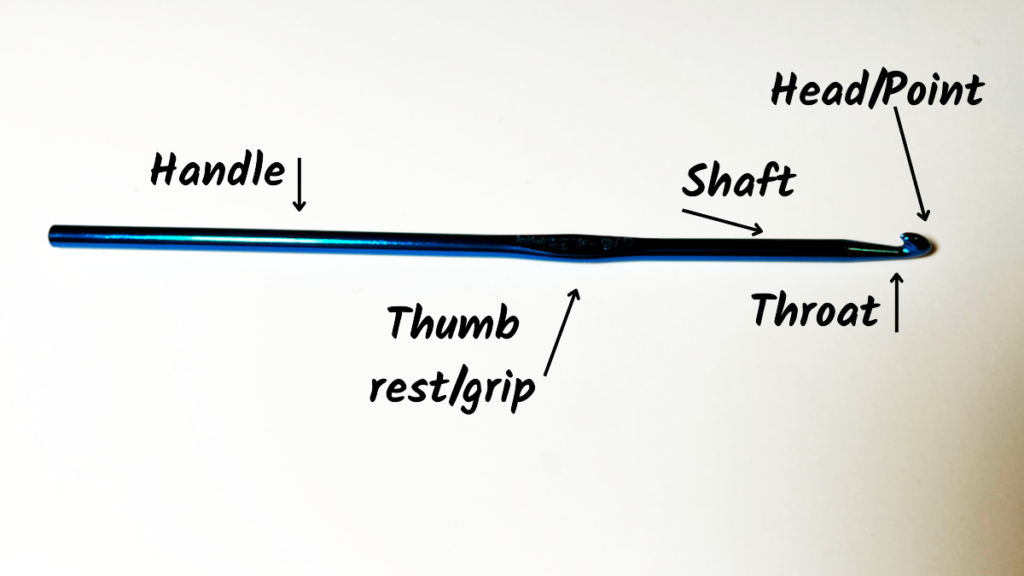 First, the stick part is known as the handle. This is the part that you hold when crocheting, and any part of the hook that is behind your hand as you work.
Some crochet hooks have an indented part in the handle known as the thumb rest or grip. As you might imagine, this is more specifically where you would grip the hook when crocheting. (Some hooks do not have this feature.)
Working your way toward the hook, the part of the handle that is closest to the hook itself is known as the shaft. This is the part of the hook you measure when determining crochet hook sizes.
When you get to the hook part itself, the throat is the term for the bottom of the hook that guides the yarn into the stitches you are working, and the end of the hook is called the head or the point, though it can be more or less pointy depending on the brand of hook you use.
Crochet Hook Styles
There are two main styles of crochet hooks, and the difference is entirely in the shaft and the hook part.
Inline Crochet Hooks
Inline hooks have a straight shaft and the hook is in line with the shaft. If you were to draw a line from the hook down the shaft to the handle, it would be a straight line.
Inline hooks have a deeper throat than tapered hooks do, and the point of the hook is, well, pointier.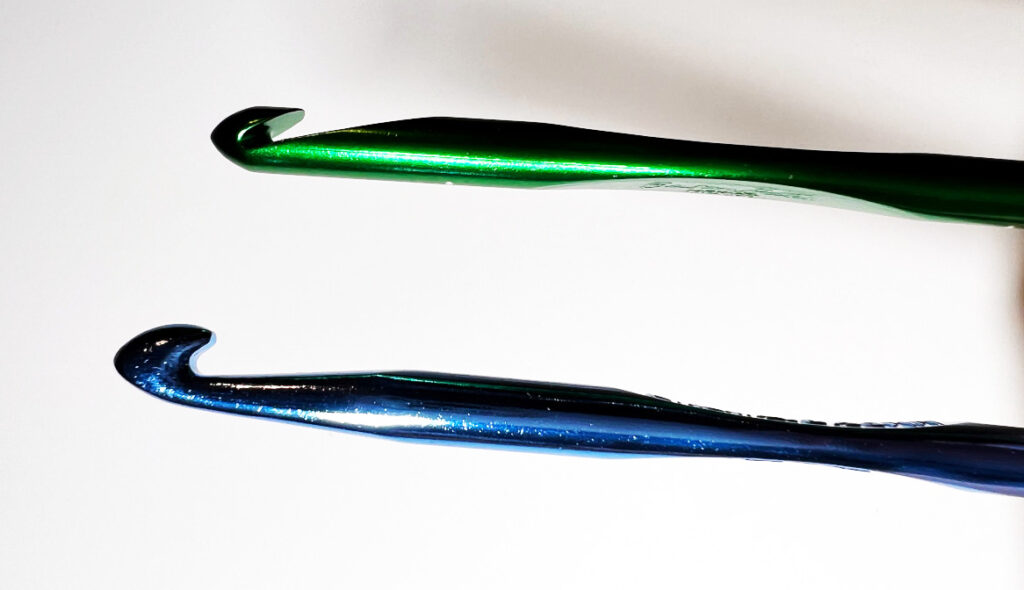 In this photo, the inline hook is at the top, and the tapered one is at the bottom.
Tapered Crochet Hooks
The other type of crochet hook is known as a tapered hook. On these sorts of hooks, the throat is tapered (getting gradually smaller toward the hook) and the hook part isn't in line with the rest of the shaft.
The throat is also longer than on inline hooks, and the point is rounder.
What difference does the type of crochet hook you use make? It's really a personal preference, but in general, people who like inline hooks say it's easier to keep their tension even as they stitch, which means their stitches are more uniform in size. This can be particularly helpful for new crocheters because it's a little easier to control the yarn and the pointier tip can be easier to get into stitches.
People who like tapered crochet hooks, on the other hand, report they can crochet a little more quickly and don't split the yarn as much because of the rounded tip. Some people also find these crochet hooks better if you suffer from wrist pain while crocheting.
You will want to try both kinds of hooks and see which one you prefer, as well as what material and style preference you have.
Crochet Hook Materials, Types, and Uses
Crochet hooks can be made out of several different materials, and while it doesn't really matter which kind of hook you use, you may find you have a preference for one over another.
Aluminum Crochet Hooks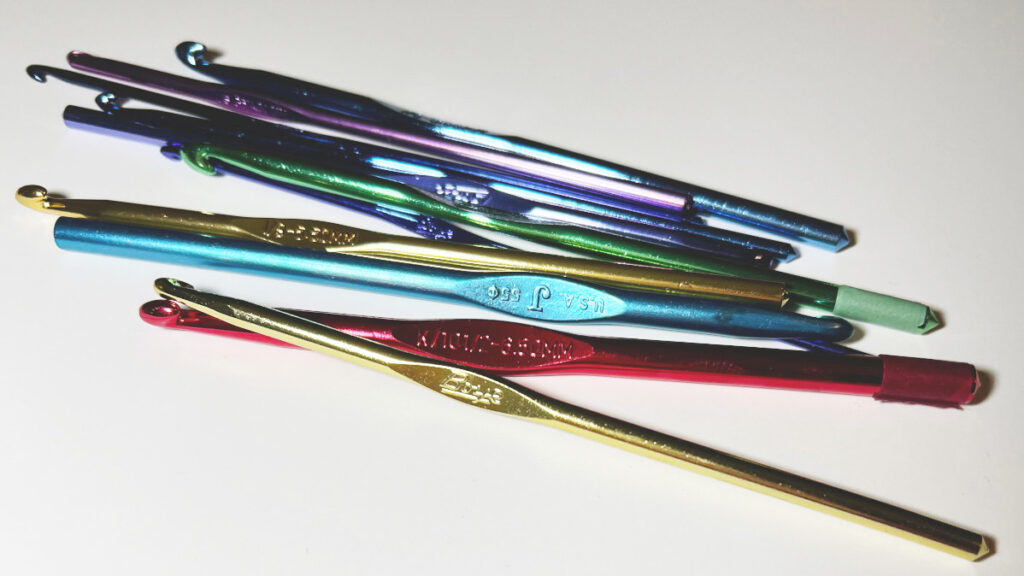 Probably the most commonly available types of crochet hooks are aluminum hooks. If you go to the crafts store looking for crochet hooks, most of what you find is likely to be aluminum.
Aluminum hooks are relatively inexpensive, available in both inline and tapered versions, and are easy to use for beginners.
They can be a little cold to the touch and are noisy when they hit the ground, but otherwise, aluminum crochet hooks are a great choice.
Plastic or Resin Crochet Hooks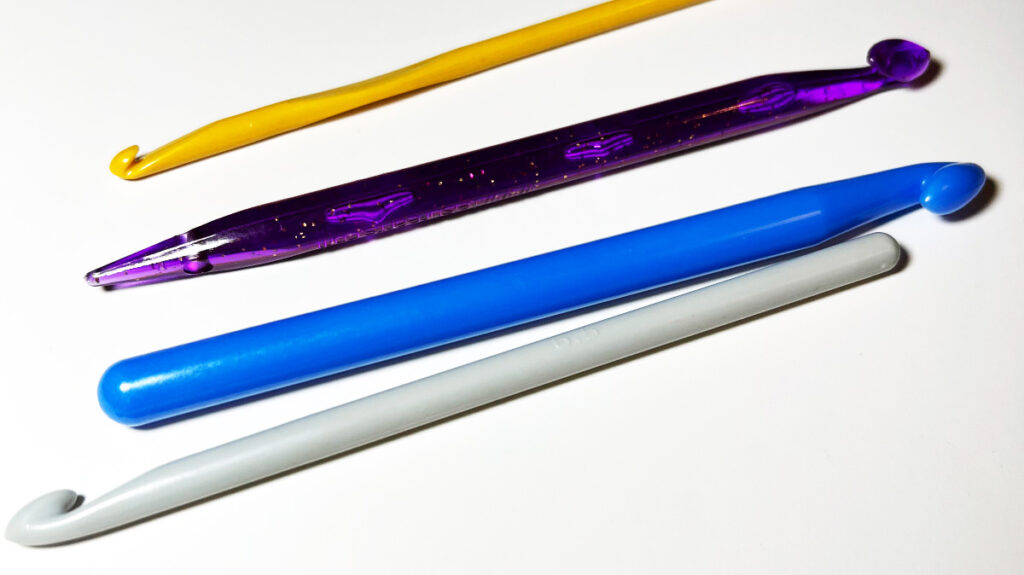 Plastic crochet hooks are the most inexpensive hooks out there, and they are a lot of fun because they are made in lots of different colors.
They are lightweight and easy to use, but they are not always available in smaller sizes. They are a good choice if you need a larger-sized hook because they are lightweight.
Resin hooks are similar to plastic in feel but they look a lot different. Resin is a type of acrylic substance that can be colored in many different ways. These hooks can have swirls of color or have glitter or other small objects embedded in them. They are more expensive than plastic hooks but working with them is similar to a plastic hook.
Wood Crochet Hooks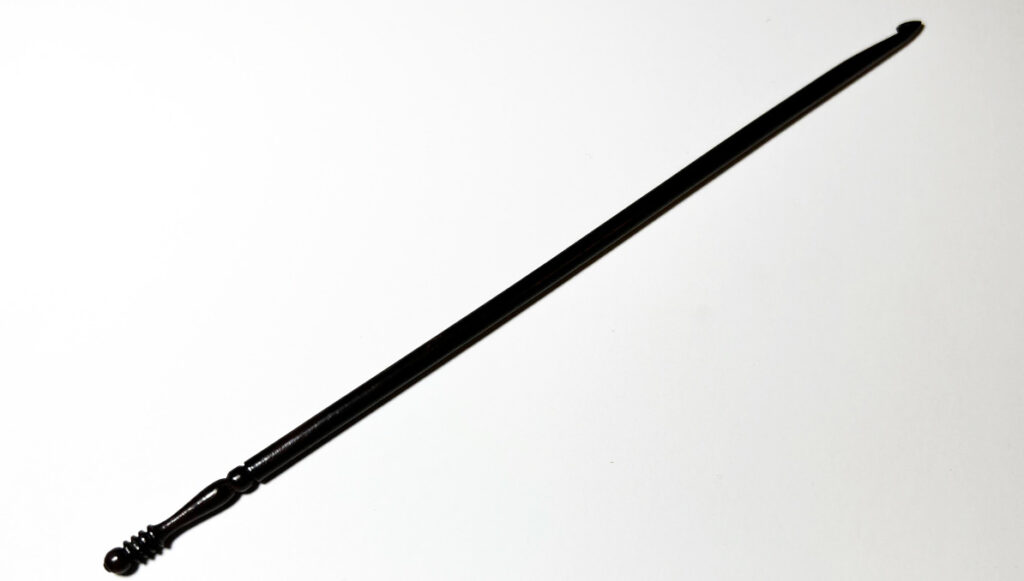 Wooden crochet hooks are beautiful and warm. They are lightweight in smaller sizes though they can be somewhat heavy in larger sizes. Wooden hooks are most commonly found in the mid-range of hook sizes.
Wooden hooks absorb the warmth from your hand and are a little bit flexible, which is nice if you have hand or wrist pain from crocheting. They are more expensive than aluminum or plastic hooks but they are lovely to work with.
A variant that is similar to wood is bamboo hooks. Bamboo hooks can be less expensive than wooden hooks, but they come in a range of price points.
Ergonomic Crochet Hooks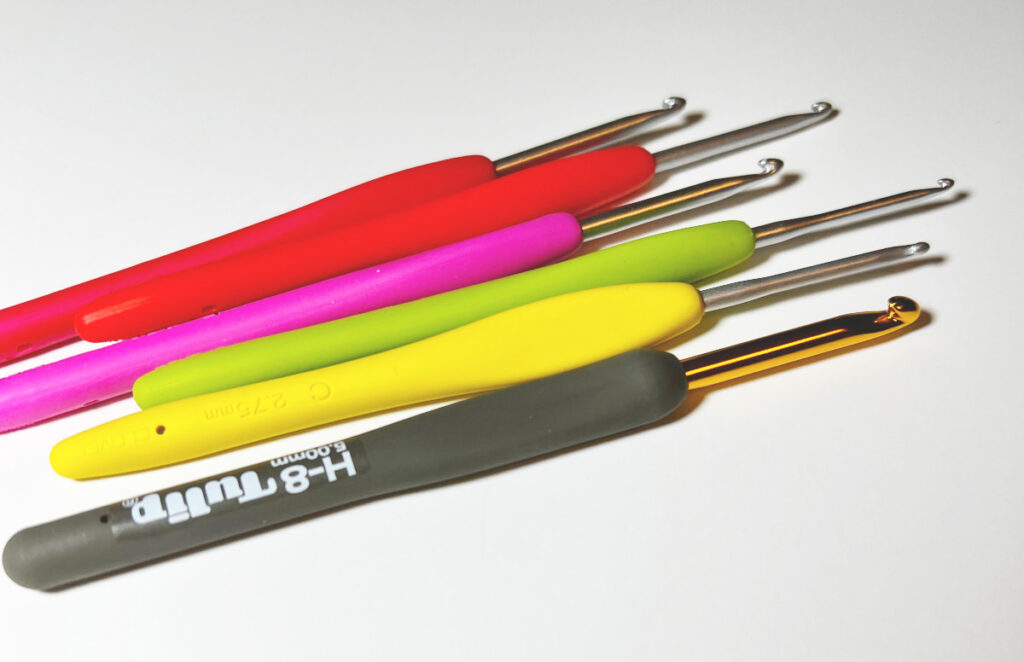 Most commonly found with aluminum tips, ergonomic crochet hooks have coated handles that make them a little easier to grip and more comfortable to hold for long periods.
Some wooden and epoxy hooks are made with handles that have wider sections where you hold the hook to make them gentler on the body as well.
When it comes to ergonomic crochet hooks you really have to try out a few and see what style you prefer and what works best for your body. Most companies that make ergonomic hooks sell them both as a set and as individual hooks, so you can buy your favorite size first and see how it works before committing to all the sizes.
Steel Crochet Hooks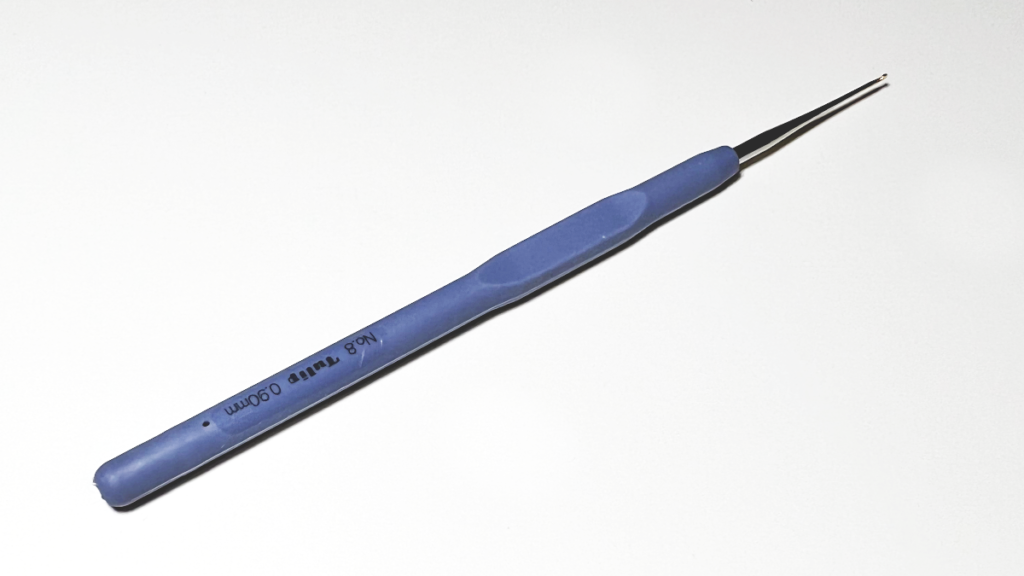 Another special type of crochet hook is known as steel hook. While steel crochet hooks can be made in any size, this material is particularly used for very small crochet hooks used to work the finest crochet thread.
Those new to crochet are probably not going to start by crocheting lace on a fine thread with tiny hooks, but it's good to know about these hooks in case you ever decide you want to take on these delicate projects.
Tunisian Crochet Hooks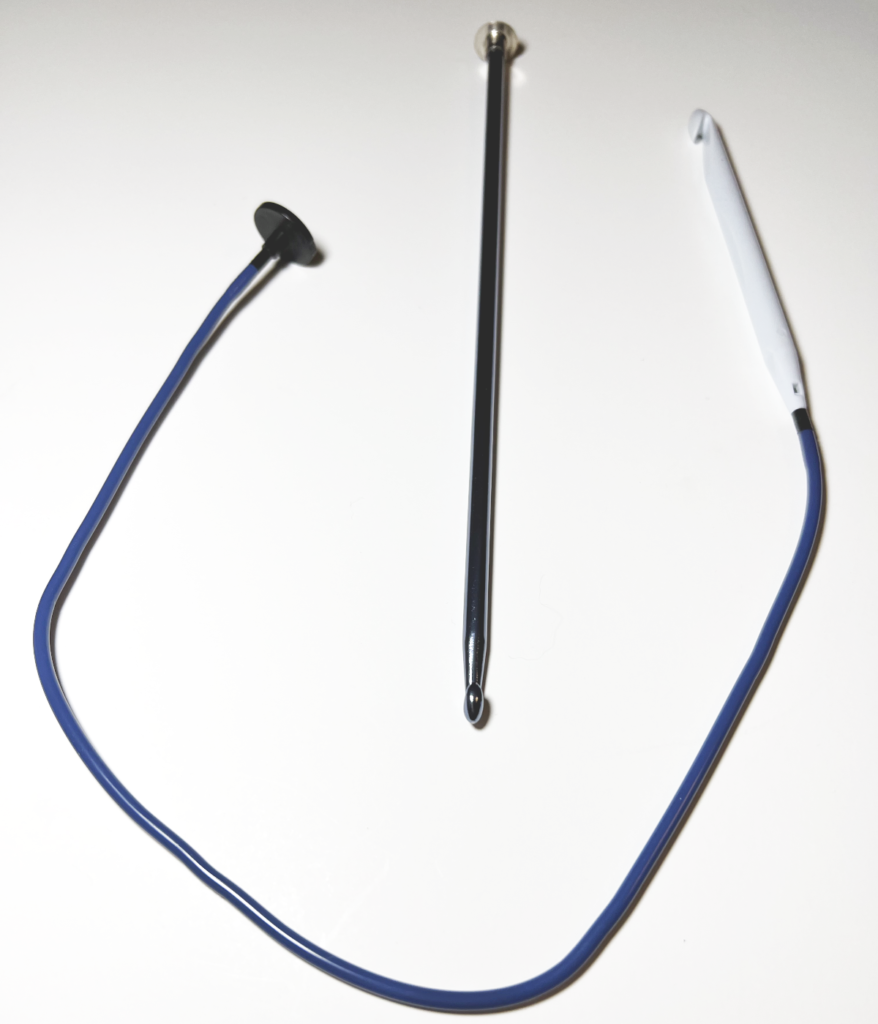 Another hook that is particular to a certain type of crochet project is the Tunisian crochet hook. Tunisian crochet refers to a style of crochet in which loops are picked up across the row all at once and then worked back across the row rather than working one stitch at a time. 
Because the number of loops that need to be held as you work across can be quite high, hooks made for Tunisian crochet are either quite long or include a flexible cable at the handle end of the hook to hold the stitches until you are ready to work them.
If you want to try Tunisian for yourself, our Tunisian Crochet workshop is a great place to start. Here you'll learn all the tools you need, different stitches, and skill-building patterns for this fun stitch technique.
Popular Crochet Hook Brands
While you can find all sorts of crochet hooks on the market, including handmade and mass-produced items, these are some of the most popular brands you are likely to encounter when searching online for hooks or shopping at your local crafts store.
Susan Bates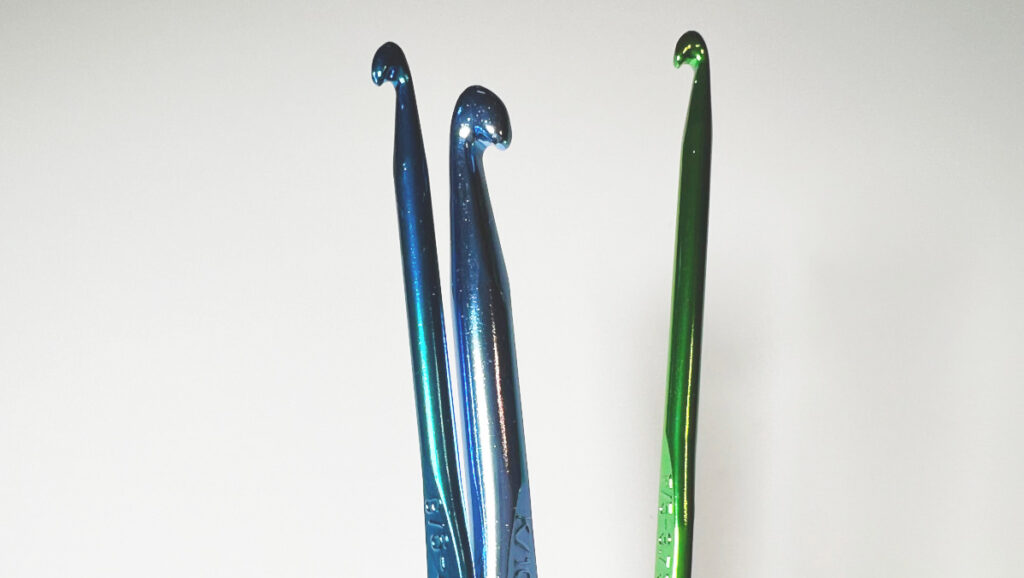 Susan Bates crochet hooks are one of the most common brands out there. They offer aluminum crochet hooks in all sizes (and some sizes in plastic and wooden) as well as steel hooks.
Susan Bates hooks are tapered hooks, and they are a great basic hook if you want to try that style. They also offer ergonomic options.
Boye Crochet Hooks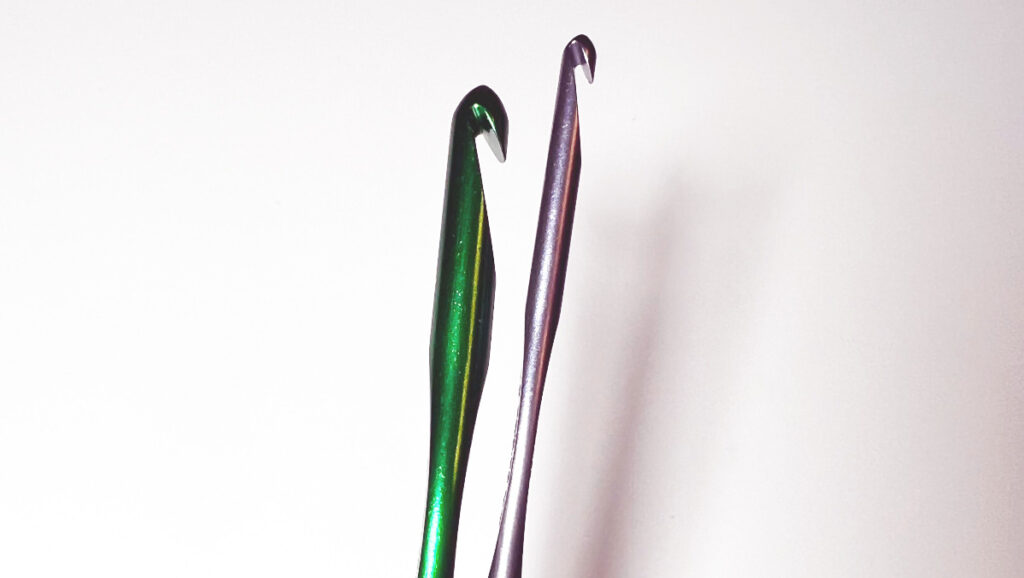 The other main mass-produced, widely available crochet hook is Boye. These are also steel and aluminum hooks but they are the inline style.
Susan Bates and Boye are similar in price but if you're looking for good entry-level crochet hooks they are both good options. And you can try inline and tapered hooks without a big commitment and see which you prefer.
Boye also has ergonomic hooks and makes some sizes in plastic hooks.
Prym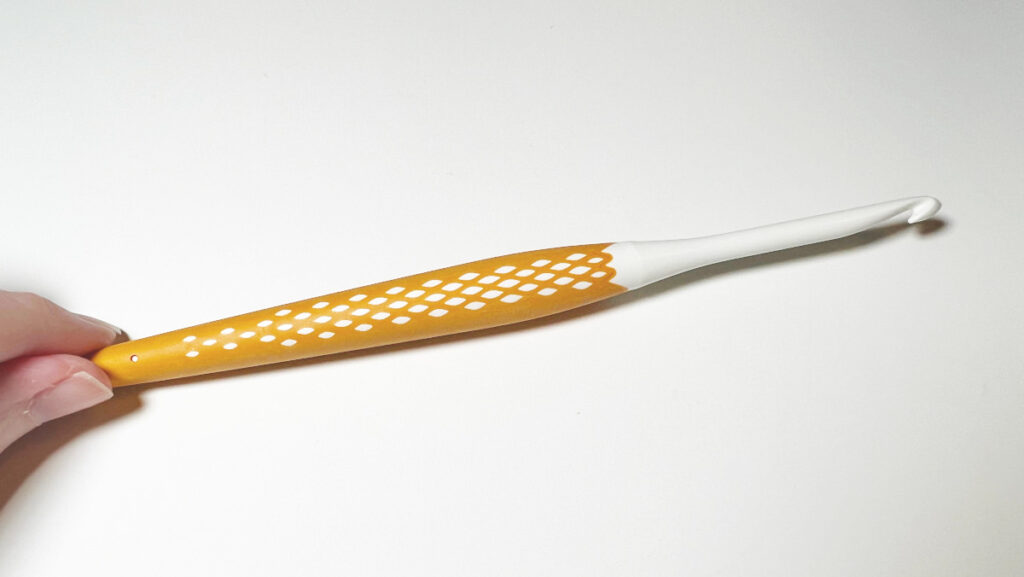 Prym crochet hooks are manufactured in Germany. They are made of high-quality plastic and have rubberized, ergonomic handles.
They are tapered-style hooks and the handle tends to be a little longer than some other hooks. The hooks are lightweight, flexible, and easy to use.
Tulip Crochet Hooks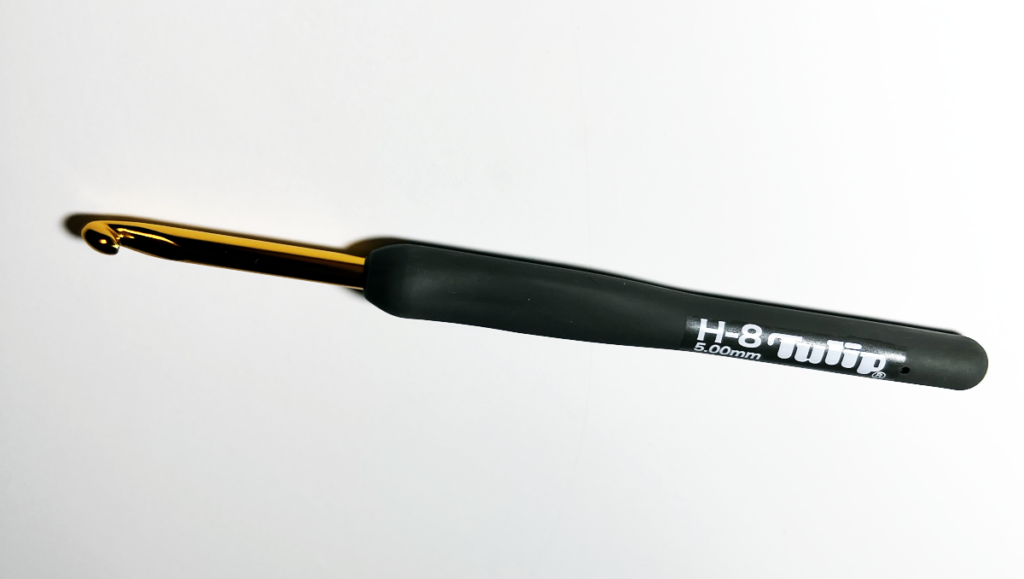 Tulip is a Japanese company that makes a wide range of crafting supplies. They are known for their ergonomic Etimo crochet hooks, which have a molded comfort grip for ease of use when crocheting for long periods.
These hooks have a shorter handle than the Prym hooks and a tapered hook design. People who like Tulip hooks note they are great if you have hand or wrist pain when crocheting and they allow you to make stitches more accurately and easily.
Clover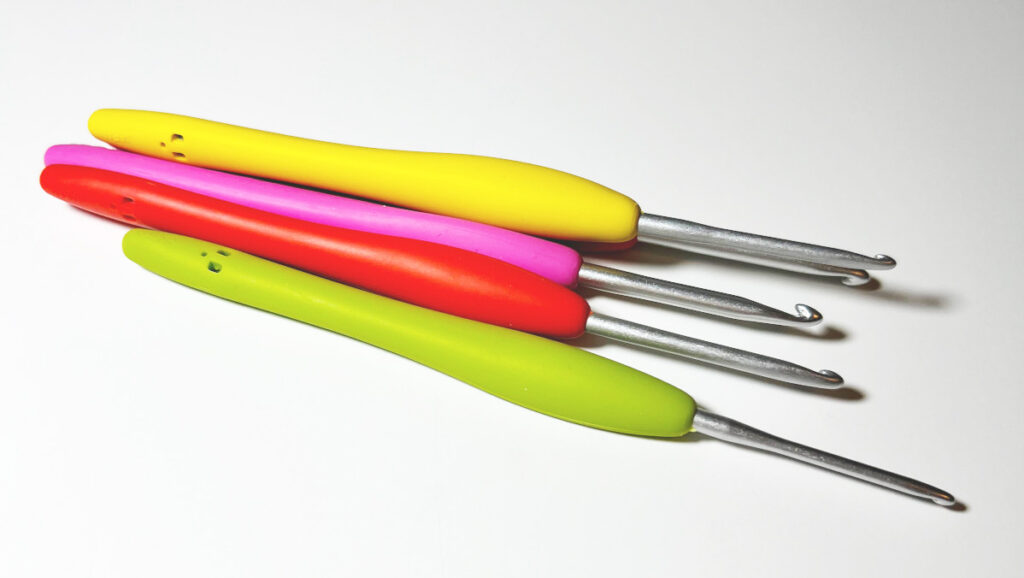 Clover Amour crochet hooks are a popular choice among crafters. They have aluminum and plastic hooks with ergonomic molded rubberized handles with a thumb grip.
They are tapered hooks but some people describe them as the best of both worlds between Bates and Boye hooks because they have more of a pointed tip but the tapered hook makes getting into working stitches a breeze.
Furls Crochet Hooks
If you're looking for a bit more style in your crochet hooks, you'll want to check out Furls. Furls crochet hooks have a distinctive shape, with a handle that's fat in the middle and almost diamond-shaped.
The hooks are tapered and come in a variety of materials including wood and resin. They are known for their artfully designed, colorful hooks which are one of the more expensive options covered here, but if you have a favorite hook size you use a lot and want to invest in a beautiful hook, these are a great option.
The Best Crochet Hook Sets
Once you have tried out a few crochet hooks and found a style that you like, it's a great idea to purchase a set of hooks of that type so that you have all the crochet hook sizes you need at the ready.
While a crochet hook set can be a big investment, it's usually less expensive than buying each hook individually, and it's convenient to have all the sizes you might want so you don't have to go to the store before starting your next project to buy a hook.
Tulip Etimo has a great set of hooks that have a nice, ergonomic grip you are sure to like. They make crocheting for long periods so much easier. A set comes with 8 hooks as well as a pair of scissors for cutting yarn, tapestry needles, and a small ruler. These are the most expensive hooks on the list but they are well worth it if you do a lot of crocheting.
The Clover Amour crochet hook set is less expensive but still a nice choice with comfort grips and a nice selection of hook sizes from 2.5 to 6 mm. The color-coded handles make it easier to find the hook you need.
If you like Susan Bates or Boye hooks, getting a full set of them is an easy way to make sure you always have the hooks you need when you want them. The Susan Bates set includes 6 hooks, while Boye has an ergonomic set where you can get 12 hooks all in one set.
If you like Prym hooks, they are also sold in sets, but you will have to buy a couple of sets to get the full range of crochet hook sizes. You can get a set of 5 hooks in the range of 3.5-6mm; sizes 7-12mm are sold separately.
How to Hold Your Crochet Hook for Beginners
If you are learning how to crochet and you aren't sure how to get started, the first thing you need to do is to get comfortable with holding the crochet hook. However, feels most comfortable for you is the "right" way to do it.
That said, there are a couple of common holds you can try and see what feels most natural for you.
Pencil Grip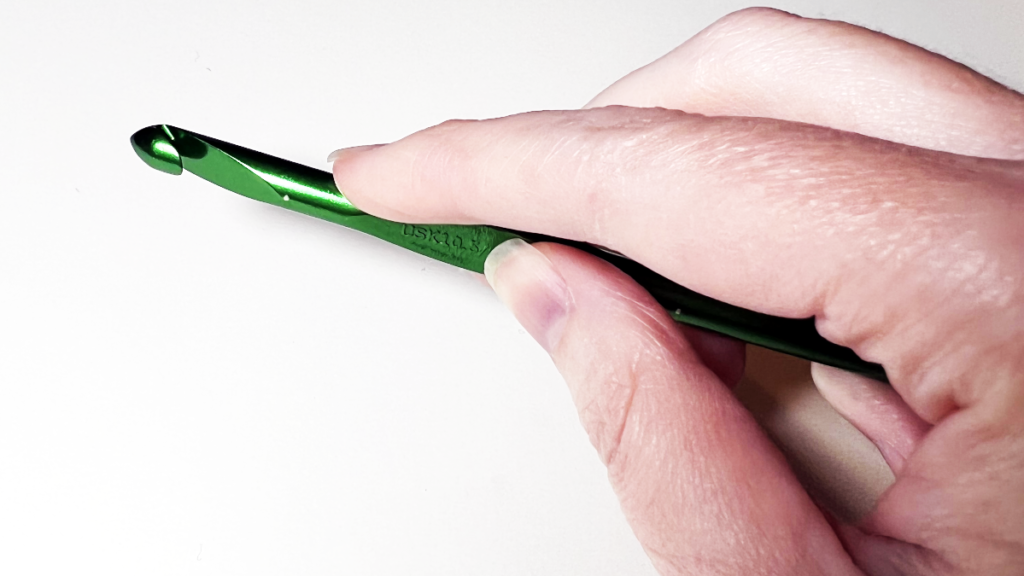 The pencil grip, as you might imagine, has you holding the crochet hook as you would hold a pencil to write. In your dominant hand, wrap your thumb around the bottom of the hook handle, with your index finger resting on the top.
The middle finger supports the hook from the back and the remaining fingers hang out of the way.
Knife Grip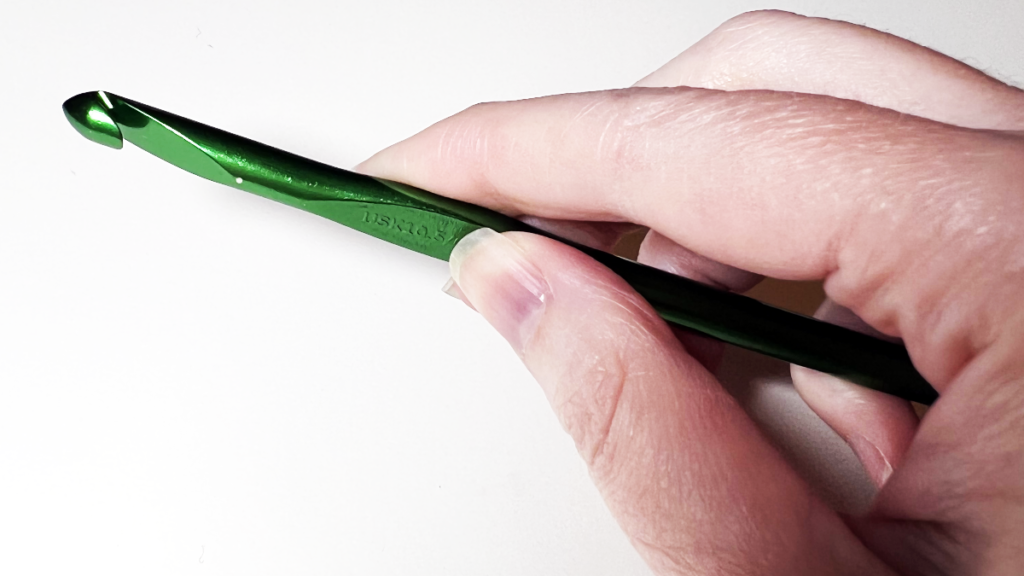 The other common option is known as the knife grip. Here you hold the hook as if you were holding a knife to cut something. With the knife grip, you hold the hook with your thumb in front and your index finger in the back. The other fingers are not really in use.
Most people have a natural preference for one hold over the other. If you don't think about it and just pick up a crochet hook as if you were going to start crocheting, you will probably naturally pick it up in one of these ways. That's the way you should try to crochet first. If you're having trouble you can try the other way and see if that feels easier for you.
How to Hold Your Yarn and Hook to Begin Crocheting
Now that you know how to hold your hook, how do you add yarn in to start crocheting?
Typically the crochet hook is held in your dominant hand and the yarn is in your non-dominant hand. Usually, the yarn is wrapped around some of the fingers to introduce a little tension, that is, to give you some control of the yarn to help make your stitches more even.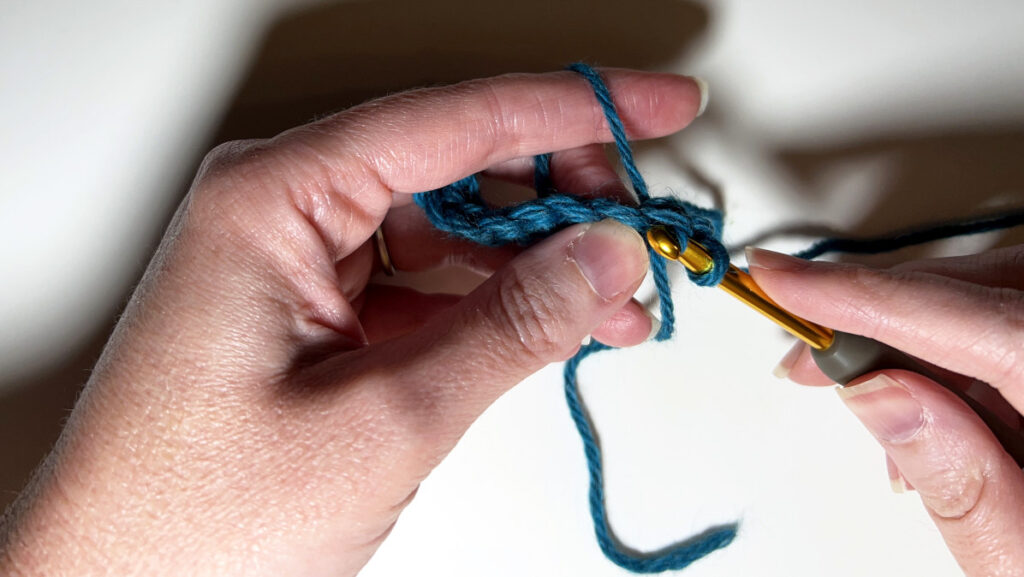 How you hold the yarn will come with practice, too, as you try different holds and decide what is most comfortable for you and allows you to make the stitches easily. I tend to hold the yarn over my left index finger but some people use much more complicated holds if they feel they need a firmer grip on their yarn.
Difference Between US and UK Crochet Hook Sizes
When shopping for crochet hooks, you may find different numbers and even letters on the hooks or in the product descriptions to let you know what the crochet hook sizes are.
In the United States, a numerical system is used along with a lettering system, whereby the higher number or farther away from A in the alphabet you get the bigger the crochet hook sizes (steel hooks are the opposite, with larger numbers meaning smaller crochet hook sizes, but we'll cover that shortly.)
The United Kingdom and other countries use metric measurements, which is a measurement of the diameter of the hook's shaft.
So 5mm, H, and 8 are all the same hook size, but they might be labeled with one, two, or all three of these notations.
What Are All the Sizes of Crochet Hooks?
Given that the same hooks can be labeled with different numbers and letters, it's good to have access to a crochet hook conversion chart so if you're looking for a particular hook size you know the various things to look for.
Also, some patterns are written only with US or UK terms, so it's good to know what size the pattern intends before you get started.
Regular Crochet Hook Size Chart
| MILLIMETER RANGE | U.S. SIZE RANGE |
| --- | --- |
| 2.25 mm | B-1 |
| 2.50 mm | |
| 2.75 mm | C-2 |
| 3.125 mm | D |
| 3.25 mm | D-3 |
| 3.50 mm | E-4 |
| 3.75 mm | F-5 |
| 4 mm | G-6 |
| 4.25 mm | G |
| 4.50 mm | 7 |
| 5 mm | H-8 |
| 5.25 mm | I |
| 5.50 mm | I-9 |
| 5.75 mm | J |
| 6 mm | J-10 |
| 6.50 mm | K-10 ½ |
| 7 mm | |
| 8 mm | L-11 |
| 9 mm | M/N-13 |
| 10 mm | N/P-15 |
| 11.50 mm | P-16 |
| 12 mm | |
| 15 mm | P/Q |
| 15.75 mm | Q |
| 16 mm | Q |
| 19 mm | S |
| 25 mm | T/U/X |
| 30 mm | T/X |
Steel Crochet Hook Size Chart
As mentioned above, steel hooks are typically very small hooks used for crocheting with thread or the finest yarn. They can also be used to add beads to your crochet project.
These hooks also have numbers and millimeter measures, but the difference here is as the size gets smaller, the number in US measure gets larger, such that a 1mm hook, for example, is a US 12.
| MILLIMETER RANGE | U.S. SIZE RANGE |
| --- | --- |
| 3.50 mm | 00 |
| 3.25 mm | 0 |
| 2.75 mm | 1 |
| 2.70 mm | 00 |
| 2.55 mm | 0 |
| 2.35 mm | 1 |
| 2.25 mm | 2 |
| 2.20 mm | 2 |
| 2.10 mm | 3 |
| 2 mm | 4 |
| 1.90 mm | 5 |
| 1.80 mm | 6 |
| 1.75 mm | 4/0 |
| 1.70 mm | 5 |
| 1.65 mm | 7 |
| 1.60 mm | 6 |
| 1.50 mm | 8/7/2 |
| 1.40 mm | 9/8 |
| 1.30 mm | 10 |
| 1.25 mm | 9/4 |
| 1.15 mm | 10 |
| 1.10 mm | 11 |
| 1.05 mm | 11 |
| 1 mm | 12/6 |
| 0.95 mm | 13 |
| 0.90 mm | 14/8 |
| 0.85 mm | 13 |
| 0.75 mm | 14/10 |
| 0.60 mm | 12 |
How to Choose the Correct Size Crochet Hook for My Yarn
There are several different and connected ways to figure out the right crochet hook to use with your yarn. If, for instance, you have picked out a project you want to make, it will tell you both the hook size and the yarn weight that you should use.
Of course, you will still want to check your gauge by working up a swatch of the stitch used in the pattern with the yarn and hook you intend to use to make sure that you are getting the same number of stitches per inch as the pattern requires. Otherwise, your project will not come out the intended size.
If you are practicing or coming up with a pattern on your own based on a particular yarn you want to use, the ball band for the yarn should suggest a hook size that works best for that yarn (more on that below.)
If the yarn doesn't indicate what size hook to use (or you don't have the ball band anymore) there's a general range of hooks that works well with particular yarn weights.
Super fine (1): 2.25 to 3.5mm/B-1 to E-4
Fine (2): 3.5 to 4.5mm/E-4 to 7
DK (3): 4.5 to 5.5mm/7 to I-9
Worsted (4): 5.5 to 6.5mm/I-9 to K-10.5
Bulky (5): 6.5 to 9mm/K-10.5 to M-13
Super bulky (6): 9 to 15mm/M-13 to Q
If you work with one of the hooks in the range of hooks generally used for the weight of yarn that you have, you will probably come up with a crocheted fabric that you will be happy with.
An exception to these standards is amigurumi or crocheted toys. These projects tend to be worked on smaller hooks than you'd expect for the given yarn. This makes the stitches tighter so that stuffing will not poke through the finished object. If you want to give amigurumi a try, check out our Amigurumi Workshop.
Common Crochet Hook Questions for Beginners
Want to know even more about crochet hooks? Here are some quick answers to common questions about choosing the right crochet hook, how to get the gauge, and more!
What are the Best Crochet Hooks for Beginners?
If you are completely new to crochet and just need a hook or two to try it out, start with Susan Bates and/or Boye crochet hooks in the medium range (5.5 to 6.5mm/I-9 to K-10.5) with worsted/medium weight yarn is a great way to start.
Medium weight yarn is easy to handle and your stitches aren't too large or too small that they are hard to work. These hooks are also a good size so that it's pretty easy to form stitches as you are getting used to the movements needed for crochet.
Where On the Crochet Pattern is it Shown What Size Crochet Hook to Use?
Generally, at the beginning of a pattern, you will find a section that lists the supplies needed for the project. This should include both the kind (weight, brand, and/or material) of yarn and the size of the hook or hooks that you need to complete the project.
Where on the Yarn Label Does it Indicate What Crochet Hook Size to Use?
Yarn labels usually have a section of symbols that share important information about the yarn. You may find a skein of yarn with a number on it, which indicates the yarn weight.
Next to that, there is often a little square with numbers in and around it. If there is one with a crochet hook in the middle of the square, that's the one you need to pay attention to. Next to the hook inside the square, you should see a suggested hook size in metric and/or American measurements.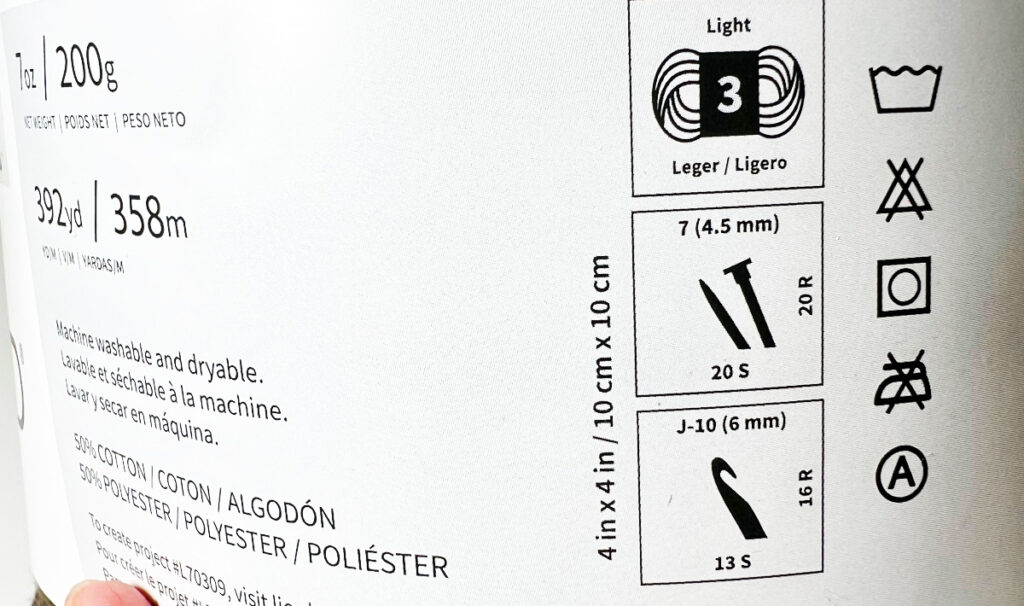 Around the outside of the box, you will find a measure of the suggested gauge with the yarn and hook. The number of stitches will be along the bottom and the number of rows along the right side. Along the top and left will be an indication of how many inches/cm those numbers are measured over (typically 4 inches/10cm.)
For instance, this label (from Lion Brand Comfy Cotton) says that you should use a J-10/6mm hook and expect to get 16 rows and 13 stitches per 4 inches. The ball band always measures in single crochet.
What is the Most Common Crochet Hook Size?
Many crochet projects are worked with worsted or medium weight yarn, so it makes sense that the most commonly used crochet hooks would fall into that range as well.
Probably the most common crochet hook is the H/8 or 5mm hook because it is easy to work with for medium weight yarn, but anything in the range of 5mm to 6.5mm (K/10.5) is the hook you will use most often.
Of course, if you like working with fine or bulky yarn, the hook you will choose most often will correspond to that weight of yarn.
What if My Crochet Hook is Not Labeled?
Most of the time crochet hooks have their size embossed or printed on them, but some hooks are not labeled, or the label can wear off with use.
Using a crochet hook gauge you can determine the size of the hook you are looking at. A hook gauge has a series of holes in it sized to the mm sizes of the common hook sizes.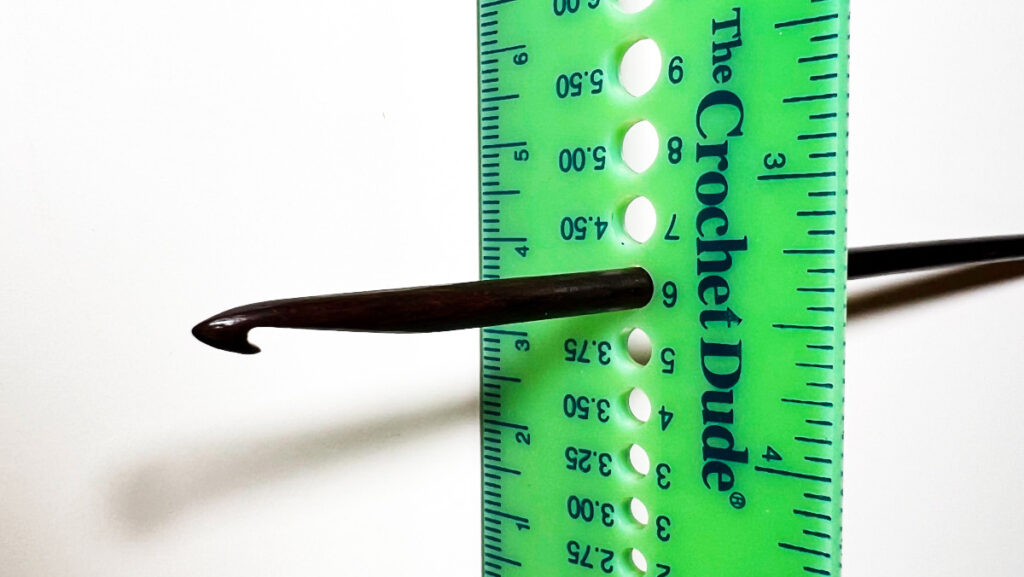 To use the gauge, slide your hook into the holes until you find one where the shaft of the hook fits snuggly. Do not measure the tip of the hook or where there is a thumb rest or a larger piece of the hook.
Use the mm measurement of that hole to determine the size of the hook. (In the photo above, the 6 is a knitting needle size and does not refer to crochet hooks.)
How Many Crochet Hooks Do You Need to Start Crocheting?
You really only need one hook to start learning how to crochet. It's a great idea to practice on smooth, lightly colored worsted weight yarn, so choosing an H/8 or 5mm crochet hook to practice with is a great idea.
Because so many projects use that size hook, you'll be able to learn the basics and start your first project just with that hook.
Once you are making projects with different weights of yarn or you need your gauge to match that of a pattern, you'll start to need other sizes of hooks. Try a few different brands and materials until you find one you like, then consider investing in a set of hooks of the same kind so you always have what you need.
What Size is a 4mm Crochet Hook?
The UK measurement of 4mm corresponds to the G/6 hook in the American system. It's a good choice for DK weight (3) or light worsted yarns. You might also use this size with worsted weight yarn to crochet amigurumi, as it will make your stitches tighter.
How Many mm is a Size G Crochet Hook?
As noted above, a G is the same size as a 4mm crochet hook. You may also find a 4.25mm hook labeled as a G hook, but the 4mm hook is a lot more common. (Typically, hook collections will include a 4mm and a 4.5mm, which is a 7 in American terms.)
What Happens if You Use a Bigger Crochet Hook?
The size of your stitches mostly depends on the interplay between the size of your hook and the size of your yarn. Therefore if you use a bigger hook than a pattern calls for, you will make bigger stitches.
Gauge is the term for the number of stitches and rows per inch (or 4 inches) that you are creating with a particular hook and yarn making a particular stitch. It's also sometimes called tension.
If you choose to use a bigger crochet hook than the pattern calls for and your gauge is also larger (meaning you are getting fewer stitches per inch than the pattern calls for) your project will come out bigger than expected.
In some cases that's fine – a scarf that is a little wider than the pattern calls for is still usable – but if you're trying to make something that fits, using a bigger crochet hook than the pattern calls for might make it too big.
Can You Change the Recommended Hook Size for a Crochet Pattern?
A common question that people will ask is if you can work a pattern with a different size crochet hook or a different weight of yarn and have the project come out right.
Again, the answer comes down to gauge. If you use a different-sized hook (or a different weight of yarn) you will need to check your gauge and see how it compares to the gauge in the pattern.
If you are getting more stitches per inch than the pattern suggests, your project will come out smaller than expected. Likewise, if you are getting fewer stitches per inch than called for your project will be larger than the pattern says.
Beyond gauge, using a hook that is too small for the yarn you are working with will make the stitches tighter and harder to work and can make the fabric stiff. On the other hand using a larger hook will make the stitches looser and might make the fabric more open than it should be.
So for some projects, you might be fine using a needle that's one size bigger or smaller if that's all you have on hand, but in general, it's a good idea to use the size called for and to check your gauge and only alter the hook size if you need to change your gauge.
What Can I Do When My Crochet Gauge Doesn't Match the Pattern Even When I Use the Crochet Hook Size Indicated in the Pattern?
If you've worked a gauge swatch and you aren't getting the correct number of stitches per inch, you'll need to swatch again with a different hook.
If you are getting more stitches per inch than the pattern calls for, that means your hook is too small and you need to use a bigger one.
If you have fewer stitches per inch than the pattern suggests, you need a smaller hook.
Try the next size up or down and see if that allows you to get the correct gauge. Depending on how tight or loose you crochet in general, you might need to go up or down one or two sizes to get the gauge.
If you're still not getting gauge after adjusting your hook size, you may be able to do a little math to make the pattern work for you. If the pattern has multiple sizes there may be a size where the numbers work at your gauge even though it would be too large or small at the correct gauge.
For instance, if you are getting 4 stitches per inch instead of 5 and you would normally make a sweater that's 36 inches around, it's going to end up too big if you work your normal size: 36 inches at 5 stitches per inch in 180 stitches, while 36 inches at 4 stitches per inch is 144. If you worked 180 stitches at 4 stitches per inch your finished sweater would be 45 inches. But if there's a size that uses somewhere around 144 stitches that size should work with the gauge you are getting.
It's not ideal to work this way but if you really want to make a particular pattern and can't get gauge that is one approach to make the pattern work.
Foundational Crochet Skills – Learn How to Crochet?
Reworking patterns to suit your gauge isn't really a beginner skill, but with the right foundation of skills, you will feel confident enough to alter patterns, use different stitches and make your projects your own.
It starts with our Crochet Fundamentals course, which covers everything from reading and following patterns to skills like changing colors, finishing, and much more.
Using Hooks to Make Interesting Stitches?
Speaking of using different stitches in patterns, our Ultimate Crochet Stitch Library will help boost your knowledge of crochet stitches with tutorials and instructions for 45 different stitch patterns.
Once you learn these stitches, you'll be itching to add them to your projects and explore even more of what crochet has to offer.
If you'd like more inspiration for crochet patterns, take a peek at some of my other blog pages here: 50+ Purr-fect Crochet Cat Patterns, 20 Free Crochet Dragon Patterns, 50+ Cheery Christmas Stocking Crochet Patterns